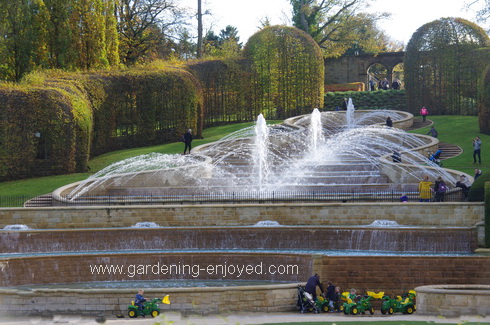 Now that's a water feature! It certainly dwarfs my three little cascading ponds. It's Alnwick Gardens in the Northeast of England where we watched October roll over into November. We visited Alnwick on 01 Nov on a bright, sunny but cool day. I have been on too many garden tours and find it difficult to be excited about yet another garden but this one was amazing even at this time of year. The Grand Cascade tumbles down through those many pools and the shooting fountains change on a constant basis to provide extra interest. Yes, those are tiny John Deere Tractors at the base and the children run to play on them. The granddaughters, that we were there to visit, were no exception. Alnwick had a variety of places and activities for the children that made it easier for the parents to spend time enjoying the gardens. They make extensive use of hedges and large espaliers. The long winding structures on both sides of the cascade are a gigantic espalier of hundreds of Hornbeam trees on pipe frames that create a tunnel that visitors can walk through. It was almost leafless when we were there but we could imagine what a secret passageway feeling it must have in the summer when it would be covered with foliage. At the top of that Cascade is a wonderful collection of garden beds, each surrounded with tall espalier Crab Apples that were loaded with fruit. It contained an amazing collection of perennials, shrubs and other delights.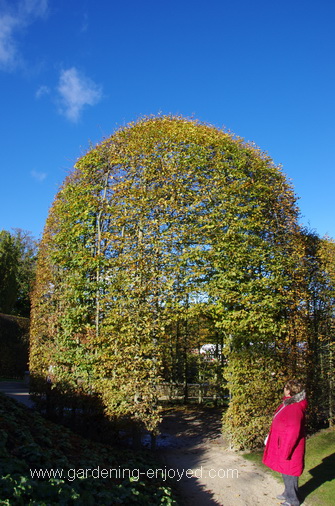 This is the Assistant Gardener admiring one of the larger pieces of the Hornbeam tunnel. I've included it to give you some idea of the scale of this work. I can only imagine how many full time hedge trimmers must work here. There is also a castle that can be toured. It is the second largest occupied castle in England, with Windsor being the largest. We were there after it had closed for the season but we would have needed a few more hours and the patience of little girls does have its limits. They did like the Bamboo maze which was quite dense and therefore a bit dark and foreboding. Over in the other corner was the poison garden with an impressive display of poisonous plants and a guided tour to explain what we were seeing and just coincidentally to control access to them. Quite a fascinating half hour. This garden and the granddaughters demand a return visit in the summer. If your travels ever take you near Newcastle Upon Tyne make sure to add this to your itinerary.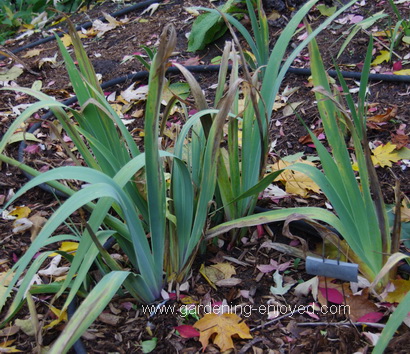 Back at home the list of gardening activities didn't get any shorter while we were away. High on the list are these Iris. I don't worry about cleaning up all the perennials in the fall but the Iris must be done. The Iris borer overwinters as eggs on this old foliage and one of the best controls is to remove all of that foliage in the autumn. Much other foliage is better left where it is. That great mass of Hosta foliage will almost disappear over the winter and return its nutrients to the soil. That is a much easier process than gathering it into the compost heap and then shoveling out the compost next year. Some techniques of this lazy gardener are actually beneficial. Of course, anything tall with a seed head is left standing to provide winter interest and to feed the birds.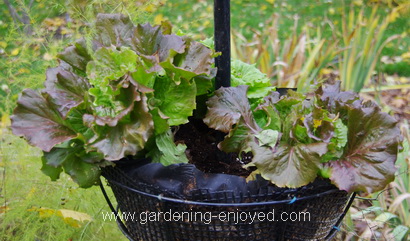 The vegetable garden is certainly not put to bed yet as it is still feeding us. This wonderful crisp head of Lettuce is just waiting to become a fresh salad. Pak Choi, Kohl Rabi and Chinese Cabbage are being harvested regularly and another week or so of slightly warm weather should yield a crop of Broccoli and Cauliflower. The Brussels Sprouts are plump and tasty looking and now that we have had a couple of frosts they should be sweet enough to find their way onto the dinner plate.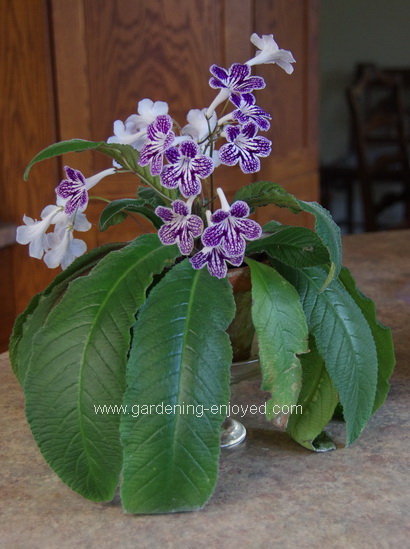 Eventually we will have to do all of our gardening indoors. This Streptocarpus is becoming one of the features of my indoor plant collection. I have tried several times to kill it but have eventually figured out what it wants. Moderate light and a steady supply of moisture and it continues to throw out these wonderful blooms. I'm a bit of a procrastinator when it comes to watering the house plants and the Streptocarpus keeps telling me to change my ways. If I let it wilt, it stops blooming and sulks for a few weeks until it gives me the chance to try again. There are some wonderfully colourful new varieties of these available, wander around your garden centre and have a look for them.




Now it's time to answer a few of my reader's questions. To ask a question just "reply" to this ezine. Don't forget to check the front page of the Website for frequent short ideas for current gardening activities.




Elizabeth Asks? Sure hope you can help with some info on seedlings that I planted in August. I have some tiny Lupins and foxgloves and want to know if I can plant them in the garden now? I live in southern Ontario and it is getting cold here. I have them in a cold frame now but really wanted to put them in the ground for the spring.

Ken Answers! If they are in pots in the cold frame then they will be happier planted in the garden. If they are in the soil in the cold frame I might be tempted to move them in the spring.

Marilyn Asks? You said you would look into how to prune Daphne bushes… It is too late this year but I would appreciate your expertise for next year… they are getting just too large for their space.

Ken Answers! Daphne can be pruned but now is probably not the correct time. Prune after flowering, so early spring for winter flowerers and late spring for the spring flowering types.

Monica Asks? . I have a hibiscus plant in a large pot. I live in NC. I have been told they do not survive the winter if planted outside, thus, putting it in a very large pot. For the winter, should I cut the plant way back? It did bloom beautifully this summer, but has grown quite large. Also, would it survive in my garage (which is slightly warmer than the outside temps), or should I bring it into the house? Thanks for any advice . .

Ken Answers! It's a few climate zones from Toronto to NC but Hibiscus are quite sensitive to any freezing Temperatures. I cut mine back quite severely, you can see how much they will grow outside in a season, and then bring them indoors for the winter. Mine stay in a heated solarium so they leaf out and grow slowly all winter. If you put them in the garage they will need to stay dormant and not freeze all winter and that may be a bit difficult for them. They don't really do dormant all that well and are happier where they can find enough light to start to regrow.