Now I understand why the daffodils last so long over here in England. They are all in bloom. The sun is shining. It's freezing bloody cold. At this temperature the Daffodils will last for weeks.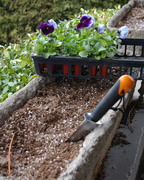 Before we left I did rush down to the local garden centre and buy some pansies and took ten minutes to tuck them into the planters around the front porch. If the weather cooperates at all they should be filling out and looking good by the time we return. We had heard before we left that you were supposed to get some snow over the Easter weekend. Good luck to all of you and my Pansies.


I also went mad with the pruners and reduced the large Hibiscus tree, that winters in the solarium, to a mere shadow of it's former self. I do this every year in late winter/early spring so that it has started some nice new growth by the time it goes outside in mid May. This little task also helps to eliminate the homes of a million aphids that have arrived this winter instead of the whitefly that we usually get. The Orchids underneath the Hibiscus are blooming amazing.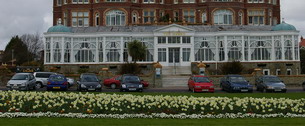 Yesterday we walked along The Leas, which is the waterfront walk in Folkestone. The public gardens were filled with Narcissus and, a new trick for me, under planted with a variety of Primula. Very nice effect. We could look across the channel and just make out the edge of France; that is, when we weren't huddled into all of the clothes we had on, to fend off the cold gale blowing in. In the odd spot where we were protected from the wind and the sun shone it was approaching pleasant.



Today we ventured out onto the motorway and navigated our way to Leeds Castle. I have planted a few Anemones with the rest of my bulbs in the fall but a walkway with many thousands of them blooming gives you a whole different perspective on this short dainty flower.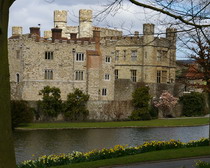 The grand landscaping theme that encompasses this castle is quite spectacular as well and finding shots like this with surrounding hillsides filled with Daffodils was actually quite easy. The annoying part for a temperate N. American gardener is the stuff that survives outside here on a year round basis. From my days in the interior landscaping business, I have always liked the European Fan Palm Chamerops humilis and to find it used casually as a outdoor garden centrepiece is a bit off putting.


Tomorrow we are off to Wisley, the home of the Royal Horticultural Society, to see what might be in bloom in their little 200 acre garden. Hopefully it will be a tad warmer.

111 Trent St W. Whitby L1N 1L9