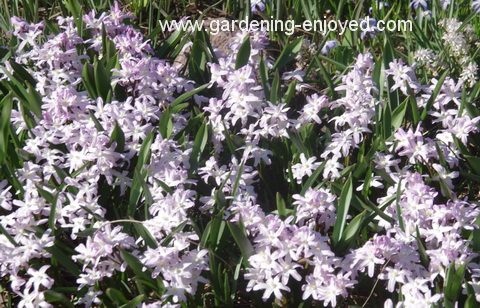 Suddenly the whole garden is waking up and announcing spring. It is +25 C today and we were skiing early last week. These Chionodoxa are a wonderful harbinger of spring. This solid mass of pink covers the little hillside that is the backside of the waterfall. They are little inexpensive bulbs that we plant in the autumn with all of our other bulbs. They are inexpensive because they multiply rapidly. Sometimes they may multiply too rapidly and may decide to move into other areas of the garden where they may not be as welcome although when they are in bloom they are certainly welcome wherever they show up.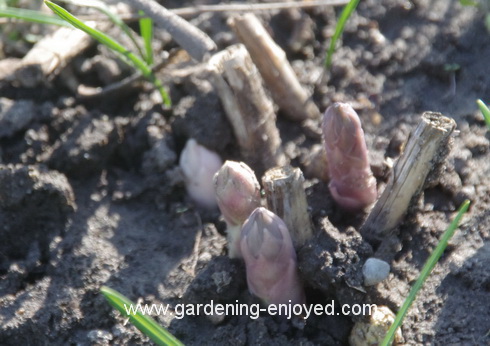 Now this is a really exciting discovery every spring. The warm weather has these Asparagus spears rapidly poking their noses up. It's always fascinating to see how rapidly these spears will grow when the sun shines on them. Asparagus is this wonderful vegetable that is always the first to move from the garden to the dinner plate and it is also delicious. It's also perennial and this Asparagus bed has fed us for a few weeks each spring for the last 25 years and it is still going strong. There are a few relatively new plants that have self seeded over the years but the original plants keep increasing and producing.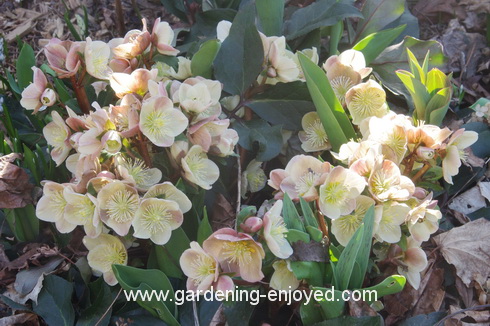 I'm not usually a big fan of Hellebores but this one has outdone itself this spring. Most varieties have blooms that are a bit shyer and hang down under the leaves. I have one near the ponds that has lovely deep purple blooms but it's certainly not the showoff that this cream coloured one is this spring. They are quite popular because of their ability to bloom very early in the spring and of course they are perennial.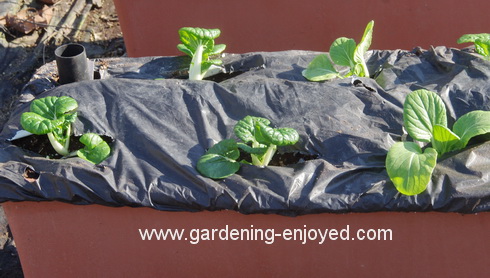 Setting up the Earthbox sub-irrigation planters each spring is a bit of a chore. Is it possible that they seem a little heavier each year or am I just a bit weaker with each passing year. I setup three of them yesterday and because it is so warm I actually planted them with some Pak Choi, Kohl Rabi and Lettuce which are fast growing vegetables that are quite happy in cool weather. We are supposed to get much cooler weather next week but I'm confident?? That they will be just fine. I did, of course, only plant some of those little plants and the rest are still warm and cosy in the heated cold frame.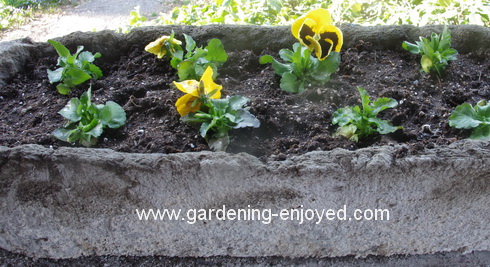 One of the April rituals is going to the local garden centre and buying a flat of Pansies that are primarily planted in the containers on the little wall around the front porch. They did not do well there last year for a couple of reasons. The squirrels were convinced that there must be something edible in those containers so they continued to dig there, thus uprooting the newly planted Pansies. One of today's chores is to put some chicken wire over that soil to see if we can deter those bushy tailed tree rats. Noticing how difficult it seemed to be, to keep them watered last year, I realized that my assertion that you don't need to replace soil in your containers every year is still a good rule but the soil in those containers has not been replaced in about 25 years and that's why it has broken down until it is really almost dust. I emptied them and added that dust to the compost and then refilled them with some of the soil from the sub-irrigation containers, which then received the new soil. Hopefully they will perform much better this year.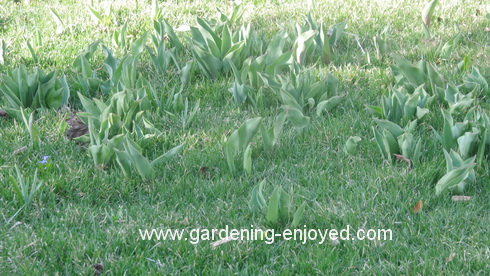 Faithful readers will have followed the story last fall as we eliminated one of the big perennial beds in the front yard. All of the perennials were dug out and transplanted, either in one of my other beds or in friends and neighbour's gardens. We then sodded that area. That bed had always had a great Tulip display and we found quite a few of them when digging out the perennials but apparently not all of them. Here they are happily emerging through that new sod and we will not mow that area until they have had a chance to bloom. If they bloom well we might not mow until they have had a chance to regenerate their bulbs. All of the fall planted bulbs are amazingly tough and will try to bloom each year whether we treat them well or not.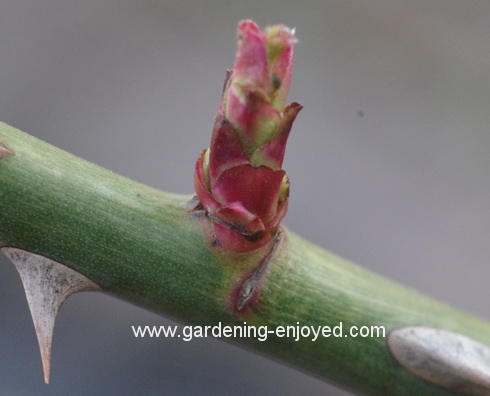 Each spring we wait anxiously to see how well our collection of David Austin Roses has survived. Swelling buds like this one become a delight to see and a promise of great blooms for another year. Only a few of them have shown this much growth so far this spring. This one is called "Crocus" and it has always been one of the hardiest and it has south facing location that helps it emerge early. I will start pruning them in the next week or so when they all start to break out. I need to see where the new growth is emerging so that I know where to prune to.

We are regularly traveling to speaking engagements and are always happy to add more to the schedule. If your club or group would like to have me present one of my informative and entertaining talks just fill out the speaker request form and we can find a suitable date and topic.

If you have any gardening questions just "reply" to this newsletter and I will attempt to answer them.



Mirka Asks? Every year I wonder how you force the amaryllis bulbs to propagate. Do you keep bulbs in the same container? What is your recipe for the pot of beautiful red flowers.
Ken Answers!My Amaryllis are kept alive and well until it's time to go outside each summer, when there is no chance of frost. They get lots of sunlight and are watered and fertilized regularly. If they have outgrown their pots they will get repotted when they go outside. Sometime in Sept. they come back inside and go into a cool relatively dark basement and allowed to go dormant. They will naturally create new offset bulbs as they grow.



Mirka Asks?I am now growing some seeds and it looks good. However, I struggle with proper watering of my seedlings. Any words of advise.


Ken Answers!Watering can be tricky. When I first sow them I soak the seedling tray in water so that the soil wets from the bottom and doesn't disturb the seeds. I continue to water this way until the seedlings are up and sort of sturdy. Then I use a small watering can with a fine rose on it and try to get as close to the seedlings as possible to reduce the intensity of the water stream. I will even try to get the water under the little leaves and on to the soil. Once they have germinated I add about 1/3 strength fertilizer 20 20 20 to that water.