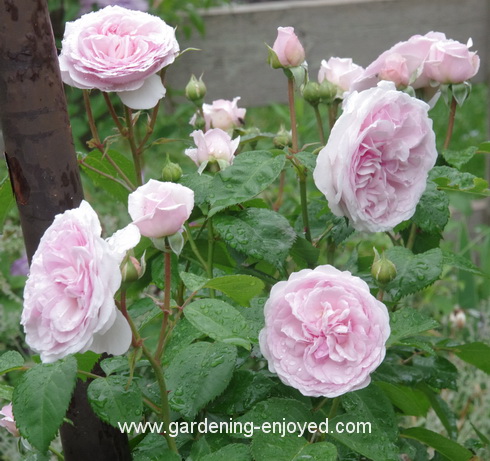 It has been a bit of a gap since the last "Dallying". I kept waiting for a rainy day and so did the garden. Olivia Rose Austin has been one of the stars of the garden for a few weeks now, despite the lack of rain. She arrived in the first week of June and is still looking great while providing a delightful fragrance. Named after David Austin's granddaughter, she has been enchanting me as much as she must have David Austin. Her early arrival has also kept her ahead of any emergence of Japanese Beetles that seem to love her as well. All of my David Austin Roses have been performing incredibly well, a testament to the relatively mild winter and maybe Mother Nature just knows we need some extraordinary beauty in these Covid times.

Lots of pictures in this issue of "Dallying", all of them highlighting some of the many delights that have made these past weeks in the garden a true joy. We'll let the pictures do most of the talking.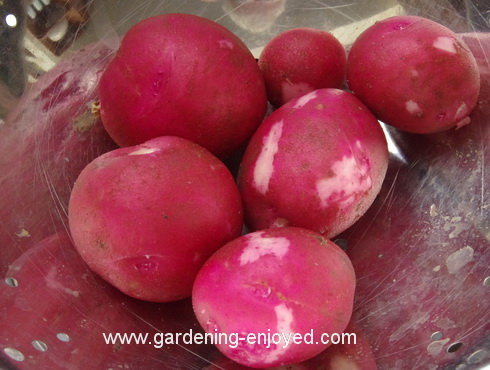 Last night's dinner! The Potato plants are growing like triffids and even though they have just started to bloom, I thought I would have a peek and these delights are what I found. Why do the first new Potatoes taste so wonderful?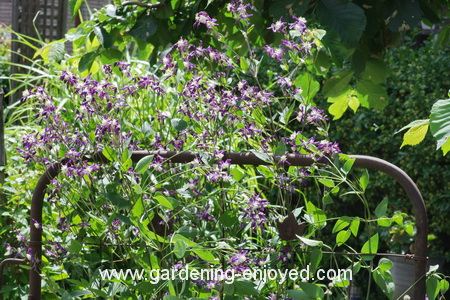 I bought this small flowered, supposedly shrubby, Clematis x aromatica, last year and she fell all over the garden. When a friend asked if I had a use for an antique garden gate, I had one of those Aha! moments. Here's the result. Dozens of small fragrant blooms now standing proud with the assistance of that gate.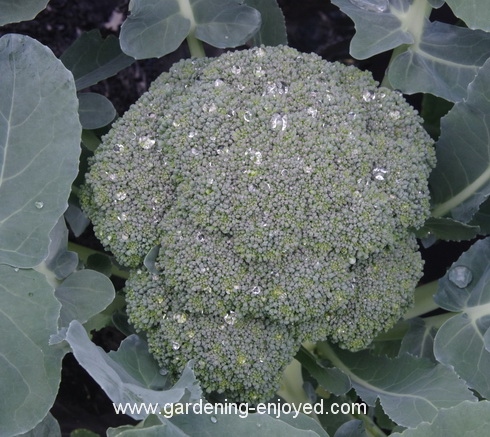 Beauty is in the eye of the beholder they say and to a vegetable gardener this mass of tightly packed flower buds making a perfect head of Broccoli is a true example. Any similarity between eating this and the store bought one is restricted to the colour. It shared the dinner plate with those Potatoes keeping the taste buds spinning.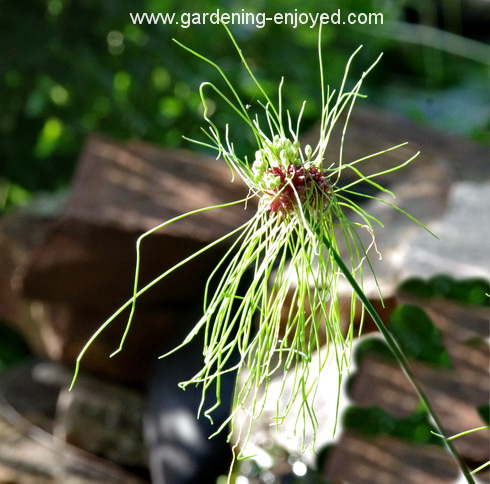 These weird creature is "Hair" one of the decorative Alliums. She may be more interesting than beautiful but she does get noticed. She does have a bad habit. Most plants spend their lives trying to reproduce to preserve their species. Hair is a star at that but that leaves we gardeners with hundreds of little seedling Alliums trying to take over the garden. The deadheading snips come out the minute she starts to fade so that I can frustrate her desire to propagate.



This is Zucchini Astia from Renees Seeds. It is a compact plant bred to be grown in containers. You can see one of the small Zucchini almost ready for the dinner plate this early in the season. I planted a few so I plan to harvest these little delights when they are quite small and steam them whole to add interest as well as taste to the dinner plate. The shredded newspaper packed around the base is an attempt to keep the Squash vine borer from laying her eggs at the base of the stem. All of the Squash in the garden help me to use up a year's worth of shredded paper from the office. It did help last year, in conjunction with some bright yellow dishes filled with soapy water. They attracted the adults looking for yellow Squash blooms. I also have some of their sex pheromone this year to increase the traps attraction.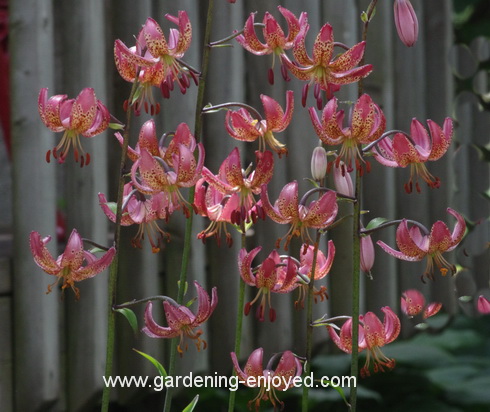 This small flowered Liliy is Manitoba Morning, one of the Martagon Lilies. You can see and appreciate the clusters of small downward facing little blooms. Their bright colours are a big attraction but to a Lily grower their biggest attribute is their ability to thrive in the shade. This bunch is near the drip line of our giant Walnut tree and might see an hour of direct sun on a good day.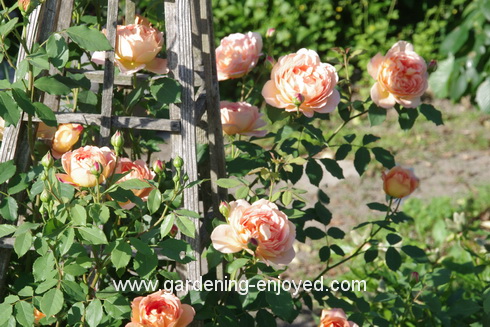 Lady of Shalott is another David Austin Rose keeping Olivia company in the front garden. She attracts more passing attention because she is almost 2 M tall and, as you can see, escaping from her obelisk in every direction. A few dozen large orange blooms with subtle pink edges on the outer petals make her another star in this year's garden. There are a few more of Mr. Austin's prodigy lighting up the garden this year turning me into a confirmed Rose fancier. They all got an early shot of soluble fertilizer and some occasional hand watering through our very dry spring and have responded beautifully.




I have become quite comfortable doing my presentations on Zoom and one of the big advantages is the ability to speak to groups that are too far away to travel to. I will admit to missing the feel of a live audience but we will continue to Zoom to your meetings as long as we have to. Maybe the long distance capability will be one of the few positive things to develop out of this pandemic. If your group is looking for a knowledgeable and entertaining speaker, check out my web site's, speaker page.




To ask a question just "reply" to this ezine. Don't forget to check the front page of the Website for frequent short ideas for current gardening activities.


Dena Asks? My Hybrid Tea Roses occasionally grow one lanky stem that never seems to produce a bud. Is it okay to cut this odd looking stem back and if yes, should I cut it back to as far as I possibly can before turning into a human pin cushion?

Ken Answers! That lanky stem is probably the root stock coming up and pruning it down below the ground should discourage it but probably won't stop it.

Tom Asks? I've heard that spreading dog hair or even human hair on the vegetable garden will discourage rabbits, squirrels, mice,voles, moles, and other varmints. Comments?

Ken Answers! I have never used hair as a deterrent although my barber, when last I saw him a few month ago, told me that people do come in and ask for his floor sweepings. Apparently it sort of works.