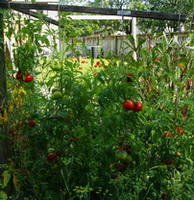 There is a rumour that somewhere in my back yard there is a garden. Have been travelling so much the last three weeks that both "Dallying In The Dirt" and my garden have been sadly neglected. I would never have organized my life this way, ( not that I organize my life very well at any time,) but three things that we thoroughly enjoyed all happened within a few days of each other and we are now home and exhausted and looking at a mountain of chores in the gardens. The Tomatoes not only survived all of the neglect but produced a bumper crop. Other things not so much. It also has not rained here for much of the time and we are having one of the driest Septembers on record. Got about 4cm last night and was delighted to see it. Where did we go?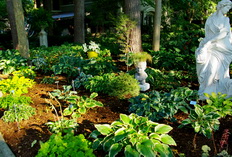 First up was the annual Garden Writer's Symposium, which is always a fun and informative few days in the company of a few hundred kindred spirits from around the world. This year we gathered in Indianapolis, Indiana, a city that I had never visited and which probably was not on my 'must do' list. That's always been one of the joys of attending these affairs, they get us to locations that we would otherwise probably never visit. Each host city goes out of its way to show us the most wonderful and innovative gardens that exist in their city and this year was no exception. A private collector's garden with several hundred Hosta varieties all amply displayed and mostly identified allowed me to not only enjoy this wonderful setting but also to add significantly to my photo library with identified images of some amazing Hosta. It also happened to be bike weekend at their famous speedway and Indianapolis' wonderfully alive and vibrant downtown was even more alive with the sounds of thousands of motorcycles cruising the streets filling the air with a constant rumble and a goodly supply of testosterone.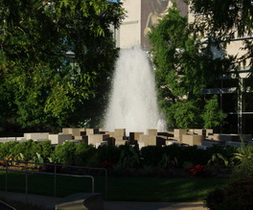 Most intriguing on the list of garden visits was the Indianapolis Museum of Art. Now garden writers are not all heathens who cannot tell a Renoir from a Picasso but Art Museums are not our usual destinations. This wonderful modern building sits in the middle of 100+ acres of gorgeous gardens that were part of the Lilly family estate. Follow the link to see more about these diverse and delightful gardens. The fine folks at Fiskars Tools provided us with a sumptuous breakfast at this location and we dined while hearing about the recent additions to their lineup of superb gardening tools.


The other travels were quite un-garden related but equally enjoyable. Five of our grandchildren and their respective parents were gathered near Ottawa for a few days and we revelled in watching and contributing to the ongoing mayhem. We stayed home long enough to water the containers and eat a few Tomatoes and then spent a few days in Plymouth, (just north of Milwaukee,) Wisconsin at a wedding where we had no responsibilities but to attend and enjoy and we did. Now we are settled home and facing the piles of laundry and autumn gardening activities.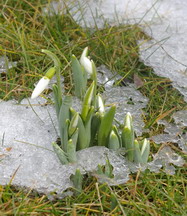 It is never to soon to start encouraging you to look at the amazing world of spring flowering bulbs. Their timing magnifies their size and their status. A 2 cm pendulous white bloom is such an incidental thing unless it is declaring its presence as the first harbinger of spring, as the dirty white snow recedes around it. We must think about these tiny miracles now because there is no way to get around the advance planning that Mother Nature insists upon. Want Snowdrops in the spring - Plant them Now! All of the fall planted bulbs are such a wonderful bargain. Clean and neat and very easy to plant these inexpensive additions to our garden will bring spring colour to our yards and joy to our winter ravaged souls for years to come. Do look at what you are buying. Bulbs are graded and sold by size. Spend the few extra dollars and buy the largest you can find, it does make a great difference in your spring display. If the package looks inexpensive and does not indicate the size of the bulbs that should be a very clear signal that they are substandard in size.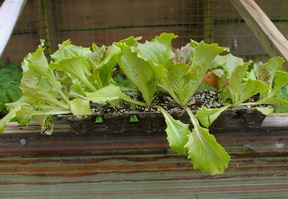 Even as the dying Cucumber vines are waiting to move from the garden to the compost heap, there are new seedlings of Lettuce waiting to move into the empty garden space and into containers in the cold frame so that we can continue to enjoy fresh salads for many more weeks to come. I tend to let the garden and its activities drift away as the ski season approaches but I was inspired by a delightful young woman, Nikki Jabbour, that I met at this year's Garden Writer's symposium. She lives, writes and broadcasts, in Halifax and her blog and upcoming book about Year Round Vegetable Gardening have encouraged me to try and push the season a little longer. I can't go skiing every day can I?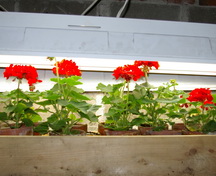 The Geraniums and Begonias are covered with blooms and enjoying the slightly cooler days. Their fresh blooms remind me that, if I want to enjoy their same beauty next year, then I had better get busy and take some cuttings from them now, while they are still actively growing. As the days get even cooler they will start to slow down and harden off and the cuttings produced after that, are much more difficult to root. Rooting them in the basement and keeping them growing under my fluorescent lights, down there, is another way of keeping this gardener's soul satisfied during the winter months.


I'm also busy with my appointment calendar as this seems to be the time of year that groups are booking my very popular speaking engagements. Details of my presentation and an information form are available on the Presentations page of the web site.




Time to answer a few questions and then get back into the garden. If you have a gardening question just 'reply' to this newsletter and send me your query. I try to answer most of the questions and the ones that I answer here are those that I think will have the widest interest. You can also find the latest garden updates on the front page of gardening-enjoyed .


Judie Asks ? My pole beans are not producing the crop I had hoped for. My nanny used to plant these and had great success, it's been years since I grew them and had been looking forward to enjoying feeds of them, like you I'm a bit disappointed so far. Lastly, the picture of the iris borer..is that creature the same as "grubs" that annihilate lawns??

Ken Answers! The long gap since the last issue of Dallying means that your question has probably answered itself by now. Apologies. My beans did eventually produce a reasonable crop but not as nearly as prolifically as they have in previous years. The upside of the late start is that we are still enjoying them well into September, when they would usually have slowed down. The lawn grub is similar to the Iris borer but they are different beasts. The adult lawn grub is the large brown annoyance that we usually call June Bugs. They are also less selective and live in the actual soil eating the roots of anything that comes their way. The crafty Iris Borer seeks out only the many varieties of Iris and enjoys them exclusively.

Gloria Asks? I have 3 Annabelle Hydrangeas in a row in the front of my house foundation(this is the 3rd summer). The centre one and the one on the right are healthy and flowering well. The third one is healthy and has grown a lot ( it is slightly bushier than the other two) but has no flowers. Do you have any ideas why this has happened?

Ken Answers! I wonder if Gloria's Hydrangea eventually bloomed? There would appear to be no logical explanation for one of three identical plants in a row, not to bloom. I suspect that there may be some undetected difference in the soil. Maybe a pile of old ashes or something is under the third bush and is affecting the soil ph. Is it a little farther into the shade than the others and gets a few hours less sun each day? An intriguing problem that needs a more intensive look to try and analyze properly.


Ann Asks? I also have tomato troubles. I have wilt on all varieties except the cherry tomato variety. The tomatoes look great but are bland and watery. There is very little gel to hold the seeds in place. Big disappointment. I started all but the cherry tomatoes from seed under grow lights so maybe something went wrong at that point but everything did look o.k. This is my second year for wilt (where leaves turn yellow and black spots appear and stems start falling off) but last year's crop was delicious. Oh well, onward and upward.

Ken Answers! It would be difficult to ascribe the differences in the fruit to where the plants where started. The weather has such a wide ranging effect on the development of these fruits. They will be better next year. The yellowing leaves with black spots is a perfectly natural and unstoppable progression in the life of a Tomato plant. Some years and some varieties take longer to have it show up, but show up it eventually will and then we throw them in the compost and plan for next year.

111 Trent St. W.
Whitby ON
L1N1L9