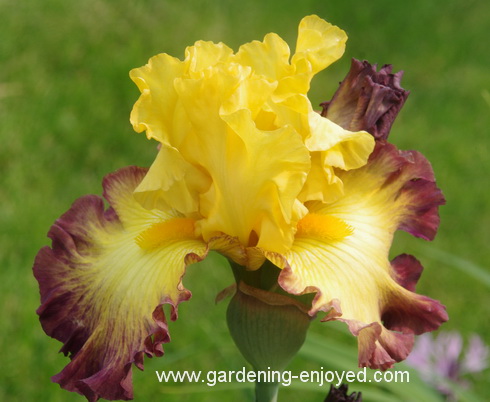 RAIN, we need rain and we get smoke! BUT. It is Iris season and that's what makes my garden and my gardener's soul come to life. Yes, the veggies are delicious and the Peonies are delightful but for me it's always the Iris. A huge array of colours in different patterns that readily capture your attention and draw you in so that you can enjoy their delightful sweet fragrance. My record keeping has never been a strength but I believe this beauty is Summer Shadow and should be available from Chuck Chapman Iris and if you can't find that particular one you will be sure to find more than you have room for. This is a tall bearded type, the last of the bearded Iris to bloom, after a succession of smaller and shorter varieties that have been brighening my garden for a few weeks. Every garden should have at least one Iris.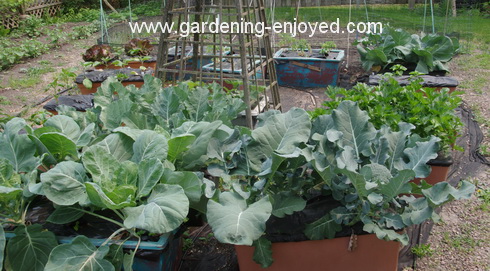 After I have finished admiring my Iris I turn to the vegetable garden which is supplying us with a wonderful, fresh, tasty array of treats for the dinner plate. The Asparagus is essentially finished and is now being allowed to develop its huge fern like foliage that will rebuild the root for next year. Cauliflower, Pak Choi, Kohl Rabi, and Broccoli are the main crops ready now with lots more to come in the following weeks. Of course there is always lots of Lettuce planted in a variety of locations around the garden. It is an excellent filler plant that can occupy spaces that the later flowers and veggies will eventually need. Homegrown salads are always a treat in the warmer days of summer.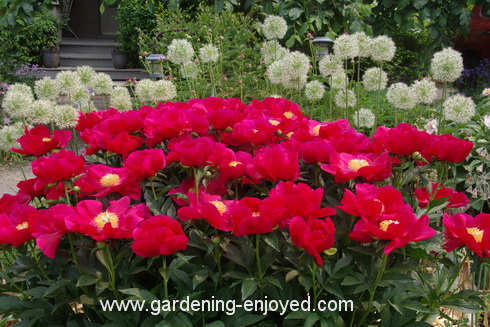 There is one Peony that makes an incredible show of itself. This is America, a single, cardinal red variety that usually stands at least 120+ cm tall and because of its location at the very front of the yard it regularly stops traffic. I counted approximately 70+ blooms on it this year. It does produce some side buds when the main ones start to fade. extending its season for another week or two. Being a single it is not the best cut flower but there are lots more in the garden that regularly find their way into the house. I don't recall ever having seen this variety in my regular garden centres but it's not too hard to find on some of the online Peony nurseries. Check the Canadian Peony website for a list of vendors in Canada. Its week or three in bloom are a regular attraction in my garden and many of the neighbours stop by to admire her, as do I, each day that she is lighting up the garden. Yes I did plant those white Alliums around her to help show her off.

Don't foget the Oshawa Peony Festival this weekend.



Garlic should be in everyone's garden. If you don't know it as a plant it is those tall thin plants filling most of this picture. It was planted in early October and will be dug up in mid August. It's time to dig it when 2 or 3 of those long leaves have turned brown. It's a very easy crop to grow and fresh garlic is much superior to those you might find in the grocery store. Those are Peas to the left and that's a red leafed lettuce between the Garlic. Garlic doesn't like competition but a some shallow rooted lettuce can fill in the spaces for a few weeks. Oh! Did you notice the Iris in the background? Yes! They are everywhere in my garden.



This is Olivia Rose Austin one of the best in my small collection of Roses. David Austin obviously thought so himself to name if after his granddaughter. Like most of the perennial plants in my garden she is a week or two early this year. That week of very warm weather in April seems to have woken them all up a bit early. Olivia is a delightful clear pink with a wonderful fragrance and is one of the established Roses that I transplanted when I was eliminating one of the big front beds. I was very nervous about transplanting those few Roses but they are all thriving in their new location in the back yard. A couple of others have also started to open and most are showing some colour in their buds. No sign of the foliage devouring Rose Sawfly larva this year but there has been some Rose bud worm, Pyrrhia umbra, which loves to hide in the sepals covering the developing buds which it then happily feasts on. Mother Nature continues to make me search for the nasties in order to able to enjoy her beauty.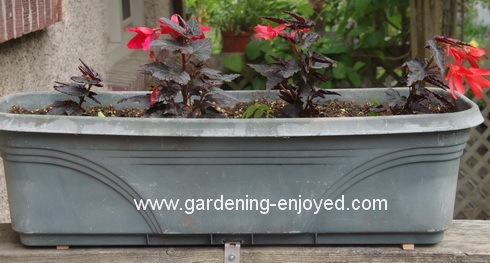 A little engineering can come in handy at times. We are now using the side porch since we no longer have tenants in the apartment. It has this railing around it and to me that's just another place to grow things. I had a few of these green planters that I wasn't using and thought they would look good there with those Begonias growing in them. Those are the Begonias I grew from the seed that I collected last year. I was afraid that they might get blown or knocked off so I looked for a way to secure them. Obviously can't screw them to the railing after they are filled with soil and plants and wanted to be able to take them down for the winter. Look at the bottom centre of the planter to see my solution. Cut a tiny slot on both sides and inserted a length of metal strapping that was then bent over the edge of the rail and screwed down. They won't / shouldn't move until I decide to move them. I'm hoping that those Begonias like their summer home.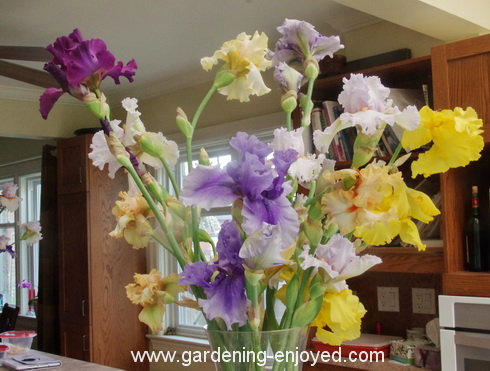 Did I mention that I love Iris?? This great collection is lighting up the kitchen counter and every morning I carefully remove the dying blooms and the new buds then open, to keep us in Iris blooms for a few weeks. They are rarely the best bloom stalks that make it into the house but rather those that have fallen over from their own weight or the wind. Nonetheless in a big vase they put on a wonderful show to greet me each morning. Then I walk around the yard looking for my favourite Iris which always seems to be the one that opened that morning for the first time.




We are regularly traveling to speaking engagements and are always happy to add more to the schedule. If your club or group would like to have me present one of my informative and entertaining talks just fill out the speaker request form and we can find a suitable date and topic.

If you have any gardening questions just "reply" to this newsletter and I will attempt to answer them.



Connie Asks? Can I use mulch in my vegetable garden? If so what kind?

Ken Answers! I don't generally use mulch in the vegetable garden as any of the purchased mulches are a bit too permanent and get in the way of planting etc the next year. A mulch that disappears can be used. I use shredded paper around the stems of squash plants to stop the Squash Vine Borer from accessing the plant's base to lay their eggs. A straw mulch is often used in vegetable gardens because it is easily incorporated into the soil as good organic matter the next spring.