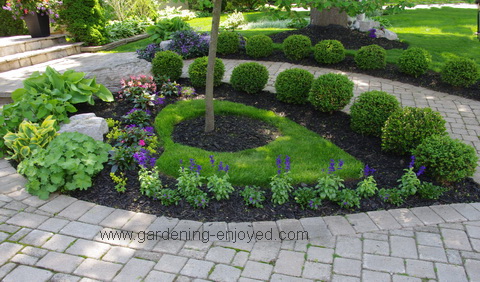 We gardeners are inherently inquisitive folk. Some might say we are just nosy but we insist that we just like to appreciate other gardener's efforts and maybe pick up a few ideas to take home. That's why we flock to garden tours. The biggest and best one, in my part of the world, is put on by the Toronto Botanical Garden and sponsored by Mark's Choice. It takes place on June 09 & 10 this year. I was lucky enough to enjoy the media tour of some of those gardens last week and I can assure your that is one garden tour that you don't want to miss. You get to wander through 19 gardens in an area of Toronto just N of the TBG, known as Windfields Estate. They range from immaculately groomed showpieces to a very natural setting with an amazing diversity of native plants. Despite the rather upscale nature of this neighbourhood most of these gardens reflect the personal involvement of the owners. There are vistas to take in and enough interesting plants to have all of us creating plant wish lists that will keep us scouring nurseries for many months. The little gem in the picture is just one small section of this interesting and beautifully maintained front yard. I did find an element of humour in it when the owner said she did all the maintenance except the grass cutting. Nobody who did the grass cutting would ever design such tiny intricate bits of turf, nonetheless it was exquisite. Make sure you mark June 09 & 10 on your calendar as the best days of this summer to appreciate the art of gardening.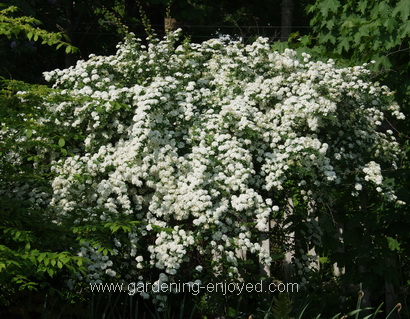 It's a very old fashioned shrub but Bridal Wreath Spirea remains one of my favourites. The wonderful cascading branches of pure white will draw you in close so that you can also appreciate the delicate fragrance. It is particularly evocative for me as I remember a whole row of them in front of the garage in the house where I grew up. Maybe their colour and fragrance are one of the early influences that led me to pursue a life involved with horticulture. That life has certainly been busy the last week or so. The hottest May that most of us can remember after the latest start to spring has produced a very compacted planting and setup season. The 5 days I spent visiting grandchildren in Newfoundland in the middle of May were delightful but didn't help with the garden scheduling. Most of the vegetables are now planted and some of the annual flowers but that activity has kept me from maintenance and weeding. Somehow weeding at 30 C + (86 F) has limited appeal. The shady parts of the garden seem to be getting more attention.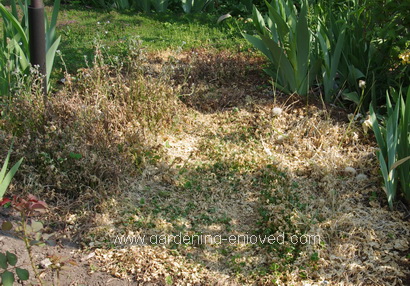 I have finally pursued the art of easy weeding. I've known for years that home made weed killers featuring vinegar were very effective. Have casually looked for the stronger vinegar required but this year I became serious and asked Dr. Google where I could find 10% vinegar. Everything is easy to find if you know where to look. My local Canadian Tire has a ready supply of it but it is in the cleaning products aisle. Very inexpensive and equally effective. In the 2.5L bottle I add a dash or two of dish soap and a tablespoon or three of vegetable oil and then attack those nasty weeds. The burn down, as you can see in the picture, happens that same day. There are some tough perennial weeds that will take a couple of applications before they run out of energy. I use a sprayer that allows me to emit a narrow stream of the solution and that allows me to work quite close to the desirable plants. I have already used three bottles of this solution and the sight of that many dead weeds is really good for the soul. The cracks between the pavers and this large section of my Thyme lawn, that was infested with clover and forget me nots, are now a suitable crispy brown. I can rip out that dead clover and plant some fresh plugs of Thyme to repair that area.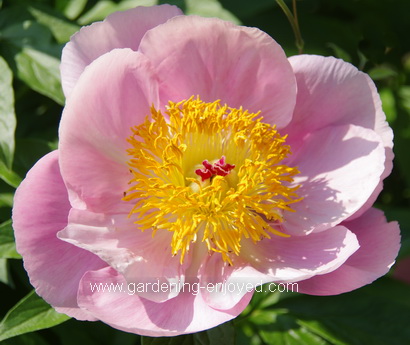 I've saved the pretty picture for last. This is Peony Roselette and she is in full and glorious bloom this week. There are a few other early varieties also lighting up the garden and making all of the effort worth while. I make sure that part of every day is spent just wandering the garden and admiring all of the glorious examples of Mother Nature's children. Some are spectacular flowers like Roselette and some are the abundant growth of fresh vegetables that are beginning to grace our dinner plates in ever increasing numbers. We have been indulging in Asparagus most nights for the past month and are now adding some Pak Choi and Guy Lan to provide other flavours and textures. If you are an admirer of Roselette you can come and visit some 300 of her relatives at the Oshawa Peony Festival. Unfortunately you have to choose your destination as it is also on 09 & 10 June. If you just want a completely horticultural weekend do the Peony festival one day and the TBG tour on the other. The Peony festival is free if that helps with your decision. That festival also includes the Canadian Peony Society's flower show. I anticipate about 800 blooms on the show tables which will give you the opportunity to see many varieties that may not be in bloom in the garden on the days of the festival. Somehow, from those 800 blooms, we judges have to determine the Best in Show, always a daunting task. Come and indulge in sensory overload.




Now it's time to answer a few of my reader's questions. To ask a question just "reply" to this ezine. Don't forget to check the front page of the Website for frequent short ideas for current gardening activities.




Brenda Asks? Enjoyed your talk in Collingwood. Hope you enjoyed the skiing. Now to the garden. I noticed that some of my Iris leaves are brown and have holes in them. Could it be the Iris borer, should I discard the plants?

Ken Answers! No need to discard plants. Remove the holy leaf and split it open to see if there is any sign of a small worm or sawdust from his tunneling. Kill the bug and leave the plant to grow.

Ingrid Asks? I am tempted to buy one of the beautiful and fully blooming hellebores that are available right now, but I have no idea how to transition it into the garden. I expect it would like a shady spot when the garden warms up?

Ken Answers! Yes Hellebores appreciate some shade especially from the winter sun. Their evergreen leaves will burn easily in late winter if the direct sun hits them.