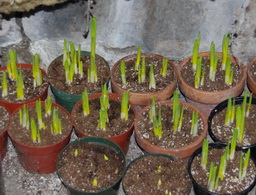 It seems that we talk about nothing other than the weather but it has been so strange this winter. In the first week of February, I have a large clump of Snowdrops in full bloom just off the back deck. They are quite lovely but yesterday it dipped back down to -6̊C and they suffered a bit. My cold room is not staying as cold as it would, most years, and as a result the pots of forced bulbs sleeping there are not sleeping and are shooting up much too soon. I have brought a couple of them up into the kitchen to start blooming but they are all going to be too tall this year as their resting spot is not holding them back. The first package of seeds has arrived and it's time to sort them by planting dates a simple process of reading the seed packages and counting back the number of weeks from the planting out date. Follow the link to find my detailed explanation of how I do this.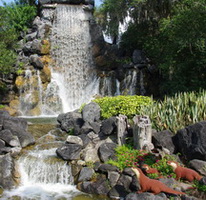 While we were waiting for the seeds to arrive, we took a week of almost complete down time, in Florida, to rest up for the start of the gardening season. Always thinking of my readers and willing to make sacrifices for them, we took one day from our holiday and used our media passes to the new Legoland in Florida. Why would a garden writer go to Legoland? This new park has been created on the site of the old Cypress Gardens, probably the original theme park in central Florida. I was interested to see just how much of the old gardens had been retained and how they were integrating their new attractions into that space. We had a wonderful day there both as a gardener and as a grandparent, envisioning the fun of bringing our little ones to see this amazing place. I was even foolish enough to go on some of the rides while the more sensible Assistant Gardener, after the first ride, volunteered to stay back and be the photographer. The large section of retained old garden was almost as interesting as the fabulous models that they build from many thousands of those little Lego bricks. Follow this Legoland link to read more about our wonderful but tiring day doing this research on your behalf.


I do keep mentioning the Cymbidium and Oncidium Orchids but that's because they are putting on such a great show right now. What delightful plants to have in the middle of winter. Now they are having to share their space with the too early Narcissus but a you really can't have too much of a good thing.






The first seeds to find the moisture, heat and light that they need to germinate are all of the Onions and related things. They have a long growing season and I will be starting them next week. They were waiting for me in the pile of mail that accumulated while we were gone. You can broadcast them onto a seedling flat or plant them individually into a plug tray. I have done both with success but had very good luck last year taking the time to sow them individually into the little plugs of soil.






As I start to rip open seed packages I have to have that little talk with myself. The garden is only so big and the space to start new plants is equally restrained. Just because the package has fifty Pak Choi or Petunia seeds in it, does not mean that I need or have room for those 100 plants. It's easier to plant a few seeds and keep the rest for another year than it is to plant too many and then have to compost a dozen or so perfectly good seedlings. Such self restraint does not seem to be an attribute of most of the gardeners I know and we have to work hard to control our urges. I take a typical large sheet of 256 plugs and cut it up into little squares with 12 or so spaces. It is better to start each type of seeds in its own container so that you can move them through the various stages on their own. Planting several types of seeds in one large sheet of plugs, invariably has you wanting to move some of them to the growing area while some of them still need to be in the germination area.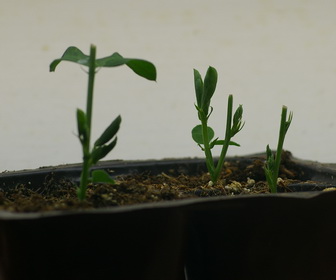 Many annual flowers need a much longer growing period than most vegetables do. Petunias, Geraniums, Begonias and Impatiens, to mention some of the most common should be planted by now if you want to have good sized transplants in the spring. I only grow a very few of these long season flowers, such as Sweet Peas because the good local growers cannot easily grow them but they do have a wide range of most annuals. It is usually much easier to get a wide choice of flowers at the nursery than it is vegetables. Being able to exercise the choices in vegetables that the seed catalogues offer is one of main reasons for growing my own from seed. I also, just like getting my hands into the soil, in the middle of winter to satisfy the urging of my gardener's soul.


Time to answer a few questions. If you have a gardening question just 'reply' to this newsletter and send me your query. I try to answer most of the questions and the ones that I answer here are those that I think will have the widest interest. You can also find the latest garden updates on the front page of gardening-enjoyed.com .


Annette Asks? I discovered the "Frosty Fern" at Christmas and bought one for myself and another 2 to give away as I thought that this was such a delightful plant. In a period of about 3 weeks they all died. This upset me as I usually don't kill plants. I went on the hunt to acquire another one of these pretty ferns. which proved to be quite a challenge as they do not seem to be readily available. I found 3 that appeared to be reasonably healthy, so home I came with them determined not to let them die. I am now watching these ferns like a hawk, I don't even breath on these ferns as I am determined to get these to to survive. This morning I came down stairs to a very sick looking Frosty Fern, very droopy! Mad panic, did I over water, did I under water, is it getting enough light or did it have too much. It looked great last night, is it in the right place. None of them are in direct sun light.

Ken Answers! This is another of those plants that get introduced with a cute common name that is quite incorrect. The "frosty fern," is actually a Selaginella, a type of moss. That should give us clues to its care. It likes moderate light, no direct sunlight. It wants to be kept quite moist. Both of those you seem to be doing. They need quite a warm temperature, becoming unhappy below about 73F. This could be your problem since you found it unhappy in the morning and you, like most of us, probably cool your house down overnight. I'm not sure how you solve this puzzle.

111 Trent St. W.
Whitby ON
L1N1L9