This bright yellow bloom appeared between the Tulips this week and I almost missed it. I was wandering the garden with a couple of knowledgeable friends and one of them exclaimed, "That's Molly the Witch!" I suddenly remember buying her at a Peony Society auction. Yes, it is an early blooming species Peony Paeonia mlokosewitschii and you can see why it has the nick name. It is native to E. Europe and is happy in light shade. Mine is just north of the dripline of the Camperdown Elm so that it is protected from strong afternoon sun. It is supposed to be slow and difficult so I was ecstatic when I discovered this bloom in its first season.

Another, totally unrelated surprise, was discovered in my local DIY store's garden centre. What appeared to be a display of Roundup was readily available and not locked up as it usually it. Upon investigating I discovered that it was Roundup Advanced. A little research found it to be acetic acid (aka Vinegar) and it was being sold by Scotts who had licenced the Roundup name from Monsanto. They wanted $29.95 for 5 litres with a battery powered pump. It was 6.5% acetic acid with no other ingredients listed. The promotion said it killed weeds to the roots. Notice that it did not say that it killed the roots. After checking the cleaning products section of the Home Depot, I went over to my local Canadian Tire store and purchased Allen's double strength cleaning vinegar $9.00 for 5 litres. It is 10% acetic acid and I have found it to be quite effective in killing the tops of perennial weeds and many annual weeds. Repeated applications will eventually make perennial weeds give up.



In my vegetable presentations I have always pointed out that Potato tubers are not part of the root system but are borne on lateral stems and that's why we hill up the plants. Clancy is a Potato but he is exciting because he is grown from seed and he won an All America Selections award this year. The picture is the base of one of my seedlings ready to move to the garden and the lateral branches that will produce the tubers are already obvious. Clancy should be in the garden but the weather and my barely functional right arm have combined to keep him in the cold frame. Maybe later today if the sun keeps shining. I'm anxious to see just what these seeds produce in my garden. Gardening, always something new and interesting to keep us involved and excited.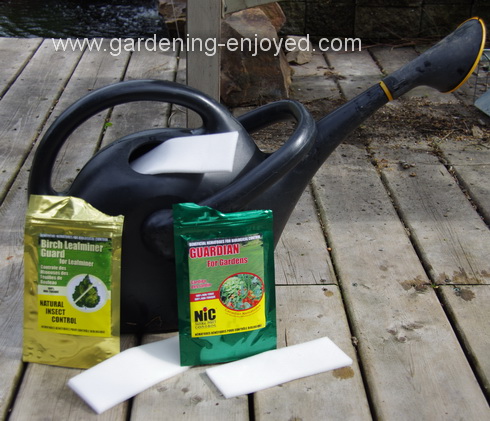 6 million little friends arrived in the mail this week. Beneficial Nematodes have been an important part of my gardening for many years. Those who know me are aware of my love of Iris. I don't love a large ugly invader the Iris Borer and an annual application of beneficial nematodes is the answer to controlling this nasty. The residual, after all of the Iris have been treated, goes on the vegetable garden where it will attack cutworms, onion and carrot maggots among others. The other package in the picture has another species of nematodes that attacks Birch leaf miner and, in my case, the Elm leaf miner that wants to eat my Camperdown Elm. These wonderful nematodes need the soil temperature to reach 10 C which has been a little slow arriving this year but I applied mine this week and if they weren't microscopic I would go out and watch them attack.




We were admiring the lovely red flowers on my Little Red Gem Peony when we discovered Molly The Witch in the back of the same bed. There are several cultivars of the fern leafed Peony that grace the garden with their early blooms. Mine is a single flowered type but there are also double flowered varieties. It is easily the first Peony to flower and the finely divided foliage is quite distinctive along with the covering of 5 cm red flowers. The foliage tends to turn some interesting colours by mid summer and has usually disappeared by the end of August. P. Tenuifolia is rarely found in garden centres but can be found on several of the online Peony nurseries. As she is quite short P. Tenuifolia needs a spot in the garden where she can be seen and appreciated.



This is a flat of Colocasia corms sprouting. I start all of my corms in a single flat like this, as a space saving practice. They are then transferred to pots or their garden location. That should have happened by now but there they sit for the reasons already noted. They are tropical plants that are not showing any tendency to take off and need more space. Just another in a long list of delays this spring. They seem to be happy in that flat and I will get to them as soon as possible. They are kept on the wooden deck rather than in the cold frame as they are rampant rooters and would be several cms into the cold frame's soil bottom if allowed to spend any time there.




Now it's time to answer a few of my reader's questions. To ask a question just "reply" to this ezine. Don't forget to check the front page of the Website for frequent short ideas for current gardening activities.




Betty Anne Asks? How long do I have to leave the dead daffodils and tulips in the ground before pulling up the bulbs to make room for the annuals to be planted?

Ken Answers! I almost never dig up dormant bulbs they just go to sleep in place until next spring. Plant your annuals between them and they will grow and cover the dying bulb foliage.

Kathryn Asks? You mentioned in your last ezine that you had few blind bulbs this year. I was always under the impression that if they didn't flower they needed to be split and replanted is this right? Also after digging up and splitting do you then immediately replant or wait till Fall?

Ken Answers! I didn't plant any of them but many people had problems with their colour not being correct. Any Tulip that hasn't bloomed in 2 years in my garden is headed for the compost heap.