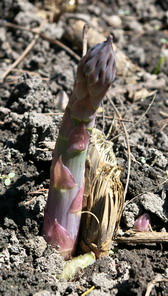 Ahh! The absolute joys of being a gardener.

We had fresh Asparagus for dinner on the last day of April. What a wonderful treat and a reward for having planted this long lived perennial vegetable when we first moved here. It takes about three years from seed to produce the first light harvest but then it continues to produce for at least 15+ years. My little patch is in it's tenth year and it just gets stronger every year. We will probably eat Asparagus 2 - 4 times a week until the end of June.


By then the Peas that we planted before we picked the Asparagus should be ready and they will relieve the boredom ?? of being forced to eat fresh Asparagus nearly every day. Life is harsh! There is such a myriad of things to undertake in the garden at this time of year. Regular plantings, new projects and those infamous unfinished projects from last autumn.





The garden is now ablaze with several varieties of narcissus in every imaginable combination of yellow and white. A few of the early Tulips are making their appearance and the squirrels continue to feast upon the few remaining crocus.


I have added a new tool for this spring. The lingering effects of my sojourn in an English Hospital have forced me to add the contemplation device. A cheap plastic chair that I move around the garden with me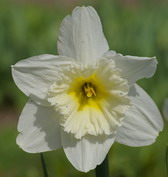 and into which I collapse, in order to contemplate the project, whenever my tiring body indicates that I should. Annoying and therapeutic all at the same time.


The mid winter seedings of Marigolds and Coleus and Peppers Tomatoes are all transplanted and rapidly filling the cold frame. Its now less than 4 weeks to a guaranteed frost free date and time to sow the seeds of the more quickly growing crops. Morning Glories,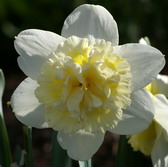 particularly the brilliant but old fashioned, "Heavenly Blue," variety is something that I cannot be without each summer. I have even devised special trellises to maximize their output and minimize their garden space.

If they are seeded to early, you curse them and yourself at planting time, as they have done what they do and wound themselves around and around each other and it's like unraveling a well knit sweater trying to separate them.


Fast growing warm season vegetables such as Cucumbers, Melons and Zucchini can now be safely seeded indoors. Use 3" - 4" pots, so that they have lots of room to grow for 4 weeks without having to be transplanted. You won't have time and they don't like the process anyway.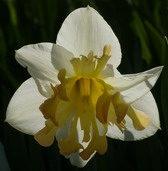 Pond Gorp!
The middle pond has close to 12" of sediment and gorp, (perfectly good horticultural term,) in the bottom of it and the big waterlily has grown out over the sides of the pot and is now happily rooted in this gorp. To clean or not to clean? That is the question. The whole pond system will be cleaner and better for the effort but what a big effort it will be.

The lily will have to be chopped up and made into several. That will make some of my pond owning friends quite happy. The gorp has to be removed by standing in it and bailing it out with a bucket. The part of the garden that receives this excellent liquid compost will be happy, if a bit smelly. The fish will have to be caught, always an exciting adventure and kept in a pail and may suffer extreme emotional stress. Buckets full of sodden gorp can be quite heavy and that could make my chiropractor happy. I'll have to make good use of the previously mentioned contemplative device and report back to you.


In the meantime I'll try to find where the river system is leaking and solve that problem. The ponds never leak. Why I decided to create a system of waterfalls and rivers between them is a mystery and at the moment, quite an annoyance.


Questions Questions?
We're starting something new with this issue of Dallying In The Dirt. I'm offerring to answer gardening questions from my readers. There are many things I don't know and I'm sure you will find out just what they are. I have some significant resources to call upon if I'm stuck. I can't promise to answer every question but we will see how it goes. Good general interest questions I'll try to answer in this newsletter so that everyone can benefit. Just hit the reply button on your email and send me your questions.


I may have to put off bailing gorp out of the pond in order to answer them. What a pity!


111 Trent St. W. Whitby L1N 1L9