In the spring a month can fly by as we tackle the many chores that keep us in the garden and not at the computer writing Dallying. Today is very cool so it's time to do a little writing. Some of the most amazing things that happen in the garden are totally accidental. This big pot was taken inside last fall to see if we could overwinter the large Begonia that was growing in it. The Begonia slowly died but this amazing Coleus appeared and grew at an rapid clip. It is very similar to a Coleus that was growing in other containers and I can only surmise that one of them must have produced seed and one of those seeds found its way into this Begonia pot. If I had intentionally put some Coleus seed in this pot in the fall, I'm sure nothing would have grown. Mother nature continues to mess with my head.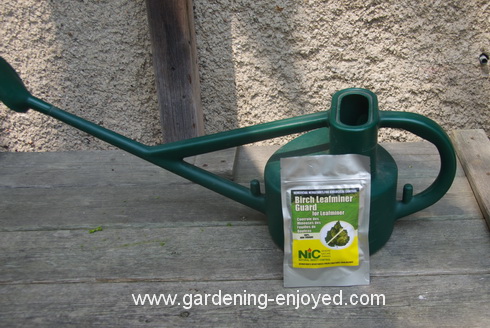 The warm weather has increased the soil temperature to 10C which is the signal to start attacking a few bugs with these beneficial nematodes. This package will thwart the leaf miner that a likes to feast on my Camperdown Elm and as you can read, it also works on Birch Leaf miner a much more common problem. The nematodes are dispersed in several litres of water and sprayed under and just beyond the drip line of the tree. When the miner's eggs hatch and their larva crawl across the soil looking for the tree the nematodes will find them and attack them before they get to the trunk of the tree. The other variety of nematodes has already been released to catch the larva of the Iris Borer.



Ahh! One of the big treats of the season is that first Rhubarb pie. Good Pastry, thanks to the Assistant Gardener, lots of Rhubarb, slightly tart and in big slices. Even the children think I'm a bit weird but Rhubarb pie is one of my favourite breakfasts. I have three clumps in various locations around the yard and as soon as they emerge in the spring they get a healthy splash of fertilizer because Rhubarb is a very hungry plant and would be very happy to get a good mulching with some rich compost every year. The "experts" tell us to pull the stalks rather than cutting them and that works as long as you are a bit careful, pulling slowly to the side, so that you don't pull the central growing point with the stalk you are after. A good Rhubarb patch should last for many years with a minimum of maintenance.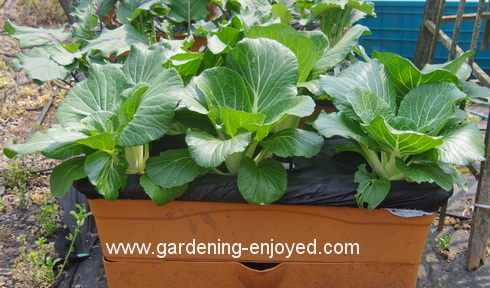 We had a week of summer weather in the middle of April that made it easy to get most of the cool season vegetables into the garden or at least into the subirrigation containers. We have already enjoyed Pak Choi a few times this spring and this picture is of the second batch nearing its harvest time. Another batch, sown a bit later, is ready to fill in the empty spots in that first container. It's a very easy and fast vegetable to grow and easy to cook and eat. We chop it into a stir fry or cut it in half longitudinally, smear it with a bit of flavoured oil and grill it for a few minutes. We have also had the first cut from the Guy Lan, a broccolini type of vegetable. The Kohl Rabi is already thickening up and will grace the dinner plate in another few days. As of today we have been savouring Asparagus for a month. It actually started in that warm week, about two weeks ahead of it's usual start time.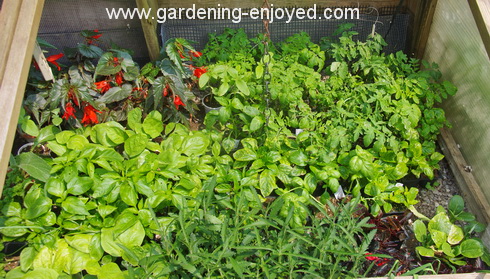 This is my heated cold frame filled with warm weather veggies and a few flowers waiting for our frost free nights to arrive. Last week had lovely warm weather but I resisted the urge to plant and I'm now looking good as it's supposed to dip to freezing temperatures tonight. Peppers, Eggplant (aka Aubergine,) and Tomatoes occupy most of the space in that cosy structure but there is a bit of Basil, some Parsley and some amazing Begonias that I managed to grow from collected seed. Last year we grew several Artichoke plants and managed to produce one Artichoke. Several more plants are in the cold frame in 10cm pots waiting for a better location this year. Artichoke is a warm climate perennial and this variety is supposed to produce in its first year which is important for us as it will not be perennial in my garden.



Some delightful plants can become a bit of a nuisance. This delicate, fern leafed, Bleeding Heart is in that category. The delicate flowers and foliage are wonderful but as you can see there is a quantity of it. It's not quite in the invasive category but is approaching it. It will be easy to dig out several pots of it for the local plant sale this year. Must attach a warning tag to those pots! This steep hillside between the ponds is a great space to let it run as it fills in solidly and that area is difficult to weed or maintain. Its problem, of course, is that by mid summer there is very little left of it, either flower or foliage.



Saving the best for last. Long time readers will be familiar with my obsession with Iris. The early bulbous ones have amazed us and moved on but now the SDB, (standard dwarf bearded) ones with their amazing colours are brightening several spots around the garden. The tall bearded beauties that are the climax of the bearded Iris season are already putting up large bloom stalks and I'm wondering how early they will be this year as the local Iris show is a bit late this year. Not a good combination. The SDB's have the most amazing colour palette and every breeder tries to get some of those colours into the tall bearded varieties. I await their success as I realize that I don't have the patience to do any breeding myself.

We are regularly traveling to speaking engagements and are always happy to add more to the schedule. If your club or group would like to have me present one of my informative and entertaining talks just fill out the speaker request form and we can find a suitable date and topic.

If you have any gardening questions just "reply" to this newsletter and I will attempt to answer them.



Val Asks? I have a question about planting Tulip bulbs in containers. I am wondering if you would know if this is something worth doing. I live in downtown Toronto facing south and have a lovely spread of open balcony real estate. Each year I purchase Tulip plants and once the flowers are spent I then take to work and leave for homeowners with yards. So this time around I purchased about 3 plants and I have cleaned off the bulbs and stored them and I am wondering what the outcome could be should I try to replant these in garden containers on my balcony.

Ken Answers!Bulbs in containers are usually not very successful. When the soil in the containers freezes it expands, remember your grade 5 science experiment. When that soil/water freezes and expands it needs room and since the sides of the container are usually immobile the expanding soil/water tends to crush the bulbs as they are the softest thing in the container. You cannot plant the bulbs in the spring because they need a cold period to make them bloom. Give it a try, your bulbs have already paid for themselves.