Well I really thought I might find some time to sit in my hotel room In Oklahoma City and tell you of all the horticultural delights I was experiencing. Didn't happen. We had such a full schedule that we started breakfast each morning at 7:00 am and usually finished up our evening activity close to 10:00 pm, at which point we all just fell into bed to try and get ready for the next day. Got back home and had a dozen stories to write and a short runup to Thanksgiving, (for my American readers, we do Thanksgiving much earlier than you) when we were hosting 3/5 of our children to dinner on Sunday. Some of them and some of their dogs are still delighting us with their presence. After watering the many containers that are still drying out because of the record high temperatures, I finally found the time to sit at the keyboard and tell you of my latest horticultural adventures.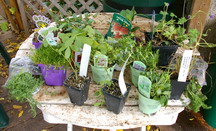 Testable Tools & Plants! One of the delights of belonging to the Garden Writers Association is the quality and quantity of the samples that we receive. Nurseries and tool makers etc. all want the various garden writers around the country to try their wares in hopes that we will like them and write something nice about them.

This is often problematic for the 25 or so Canadians among the almost 500 delegates at this meeting. We believe in and support the import rules that protect the various agricultural crops in our country but we would really like to try some of these new plants. To smuggle or not to smuggle? That is the question. I know I just couldn't pull it off and this year the organizers of the conference were wonderful. They brought in a plant inspector from the Oklahoma Dept of Agriculture and we all traveled home legally with a piece of paper know as a phytosanitary certificate. The Canada customs people noted our proper papers and waved us through. Now I have to find somewhere to plant all of these delights (pictured above right,) so that I can report to you on how they do in my part of the world.



Which Tool?
This was the year of the trowel. Everybody is in the hand tool business it seems and I had enough weapons in my luggage to start a small war. Go to Trowel Trials on gardening-enjoyed.com and see what's new and supposedly great, in this most common and simple of gardening tools. We will be testing and reporting on them as the 500 bulbs find their way into the ground. There were some other innovative tools and devices that we discovered and we will fill you in on their functionality in later issues of Dallying In The Dirt.



What Gardens?
What did we actually see. Way too much to tell you about it all at once so I will continue to show you tidbits as the weeks unfold. One of the highlights, at least for me, was the Myriad Botanical Gardens with its Crystal Bridge conservatory. It is located right in the heart of downtown Oklahoma City and was a wonderful horticultural oasis in the middle of a city.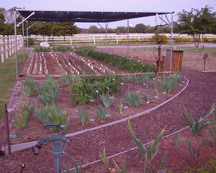 A Gardener's Garden!
One morning we got up extra early for what is known as the early morning photo shoot. Photographers love the light quality at the beginning of the day. We arrived at the home and gardens of the Stout family while it was still dark and wandered into the garden as the sun was just making its appearance. A delightful time in a delightful garden. Over the next few days we would see some dazzling gardens highlighting what you can do by gardening with a chequebook but this was a gardener's garden.

Hugh breeds Iris, (how could I not like him?) and daylilies. Although none of those were in bloom the extent of his collection and his seedling nursery, (pictured left,) were quite amazing. He also had a wonderful assortment of paths that led you through the various parts of his garden and I will lead you down some of those garden paths in later stories. The garden was also filled with stuff that I have decided to call whimsy. Old tools, sculpture, pots, logs, all were located in interesting places to really personalize this garden.



Back Home?
So what's happening in my own garden? There seems to be a fair quantity of "natural vegetation" (aka weeds) developing despite the lack of moisture. The hot and dry summer has been beneficial to a few things. A bumper crop of hot peppers has developed. I'll have to trot out my recipes for Hot Pepper Oil and other ways to store this crop over the winter.

Paul's question about Wisteria and a few specimens that I saw on the tour have led me to start an experiment. I'll let you know more about this horticultural insanity in the next issue of Dallying In The Dirt. This morning I planted an Eremurus root that I bought at the garden club meeting. Look it up or come back next issue to learn more..


Questions
My newsletter subscribers get to ask me questions. Just 'reply' to the email newsletter. It is always interesting to read the questions; mostly to see if I actually can answer them or if I have to wade into the textbooks to research the answers. If that happens then we all learn something.

Nadia questions my habits? Why do you need to empty your rain barrels?

Ken answers!
Cleanliness and physics. You will be amazed at the amount of goo (fancy horticultural term) that accumulates in the bottom of a rain barrel over the season. Makes you wonder what's in our rain. Clean it out and use it as a compost tea on some deserving part of the garden. Physics! A rain barrel full of water will expand as it freezes and crack the plastic barrel forcing you to buy a replacement next spring.


111 Trent St. W.
Whitby ON
L1N1L9