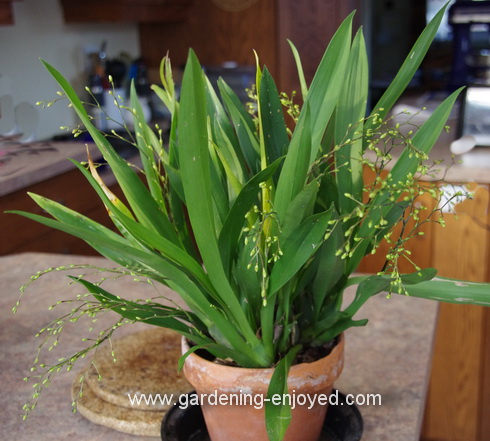 The holidays are fast approaching so I need to get one more "Dallying" to all of my readers before I take a break. "Dallying" will return near the end of January when the seed catalogues start inspiring me. This delightful miniature Oncidium Orchid is loaded with buds and it may be finished blooming by the next issue so I thought I would share it with you now and I will watch it bloom for everyone. It spent the summer outside in the shade and like most things, it was out there much later than usual because of the lack of frost until 01 November. I watch carefully and have only spotted the occasional scale on it. It always amazes me how a scale problem on the Orchids almost completely disappears when they summer outside. There must be something out there that likes the taste of scale and I'm happy to provide. This Oncidium was picked up at the local supermarket for about $5 a few years ago and it has rebloomed most years since. A great bargain.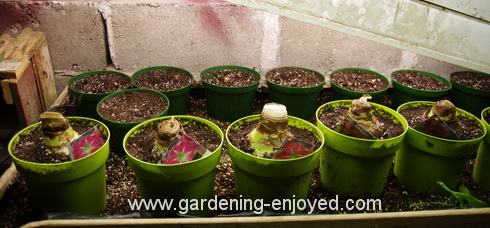 Down in the basement I have finally spent some time potting. The back row are the miniature Narcissus that will grace the kitchen in late winter. I have another bag to plant and I think it is now obvious that the bag of Crocus bulbs by the back door are going to find a home in some more pots for late winter indoor bloom. If I can hold them in the cold room late enough then I may be able to drop their pots into the containers on the porch. The front row are my annual crop of Amaryllis. I will keep a few for bloom just after Christmas and the rest will make great Christmas gifts for all those people that contribute in some way to making my life a little more pleasant. Of course, there will be a few saved to pot up with whatever grandchildren we will see this Christmas. Potting giant bulbs with Grandpa is a long standing tradition in our family and I'm convinced that they enjoy it as much as I do. They do love to watch them grow and I get them hooked on horticulture.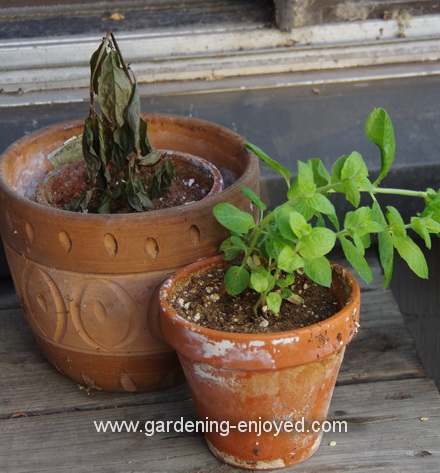 These are two little mint plants. One went outside a few days ago and the other just yesterday. Why have I been so cruel?? I thought that a couple of pots of mint growing on the windowsill would supply their fragrance to the solarium and a fresh taste to some meals. I don't know where they came from but both plants developed a large herd of Aphids. I gave the first one the frost treatment right away and tried to control the other one. Minimal success, so out it went. A herd of Aphids finding my vegetable seedlings a little later in the winter is not going to happen if I can help it. The benefits of the mint certainly were not worth taking that chance. The -10C nights quickly take care of that problem and there will be no period of mourning for the loss of the Aphids.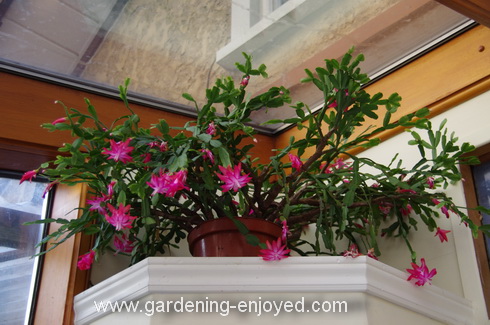 One of my most reliable house plants for many years has been my Christmas Cactus. Not this year. As you can see it is not a mass of blooms and those blooms that did show up, were at least three weeks before Christmas. It has always provided peak bloom on Christmas day. I think the longer than normal period outside got its photo periodic response a little mixed up this year. The plant suffered from a few broken branches this past summer and that also helped make the number of blooms noticeably reduced. As in all gardening, there's always next year.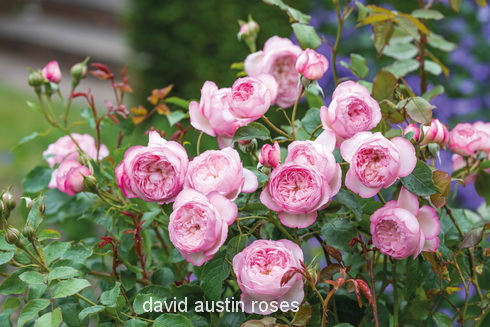 Today's email brought great anticipation. My friend Sally at David Austin Roses sent me this lovely picture of a new introduction for 2020, Mill on The Floss, named for a novel published in 1860 by George Eliot. This is just one of their three new introductions for North America but it is the one that most needs to be in my garden. I don't have any room and I'm trying to reduce the size of the garden but!!!! just look at it. At first, the flowers are a lovely mid pink, verging on lilac pink. As the flowers open further, the pink color pales and a carmine-red picotee effect appears on the outer edges of individual petals. It should make a 1.25 M shrub in my cooler climate. On the worst of the winter days when I don't even want to venture to the ski hill I can just spend time on their web site and dream. George Eliot is the pen name of Mary Ann Evans who used a male name so that her writing would be taken seriously.




Have a wonderful Christmas and a Happy New Year and I will return with another "Dallying In The Dirt" in a few weeks. In the meantime you can peruse my web site gardening-enjoyed.com for an escape from winter.