Wow! It has only been a little over 2 weeks since the last issue of Dallying but it seems like ages ago. Much has transpired in that short time. I had intended to publish this much sooner so that I could fill you in on all the wonderful things I had seen. I spent 5 days in Portland Oregon at the annual Garden Writer's symposium. Yes, some 600+ garden writers all gathered in the same place exchanging ideas and thoughts. Going on tours of gardens big and small and getting news of the latest and greatest in plants, tools and various gardening accessories. Shortly after I returned home, life got in the way. This is not the place for a great deal of my family's personal story but I spent several days in two trips to Ottawa. I was being Grandpa and assisting where I could while my month old grandson underwent some intricate surgery. He is recovering nicely and his prognosis is good and I am now trying to resume my normal life.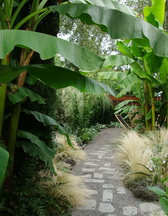 Portland is about as far North as my location near Toronto, so how come they get to have gardens where banana plants thrive and Fuchsia are hardy shrubs?? Not that I'm jealous or anything! There must be something that we can grow that they can't. We toured a variety of gardens and each one of them provided an idea or a story that will make it's way onto the web site or into the next few issues of Dallying. The Bananas were in a quite small residential garden in an older area of Portland and they were the focal point in a space that was full of interesting textures, cool colours and spaces. I have a thing about garden paths and the large flat stones set in gravel made a wonderful way to wander around this intriguing space. The garden down the street had some significantly larger stones creating its paths and they were a feature unto themselves. It really is amazing how expansive a quite small space can seem when the time and effort is spent on its design.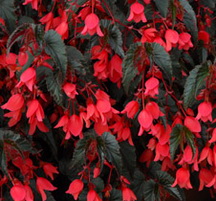 The wonderful Bonfire begonia that I mentioned in the last issue has rooted quite successfully and will get potted up in the near future. There was a wonderful display of this Begonia at the trade show in Portland and when I inquired about propagating it from cuttings, I received that look, indicating that it is a patented variety and propagating it, (commercially?) without a licence is a no no. They would love for me to buy all the plants that I need for next year as well as its new cousin, Bellfire. Bellfire (pictured left,) has a slightly more upright habit and the flowers are, as you might surmise, more bell shaped. They both will grow in full sun and, as on my patio, in considerable shade. As I mentioned last issue, their resistance to the mildew that decimated the other begonias was quite amazing. Look for them in the garden centres next spring. I'll be watching to see how well mine do under the fluorescent lights this winter.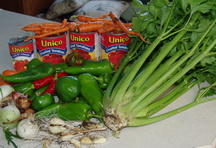 I have wealth of vegetables in the garden that I must go and harvest before any frost comes along and destroys them. There are some wonderful Peppers, Onions, Celery and Carrots, along with a mess of fresh garlic, that need to find their way into my spaghetti sauce. I buy canned Tomatoes because I simply cannot grow enough to make the huge batch of sauce required to get us through the winter. After the spaghetti is done it will be back to the garden to harvest as many eggplant as possible to make the winter's supply of moussaka. I'll try to get my recipe's for these winter staples up onto my recipes page as soon as possible.


Questions
My newsletter subscribers get to ask me questions. Just 'reply' to the email newsletter. It is always interesting to read the questions; mostly to see if I actually can answer them or if I have to wade into the textbooks to research the answers. If that happens then we all learn something.


Alex Asks??
It's the end of September and I'm going nuts. The summer has been wet and depressing for everyone except the weeds! It seems like I have been pulling out weeds all summer. I got so fed-up at the end that I was ready to Round-Up everything! Is there a way to prevent the weeds from coming back next season that is environmentally friendly and that doesn't involve me picking them one by one? It would probably be better because I discovered new plants this year that looked like weeds to me but that my wife assures me are supposed to be in the garden.
Ken Answers!
Mulch Mulch Mulch! My mulch trials this summer have resulted in some very weed free gardens. The big question is whether to apply them now, in the fall or wait for spring. Applied now may stop a lot of weeds starting in the spring but the winter will take it's toll on the mulch and you may have to apply more in the spring. A spring application could be done more easily when the garden is bare and it's easier to work between the plants. I can offer no advice on the, weed/not a weed/ husband/wife, dilemma. Way beyond my expertise.


111 Trent St. W.
Whitby ON
L1N1L9