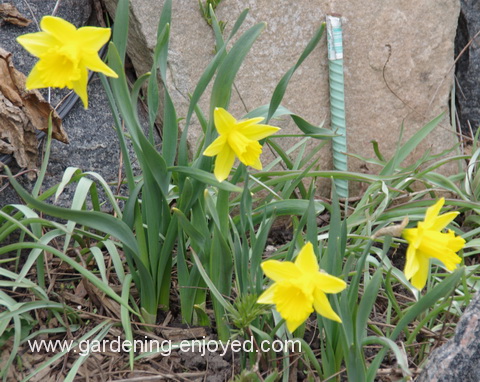 Today it's +16 C on my back deck and 5 days ago it had 2-3 cm of snow on it. Spring in Canada, what can I say? These lovely Yellow Daffodils are the very earliest to bloom. The variety is Rijnvelds Early Sensation and on their own they will bloom before any others but these are planted on a south facing hillside between the upper and lower ponds and that early spring sun always brings them out early in April to brighten the garden and our spirits. The cold frame is filled with early vegetables and we are just waiting for some slightly drier soil to get them planted. Hopefully in this coming week. . About the first of May we will be sowing the last of the seeds under the basement lights. The fast growing vine crops such as Cucumbers, Melons, Zucchini and Morning Glories will be sown in large cells where they will get abut three weeks to prepare themselves for the garden.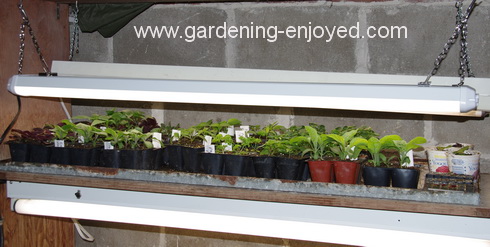 I made a great discovery last week. All of my lights in the basement are fluorescent tubes and I have continued to look at LED lights as a better alternative but they have always been too expensive for my budget. One of my fluorescent fixtures stopped working and I went to purchase a replacement and was delighted to discover a similar sized fixture that was LED and only cost $40. It included the fixture and the chains etc. to hang it with and it even had a remote control that I will probably never use. It was at Costco but I found similar ones at Home Depot. Great light source, easy to setup and they will outlast my gardening days.



Some winters are tougher on some plants. Hellebores should stay mostly evergreen all winter and be in flower in late winter. This year they all looked rather beaten up and most of the leaves are quite brown and dead looking. There are a few flower buds starting to show up but they are weeks later than usual. When I was working on this year's picture I discovered a similar picture that I had taken in 2013. I guess that was an earlier tough winter. Plants are amazing things and they will come back and flower, hopefully, late next winter. The Tulips and Crocus are happily pushing up through the unhappy Hellebore.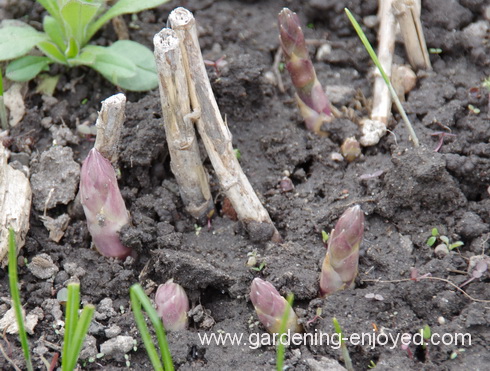 The Asparagus are just starting to peek out through that soil and we are eagerly anticipating their first appearance at dinner. Asparagus is probably our favourite vegetable both because it has a wonderful taste and because it is the first to show up each year. It's early appearance is because it's perennial and my patch has been happily feeding us for a month or more each spring for more than 20 years.



Chionodoxa are a wonderful early spring bulb. They are in full bloom now and covering this little hillside by the waterfall. They spread rather quickly and easily and come in this pink variety as well as blue and white varieties. They tend to get dug up often as other things are planted in their space but we just make sure the little round bulbs get reburied as we finish the planting and they bloom quite happily the next year. Because they propagate so readily they are also quite inexpensive and become a feast for the eyes as the snow melts and the soil starts to warm.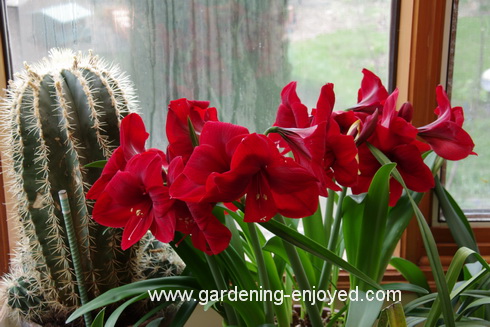 Yes! That Amaryllis that you planted this winter can easily be made to rebloom next year. Follow the link above to find out how. This multi flowered beauty has been with us for several years and each year it multiplies by starting new little side bulbs that will be big enough to bloom in a few years. I have no accurate record of how long I have had this one but it could be about 10 years. It has been repotted a few times and I will have to do so again this summer. I don't want it in a bigger pot as it is getting to big to handle so I will remove a few of the small outer bulbs and put it back into the same pot. The little bulbs will, of course, be potted up to grow into flowering size. There are about 35 blooms on this beauty and as you can see it is sharing a corner of the solarium with the large blooming Cactus. The Amaryllis will go outside as soon as it is warm enough but the Cactus is now a permanent resident in the house as it is too big and heavy to move easily.




We have started doing our presentations in person again and it is wonderful to have a live and responsive audience again. If your group is looking for an interesting and entertaining speaker then check out these topics

If you just hit reply to this email you can ask me questions and I will attempt to answer them.



Joan Asks?My begonia corms have started sprouting & I'm not sure how to pot them up now. Do I cover the corm completely & then the sprouts will work their way to the top of the pot?

Ken Answers!I'm not sure what the approved method is or whether there actually is one but I always plant mine so that the top of the corm is at the top of the soil and there is little or no soil in that concave area where the shoots come from.

Shuyee Asks? When is the right time to prune hydrangeas and roses? I presume the right time would be at a certain temperature for a certain number of consecutive days at that temperature?

Ken Answers! I actually let those plants tell me when to prune them. When the new growth starts to appear I will prune Roses down to some healthy new growth. Hydrangea pruning depends on which type of Hydrangeas you are growing. H. arborescens are pruned to the ground while H. paniculata doesn't need pruning at all except for size and shape. H. macrophylla, you a had better do some more research as they can be a bit trickier to prune.

Lisa Asks? I see you're starting impatiens from seed. I've bought seeds and want to try again this year (last year was a bust). How can I get strong plants from seeds? I have a little greenhouse with a light on it. I have seed starter mix. No heating pad. Any tips/help would be greatly appreciated!

Ken Answers!It's a bit late now and Impatiens are a bit tricky but quite successful if you provide the right conditions. Sow the seed in individual small cells filled with a sterile soil-less mix. Cover very lightly as they need light to germinate. The soil temperature should be about 75 F. Once sown. soak the cells from the bottom to make sure it is all thoroughly moistened. Keep a plastic cover over them until they germinate, keeps the soil from drying out. They should germinate in 14 - 21 days. As soon as they germinate remove the cover and supply as much light as possible. Cool white fluorescent tubes that are about 2" - 4" above the seedlings or a very bright window. Light the seedlings for at least 12 - 16 hours per day and keep lightly moist.