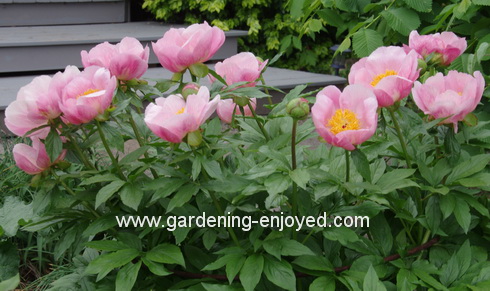 Roselette is usually the harbinger of another Peony season here and a stunning one she is. Over a metre tall with those large single pink blooms. The lovely yellow species, Molly the Witch, preceded her by a day but as interesting as her 3 yellow blooms are they don't make the statement that Roselette does. She is visible from the street and anywhere in the front garden while Molly is more discrete and you have to go and find her. After an extended cool spring we are now in a heat wave, +30 C today, and as lovely and warm as that is, it will noticeably shorten Roselette's bloom time. She produces no side buds so it's one big show and then we have to wait for next year. Lots more of the Peonies are starting to open and, of course, the Iris are starting to pop out everywhere as well. Tonight we will spread the beneficial nematodes that attack the Iris Borer and hope we are not too late. We have to wait until the soil temperature is 10 C, which seemed to have happened overnight this year.



This is a picture of fascinated frustration. The cold frame is filled with a wide variety of flowers and vegetables and they all look fine and a bit anxious to find their home in the garden. This is the second box of Eggplant that has been eaten to the soil line. Some sort of creature is finding his/her, (don't want to discriminate here,) way into the coldframe and he/she selectively eats Eggplant. He/she has to walk past Tomatoes and Peppers to find the Eggplant which he/she apparently prefers above everything else. I'm wondering if I should be a good host and supply some Olive Oil and Parmesan cheese to accompany it?? If the Peanut Butter in the traps doesn't work maybe I'll try the cheese.



This is some really good looking Green Pak Choi that is almost ready for the dinner table. We have been stuffing ourselves with Asparagus for a few weeks and as wonderful as it is, it will be nice to have a change in our diet. They are growing in one of our subirrigation containers aka an Earthbox where they really thrive. If you look carefully you will see some stains on the side of the container and that is Plantskyyd an effective way to keep the rabbits from having lunch on my vegetables. It gets sprayed on the container before it's planted so that it doesn't get on the actual vegetables.



The Rhubarb plant looks a lot thinner now but the pie was delicious. It's another great indicator that the growing season is fully underway. Lots of water and fertilizer or compost is the secret to ample supplies of Rhubarb, and full sun. The Assistant Gardener makes great pastry and has a recipe for the pie that is just a touch tart. The grandchildren think I'm a bit weird and so may you, but I think Rhubarb pie makes an excellent breakfast!



There is close to a 1000 Tulips in the front gardens and this is one of the best. I long since lost the name but it is a single late variety which is almost the last to bloom here. Amazingly it has returned like this for many years now and always puts on a great show and this despite the fact that it grows in the heavy shade of the Camperdown Elm. It starts out a rich cream colour and slowly approaches white as it matures, which can take 3 weeks or better if the weather cooperates at all. It is across the pathway from Roselette and just starts to fade as she takes centre stage, a great succession of delightful blooms.




To ask a question just "reply" to this ezine. Don't forget to check the front page of the Website for frequent short ideas for current gardening activities.




Linda Asks? I want to add some evergreen interest to my garden but nothing that grows too tall. Would Arborvitae be a good choice for my 5b gardens? I have two large Maples so have a sun/shade mix.

Ken Answers! Arborvitae (AKA White Cedar) could be a good choice but there are many varieties that will grow to 50' or 2' so read their tags carefully to get one that will fit your space. I'm personally fond of Yews and they come in a similar range of sizes and shapes. Enjoy some research and you will find the right one.

Christine Asks? Last year, all the ninebarks in our garden developed powdery mildew. All four are in different locations. What causes this and what will prevent this from happening this year?

Ken Answers! Powdery mildew, a fungus disease, and Ninebarks just seem to really like each other. There are some resistant varieties but that won't solve your current problem. I get powdery mildew on my begonias and various squash types and I spray them with a simple solution of 1 part milk and 9 parts water. Should work on the Ninebarks as well.

Jennifer Asks? Do any of your readers or yourself have advice for repelling rabbits? Most of my perennials have spent the spring in chicken wire cages and even my Tom Thumb Cotoneaster was well pruned last fall to an even more miniature size. Grrr!

Ken Answers! See the article above about Plantskyyd. For shrubs like Cotoneaster just spray it directly on the plant.