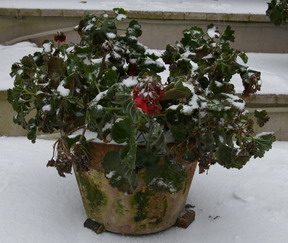 There's snow on the ground, the wind is howling and I only have about three jobs that have not been attended to. One rain barrel is still full, one large garden has not been cleaned up and apparently my wife's car is missing its snow tires. Apologies should start now. First the snow tire one.


Then to my readers for the long delay in publishing this; I had a miserable cold that kept my brain non-functional for a week (fight your urge to comment here,) or more and that backed up everything. Lastly to the Great Blue Heron. Apparently he did not get ALL of my fish. The deeper top ponds finally revealed some fish near the bottom as the water became clearer, which it always does as it cools and the little floating algae disappear. I have even seen one, apparently very quick and agile, fish in the lower pond.


I should probably give some thought to shutting off the pond pump soon. It does build up some rather pretty ice structures on the side of the water fall but we don't seem to be spending as much time on the deck enjoying the sound. I won't save any energy because I replace the pump with aerators pumping oxygen to the bottom of each pond. I'm not really sure if this helps the fish to survive, it's supposed to, but it does make me feel better for trying. The only way to prove the theory is to turn it off and risk killing all the fish.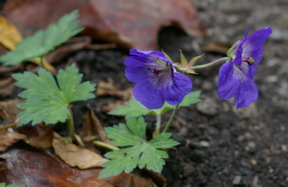 In the last "Dallying" I told you of the new perennial trial plants that I had planted. One of which is the 'Perennial of the year for 2008.' It is the rich purple, (sold as dark blue but we'll agree to disagree,) Geranium x Rozanne. I'm mentioning it here because it has not only grown a bit through our warm November but has started to flower. It looks like it is going to be a keeper. Some of the others went directly to their winter nap and a few like the new Artemisia are growing quite nicely. Lots more about all of these in the spring. Rozanne's flowering just caught my eye this week.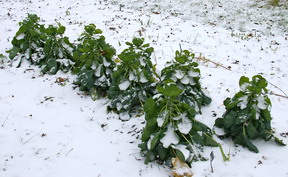 The snow is resting lightly on the Brussel Sprouts and sweetening them up. Elsewhere in the, still productive, vegetable garden I found a new treat.

Rutabaga / Turnip has never been my favourite veg. It brings back memories of large bowls of lumpy orange stuff at Grandma's Thanksgiving dinner. I only grew a few this year. They can be started late to fill in a hole where early things have departed. In an attempt to banish the memories of lumpy orange stuff, I continue to look for new ways to prepare my vegetables. I had a wonderful crop of Lemongrass this year and I am using it in many new places. Try Rutabaga and Leeks poached in white wine with Lemongrass it was amazing and will give you a whole new outlook on this rather humble vegetable.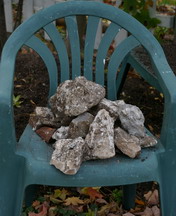 Here is a picture of a chair filled with rocks. Fascinating isn't it?? It leads to a story about my trying an interesting to way to grow and control Wisteria a plant I have always admired, wanted and lacked the space for. Come and see how I can make planting a simple potted vine into a two day affair.




The potted Geraniums (botanically Pelargoniums, Rozanne is a true Geranium, you gotta love common names!) on the front steps are a bit crunchy this morning (picture at the top,) but they did very well to get this far. It's now time to get more serious about our indoor gardening. The Geraniums moved indoors as cuttings a couple of months ago and I actually moved all of the part time houseplants indoors before the great freeze. Now if it will just warm up once more so that I can go out to drain and rescue the hose that I was watering them with.


Questions
My newsletter subscribers get to ask me questions. Just 'reply' to the email newsletter. It is always interesting to read the questions; mostly to see if I actually can answer them or if I have to wade into the textbooks to research the answers. If that happens then we all learn something.


Harry asks? I still have some bulbs. Is it to late to pot them up to give me flowers this winter?

Ken answers! C'mon over Harry and we can do this job together. Each year I vow to pot them up sooner so that I can flower them sooner but it never happens. I'll be potting bulbs this week and they will still perform beautifully.


111 Trent St. W.
Whitby ON
L1N1L9