The great plan was to produce the next issue of Dallying within a few days of the previous one. I needed to tell you about the rest of the gardens that we visited. So much for good intentions. The garden demanded a lot of attention and I would write when I wasn't pulling weeds. Since it rains for a what seems like a significant portion of each day you would think there would be lots of time not spent in the garden. Life just seems to get in the way. Why would two of my children plan their weddings six weeks apart? Having just returned from a few gardens and a wedding in England, we are now deep into preparations for the next one. It's all great fun but a touch time consuming.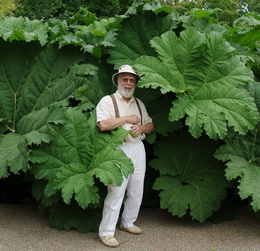 Gotta Get A Gunnera! I love this plant and am always delighted to find it when we are garden touring. I can probably rip out most of my garden and just plant one clump of Gunnera manicata and sit back and watch it grow. Both the lack of space and too cold a climate manage to hold me back. I'll just have to enjoy it when I travel as I am doing in this picture taken at Wisley. Our return visit to this amazing garden allowed us to see just how much it can change from a spring visit in 2007 to a summer visit this year. The seasonal changes are wonderful and the opening of their new glasshouse adds another whole dimension to the place.



Lost and then found! In the last issue I confessed to my lack of planning skills that resulted in us trying to visit Great Dixter the day it was closed. My recovery plan was to have the assistant gardener drive another 20 minutes and arrive at Bedgebury. This huge park holds the National Pinetum which houses the largest collection of temperate conifers in the world. For an avowed tree nut like myself, a long leisurely stroll through thousands of conifers at every stage of their growth, was a delight. This garden doesn't have the excitement and punch of heavily planted display gardens but seeing some of the plant world's giants up close and personal made a very pleasant afternoon. The sign at the end of the trail announcing that we had just completed 16km of trees and lakes should have been sponsored by the local pub. We found it anyway.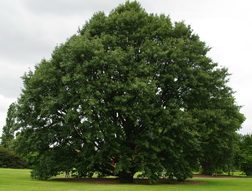 English tubing! The last leg of our garden touring took us to a hotel near Heathrow airport where we dumped the rental car. The assistant gardener muttered something about not wanting to drive anymore and certainly not in London. This left us to explore the very efficient transit system as we found our way to Kew Gardens a storied place that I have always wanted to visit. It has been a cultivated garden since some time in the mid 1700's when it was part of two adjacent royal estates. It is a vast and very varied venue. Some 132 ha (300 acres) with several glasshouses, extensive areas of treed lawn and their teaching and research gardens. There are several of those trees, like this giant Oak, whose planting in the 17 and 1800's are documented and they are now awe inspiring in size and condition. If you are ever in London and tire of looking at rectangular piles of stone such as Westminster and St. Pauls take the tube to Kew and spend some time in it's delightful piles of stone featuring thousands of plants, restful paths and pools and waterfalls. That's just the rock garden tucked into one corner.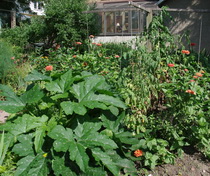 Rain rain go away! All the rain that continues to fall in my garden has had some interesting effects. I have a Zucchini that is starting to resemble the Gunnera at Wisley but right beside it are the saddest excuse for Tomato plants in the world. I have never had any difficulty growing Tomatoes but they are wilting, yellowing and collapsing at an alarming rate. I may not have to go out and purchase my annual August bacon supply. Oh! Toasted bacon and tomato sandwiches are one of those treats that I think about for 10 months of the year. The Peppers and the new Apricot Blush cutting Zinnias from Renee's Garden's catalogue are thriving all around the Tomatoes as are two varieties of Basil that were going into the Tomato Basil Salad. I'm at a loss to explain the Tomato disaster except to blame it on the weather. Tomatoes are a hot sunny crop. They grow them in glasshouses in Britain. I suspected some of the fungal wilts such as Verticillium when the first plants started to collapse because they were the older heirloom types but eventually the new hybrids that are supposed to be resistant also started to collapse. I do have three separate plants in other locations in the garden, tied to individual stakes, that appear to be surviving. All of which just makes the whole mess more confusing.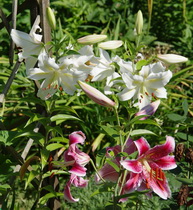 More wedding flowers! Despite my four weeks away from the garden this summer I do seem to have kept the infamous Red Lily Beetle at bay. Yes most of the Lilies show varying degrees of damage but the flowers have been magnificent and well worth the bit of bother that the beetles create. By planting the various types I have managed to have Lilies in bloom from early summer until now. The amazing flowers of the oriental Lilies are now lighting up the garden. They will continue to light up my life until the end of the summer because the next bride wants pink rubrum Lilies. They are ordered and I have set aside a set of very old clothes to stain with Lily pollen as I turn them into bouquets and other arrangements. Great colourful fun!


Questions
My newsletter subscribers get to ask me questions. Just 'reply' to the email newsletter. It is always interesting to read the questions; mostly to see if I actually can answer them or if I have to wade into the textbooks to research the answers. If that happens then we all learn something.


Several people ask? What's happening to my Tomatoes?

Ken Answers!I have no good answer but the weather, see above.

Maryellen asks? New bug or should I describe it as a long slim beatle, about 1/2" in length, rust in colour and flies. I first found it in a dying clematis ( I think they killed it) and then I have noticed them on other small shrubs. They act like those sex crazed lily beatles, they are rarely spotted by themselves rather in 2 or 3's What is it, good or bad bug?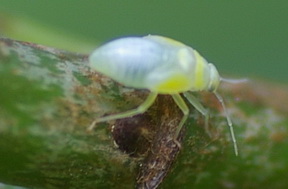 Ken answers! I have no good answers this time. They have probably all finished what they were doing and left your garden by now. See, I should have written this issue of Dallying sooner. Did you manage to take a picture of them that you can send. I had a strange new bug, also a slim flying beetle but with a voracious green and yellow nymph, defoliating my Ash tree early in the summer and even my bug expert was not sure what it was.




111 Trent St. W.
Whitby ON
L1N1L9