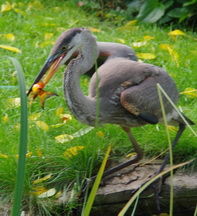 There I was torn between the opportunity to get a great photo and the need to protect the life of my 30 cent goldfish. Harry, (or possibly Harriet maybe somebody can tell me,) Heron was completely unfazed by my presence in his dining room. I stood less than 5 M from him for several minutes and even whistled and stamped my feet but nothing could deter him from his appointed task. I have no picture of his beak actually entering the water. It is so fast that by the time I could react he was standing there with this catch. I did walk around and suggest that he leave after he had finished the main course. He has such amazing eyesight. I had not seen a fish that big in the lower pond all summer.



We continue to be frost free here in my little warm spot. The Impatiens are giving up anyway from the shortened days and the long dormant Broccoli is starting to regrow and produce some delectable delights again. The Cymbidium Orchids that I broke and divided this spring have done reasonably well and amazingly, are already putting out flower stalks. We normally haven't seen these start until the new year, indoors. We should have orchids in bloom by then, this year. Whatever I did in my dividing and transplanting certainly seems to have been the correct procedure. I just chopped the large plants, rather roughly, into a few healthy looking pieces, retaining at least one of the old pseudobulbs, (I'd read that somewhere,) and planted them in a mixture of pine bark nuggets and my regular soiless planting mix. I didn't fertilize them as much this summer because I didn't water them as often, as mother nature took care of that chore with great regularity. The leaves are as pale green and ratty looking as ever but these large flower stalks are indeed showing up at the base of the plant. Amazing things like this is what keeps me gardening and trying new things year after year.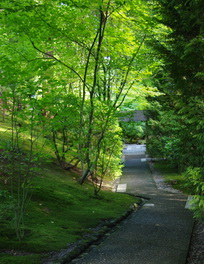 In my trial bed, I had planted a pot full of nuts from a friend's huge hickory tree and was excited this spring when one of them apparently started to grow. It did quite well and I just dug it up to give it a better location and was disappointed. One of my ever busy squirrels had planted a walnut right beside that pot of Hickory nuts and it was his buried dinner that was growing. Alas no Hickory to carry on the presence of this magnificent specimen now that she has sold her property.


Those of you who went looking for my spaghetti sauce recipe immediately upon reading about it may have missed it. It's up there now. It made 25 servings of sauce.


More of the wonders of my trip to Portland. The showiest part of the trip would have to be the large Rose garden, with hundreds of plants in glorious bloom. But. On the other side of that hill was the most delightful Japanese garden. It had all of the tradtional elements of trained trees and raked sand but it also had this large natural area. (picture above left.) We were there on a late afternoon when the bright slanting sunlight was positively magical. A bustling stress filled city life was just over the hill but once inside this space it was light years away.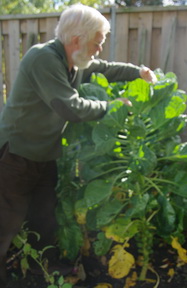 I have some of the tallest Brussel Sprout plants that I have ever grown. When I was admiring them this week I noticed that a few of them had some problem that had curled and withered the new top growth while most of them had luscious new growth. Interestingly the withered ones had developed much better sprouts. I try to learn what Mother Nature is teaching me so I cut the tops off the healthy plants. Increased side branch growth is usually encouraged by the removal of the central growing point. I probably have almost a month of good Sprout growing weather, they love the cool days of autumn, to see if I get a noticeable filling out of this delightful vegetable.


Questions
My newsletter subscribers get to ask me questions. Just 'reply' to the email newsletter. It is always interesting to read the questions; mostly to see if I actually can answer them or if I have to wade into the textbooks to research the answers. If that happens then we all learn something.


Rhonda Asks??
My son planted a Maple key in our garden a few years ago and now it is a tree over 2 M tall. It is crowding out my Japanese Maple. When can I move it.
Ken Answers!
As the leaves on trees turn their delightful autumn colours it is a great reminder that they are about to do some significant root development and this is the time of year, (with very few exceptions such as Birch,) to rectify our earlier planting mistakes and move deciduous trees and shrubs to better locations or to make a trip to the garden centre to acquire new ones.

Dan Asks? I've enjoyed your testing of various things and was wondering if there are any autumn updates on your trowel trials as I'm going to have to buy a new one to plant all of my bulbs?

Ken Answers! Funny you should ask. The large Corona trowel that I had learned to like, bent the other day. I probably shouldn't have tried to get that rock out of the planting hole but it didn't seem that big. I bent it back. It soon bent again during regular use and when I tried again to straighten it, it broke revealing a weak spot where the shaft of the handle is welded to the blade. It has exceeded its useful life span, much too soon, and has been removed from active use in my garden. Another few months of moving it around and I may actually throw it out.


111 Trent St. W.
Whitby ON
L1N1L9