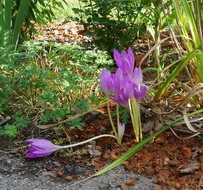 The Colchicums are blooming. They are a wonderful introduction to Autumn as they appear by mid September in my part of the world. The group of flowers in the picture arise from a single bulb that has been in the ground for 2 - 3 years. These large bulbs are an excellent investment. Buy them now before they start to bloom in the box at the garden centre. They are quite distinct from the later blooming Autumn Crocus, which they are sometimes incorrectly named. You can all sound clever by peeking in these flowers and announcing that they are indeed Colchicum because you counted the six stamens.br>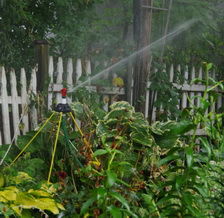 I have the sprinkler running as I'm writing this. It rained all summer and now we are having summer in September and it hasn't rained for almost three weeks. Enjoying the wonderful gardening weather but many plants are starting to suffer from the lack of moisture. I'm not rushing our to plant any bulbs as yet. The soil is baked hard and dry and we need a good soaking rain and some cooler temperatures to get the garden in shape to receive bulbs. Doesn't mean that I'm not out searching the garden centres for new and interesting varieties and getting them ready to plant when the time comes. Look beyond the yellow Daffodils and red Tulips and you will find a dazzling array of flowers that will grace your early spring garden for several years with just a little investment of time and money in the next few weeks.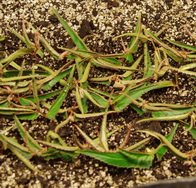 The Bonfire Begonias on the garage wall are magnificent and I was out there this morning taking many cuttings from them to make sure that I can repeat the display next year. The propagating bed in the basement is ready to go. The peat perlite mix is damp, the heating cable is on and the fluorescent lights have had the tubes cleaned to remove the light reducing dust and dirt that accumulated all summer. Next up are the Geraniums. It is important to take these cuttings when the weather is still warm, (no problem this fall,) so that the plants are still actively growing. Make sure to remove all of the flowers and buds so that the plant will spend it's energy producing those new roots.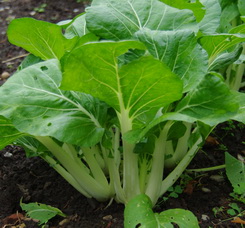 I'm always looking for new ways to serve old vegetables. I don't mean vegetables that have been in the fridge for 2 weeks but old favourite types. I have a surfeit of Red Cabbage this year and you can only make so much coleslaw. Check out the recipes page to see what I did to make an interesting new dish that features some of that Red Cabbage. The Pak Choi that was seeded on the first of August is already at an edible size and will be joining us for dinner soon.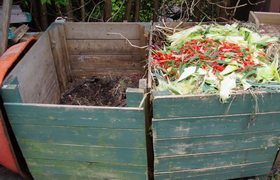 I'm now starting to panic about all of the things that need to happen in the garden this fall. I'm about to leave town for a few days. It is the annual Garden Writer's Symposium. I'm off to Raleigh N. Carolina to learn new things and to wander through some wonderful gardens on your behalf. I'll have exciting things to show and tell you when I return. Ideas that we can all borrow to use in our own gardens. Here at home there is much clean up to start in the garden and the first step is to distribute the contents of the finished compost box. Next we need to turn the contents of the new compost box over into the old box; leaving lots of room for all of the fall garden cleanup stuff to go into this two box system. It's probably inadvisable to leave this little chore on the Assistant Gardener's list. If this weather continues she will be busy enough just trying to keep things watered.


Gardening-enjoyed.com has a new feature. You can now easily search my entire site for answers to your gardening mysteries. If that doesn't get you what you need to know keep reading here.

Questions
My newsletter subscribers get to ask me questions. Just 'reply' to the email newsletter. It is always interesting to read the questions; mostly to see if I actually can answer them or if I have to wade into the textbooks to research the answers. If that happens then we all learn something.


Lynn Asks? Hoping for help with 2 Dahlia questions. 1st, 1 of my Dahlias has slugs. Yuck! How do I make them go away??? 2nd, most of my Dahlias are top-heavy with blooms. Any suggestions re staking them up? I have some tall bamboo stakes and use twine but that's not always attractive - or useful.

Ken Answers! Only one of your Dahlias has slugs in this very wet year. Tell us your secret. Standard slug control is crushed egg shells or diatomaceous earth on the soil around the plant. Slugs shred themselves trying to crawl across. Saucers of beer attract them, they crawl in and drown happy. I use peony rings on some of my Dahlias to hold them up but it's a bit late in the season to try and install them now. Start earlier next year.


111 Trent St. W.
Whitby ON
L1N1L9