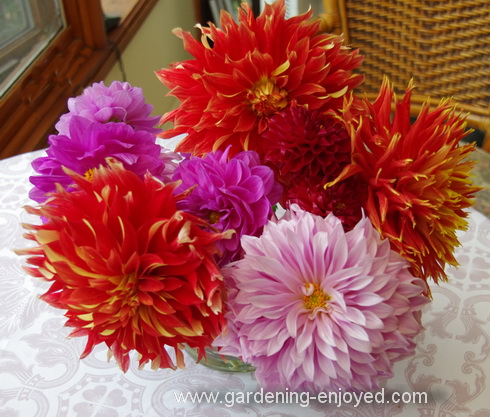 There were a few weeks when I had planned to just leave the Dahlias in the ground this winter so that they could become compost and I wouldn't have to expend the energy digging and storing them. They weren't that great last year and they weren't doing much all summer. They must have heard the plan. They have been providing bouquets like this every few days since we returned from our travels. Now I'm tagging the few duplicates that I have and wondering what new varieties I might find to take their place. The Japanese Beetles did seem to spend some time chomping on them but they have all but disappeared this late in the season. They've laid their eggs in the lawn and gone to attack that great Rose bush in the sky. One of these huge colourful delights even managed to win a first prize at the local flower show. Not that I'm competitive!! It looks like at least another week without frost so the Dahlia show should continue and I'll try not to grumble when I have to dig them up.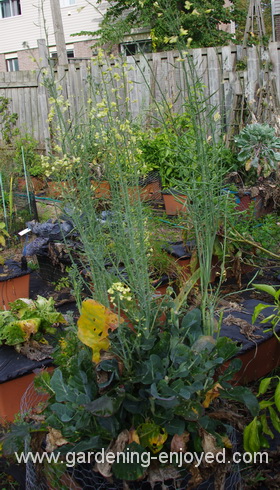 Now here is another mass of flowers with less appeal and a reminder of my tendency to procrastinate. These tall spikes with the tiny yellow flowers could have been a couple of tasty servings of Broccoli if I had been a bit quicker at finding and cutting them. We all know that we are eating flower buds when we enjoy Broccoli but watching this happen certainly drives home the point. A couple of other Cruciferae are doing a similar thing but the Brussel Sprouts are just getting bigger and waiting for a frost or two to sweeten them. So, I want frost to sweeten the Sprouts but it should stay away from the Dahlias, which happen to be planted beside them. Whatever the weather does it never seems to make a gardener really happy.



The mother in law is on the move again. Some of you may remember when my Peony, Constance, was ripped out of my front garden by the town when they were fixing the road and the sewers. After three years in the hospital, (aka the vegetable garden,) she was dug up last week and a piece of her was returned to the front yard where the Assistant Gardener can appreciate her more readily. This is the time of year to move Peonies and I was prompted to do so by a meeting of our local chapter of the Canadian Peony Society where there was a going to be a root sale. With any luck my portion of the proceeds for the sale of two pieces of Constance might cover much of the money I spent buying roots. It's an addiction that leaves me wandering the garden looking for a spot that might be a home for another Peony. There is one more piece of Constance which will find it's way to her granddaughters's garden some day this week.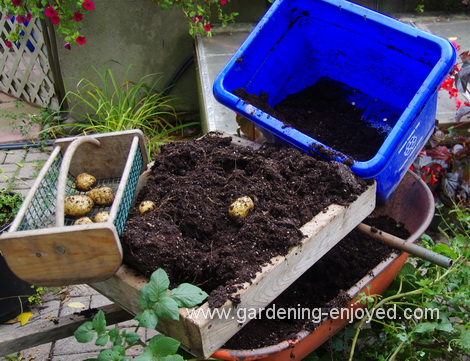 The municipal blue box has always featured in my Vegetable gardening talk as one of the best containers for growing Potatoes and I just emptied that blue box this week. I'm a little disappointed. There was a nice crop of fresh white Potatoes but not as much as I had hoped. Most of the tubers were in the bottom third of the container and all of the time and soil that was expended gradually covering the growing vines seems to have had very little success at encouraging more side shoots bearing tubers. I have had greater success before in other containers and am curious about this year's lack of yield. Wrong variety of Potato, too much or too little water or fertilizer, to much soil added at one time or soil added too early or late, that's a bunch of questions which I will never really answer. That, of course won't stop me from trying again next year. The upside is how clean the tubers are when you grow them in a pot of soilless media. I have a different container with Clancy, the new Potato that we can grow from seed, still thriving with lots of fresh green leaves. I'll empty it after a frost takes down the vines and report on its yield.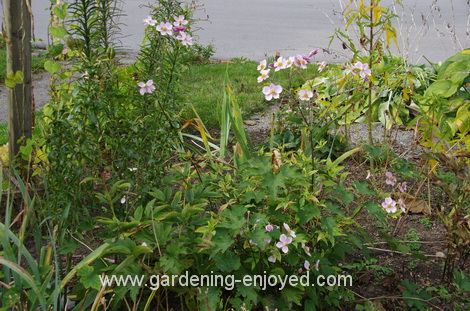 This is a picture of persistence. I have a love/hate relationship with those lovely Japanese Anemones blooming in the middle of the picture. They are a great addition to the late fall perennial garden when not much else is blooming but they are a bit selfish and want to take over the bed. Last year when I was renovating this bed, I made a concerted effort to dig them all out. Obviously I failed as here they are gracing the autumn garden once again. Of course they are pushing up through the middle of whatever I planted in their previous location and all I can do is pretend that I did that on purpose to have a continuum of bloom in that location. Do I attack with my trowel again??




Now it's time to answer a few of my reader's questions. To ask a question just "reply" to this ezine. Don't forget to check the front page of the Website for frequent short ideas for current gardening activities.




Shirley Asks? For years, I've grown the Heavenly Blue morning glory with much success. They always flowered well, but I've found, in recent years, they sometimes don't flower at all, or so late - as this year, Sept 29 was the first bloom. In your column, I've read that you have had some years when they don't bloom, or so late that the frost gets them first. Do you suppose the seed is not as healthy as it once was, or has our climate change affected their blooming time? Each year, I look forward to seeing them and this year, I purchased some Heavenly Blue plants in pots, thinking I would see earlier blooms than if I'd sown them myself, but now the cool nights are upon us and only one bloom so far. Luckily, I planted some smaller-blooming common morning glories with them, or I would have had only a healthy green vine this year.

Ken Answers! I share your frustration and confusion. Heavenly Blue have been one of my all time favourites for years and they do seem to bloom later then they used to. I have no answers but maybe we could start a conspiracy theory about aliens and some politicians:-) Watch out for the smaller varieties they are actually a different species and their seed easily survives the winter and will show up in many places next spring.