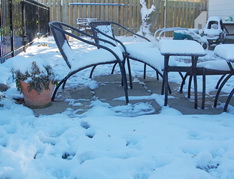 I'm not ready! I'm just not ready! I've spent the last few days in our Nation's Capitol, being Grandpa (see junior gardener picture below) and even though it's only the end of October there is SNOW on the ground. Now I love snow. Skiing is what I do when winter keeps me out of the garden but Halloween with snow on the ground just doesn't feel right.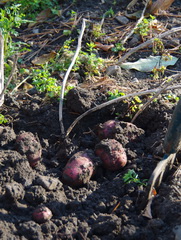 Still Digging! Back home the Assistant Gardener assures me that there is no snow. That's good because I'm only half way through digging up the Potatoes. I'm a bit late at this job but the warm dark garden soil is usually a good place to store potatoes while I procrastinate. This year for the first time since I started growing Potatoes about a third of them are coming up completely rotten. The outer skin looks alright but the inside is a soft brown gooey mess. I'm assuming this is a result of the record rainfall that we had this summer. It can't possibly be the lateness of my harvesting. Both varieties, All Red, a midseason summer eater, and Viking, a late season storage type seem to be equally affected.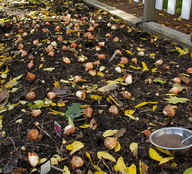 Saving Money! This is the perfect time of year for budget conscious gardeners to do really well. The soil, despite the snow is just cooling down and that is the perfect time to plant some of the spring flowering bulbs, particularly Tulips. The big bonus is that the garden centres are now trying to clear out their Tulips and are offering them at great savings. My local garden centre is doing a 2 for 1 sale, making the Tulips, half price. Go quickly and snap up some of these bargains and get them in the ground. Even where there is early snow cover, it will probably melt in the next few days providing an opportunity to make a wonderful show in your garden next spring. Narcissus would rather have been planted a little sooner but they will still bloom next spring, maybe a bit late, if you can get a good deal on them. Don't forget the wide range of minor bulbs; Scilla, Snowdrops, Chionodoxa, Iris, Muscari and a few others are great value because they all become long lasting perennials and produce bigger and bigger clumps each year.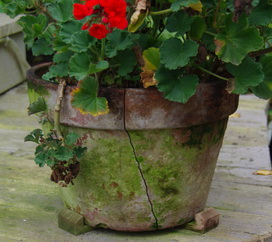 Put the Pots Away! The other late fall chore is the cleanup and storage our containers. There is always the question whether to empty the soil out or leave it in. The answer to that is often dictated by the material the container is made from. Some types just do not respond well to frozen soil. You want to avoid becoming a crackpot like this geranium container. Then there is the question of whether we should even reuse this season's soil. Why not?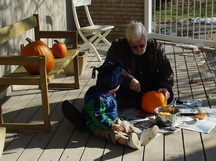 Winter Veggies The Brussels Sprouts that I topped a couple of weeks ago are doing quite well and this cold weather will sweeten them up. I'm looking forward to feasts of winter veggies. Leeks, Parsnips, Swiss Chard for a while, and Brussels Sprouts are much improved after a frost or two. It's a signal to the plant to start converting some of their starches into sugars that are better suited for winter survival. To us it just makes them tastier, so don't be in a hurry to harvest them.


Questions
My newsletter subscribers get to ask me questions. Just 'reply' to the email newsletter. It is always interesting to read the questions; mostly to see if I actually can answer them or if I have to wade into the textbooks to research the answers. If that happens then we all learn something.


Susan Asks??
Help! I'm suddenly buried in leaves. They were so pretty on the tree but they are less pretty all over my yard. What's the best way to deal with them?

Ken Answers!
Those leaves are actually a gardener's gold mine. If you have perennial or vegetable beds, or like me a combination, then just rake the leaves onto the soil and let the worms do the rest. They will provide some winter protection and by spring will just be great compost. You can also just pile them up or add them to your compost heap. If you happen to have Oak leaves then you should probably shred them with your lawnmower first. They are very heavy and persistent if they are left intact. Shredding and blowing leaves onto your beds with your power lawnmower is a slightly air polluting but lazy way to accomplish this task.


111 Trent St. W.
Whitby ON
L1N1L9