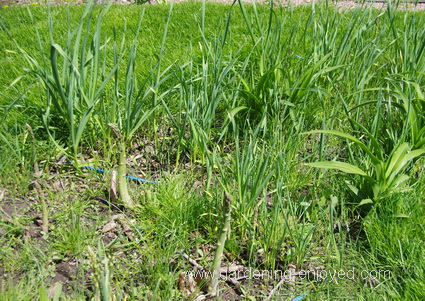 The pretty pictures are coming but this is a very interesting picture with quite a story. There is some lovely large Asparagus ready to be picked and enjoyed as we have done several times already this spring. This is one of the beds that got thoroughly?? cleaned out and downsized last fall. It appears that there is still much work to be done. Lots of tufts of unwanted grass to remove. The interesting thing is all of the tall grass like stuff. That is Garlic showing up as a weed. I made every attempt to dig out all of the wayward Garlic last fall and apparently failed miserably. All of this wayward Garlic is due to my laziness. If you do not remove the scapes as they are developing mid summer, they will open up and drop their little bulbils everywhere and the result is the presence of Garlic as a volunteer, (aka weed,) in that garden for years to come. To become useable Garlic cloves takes about 5 years and a couple of transplantings. I will be composting those tufts of grass and pulling the young Garlic, actually digging rather than pulling, because pulling just doesn't work. The tops come off and the baby bulbs survive so they can reappear. That young Garlic is a wonderful addition to stir fires and many other dishes so it wont find the compost box.

The rest of this story is about the abundance of Asparagus. What does a gardener do with the overflowing abundance from the veggie garden. Friends and relatives are always available but I have become involved in a more interesting alternative. What if I could actually sell that bit of surplus and allow non gardeners the opportunity to enjoy the delights of my home grown produce. Seed Voyage is an app/website that makes that happen. You can sign up as an eater or a grower and the site will facilitate the transactions. I will be putting up my excess Asparagus and even maybe my fresh young Garlic, in the next few days and if you have signed up as an eater, that happens to live near me, you will be notified that my Asparagus is available and you can click on the site to purchase it. We can share my Asparagus without having to independently find each other or exchange money, Seed Voyage takes care of all the details of the transaction. Every purchase is $5 and it is up to the grower to decide what he is offering for that amount. The eater only has to visit the grower's designated pick up point, e.g. my front porch, and pick up their tasty treats. It seems to be a great idea, that's why I became involved with it, as an adviser, and I'm looking forward to seeing how well it works. As a grower I don't see it as a great money making scheme but maybe a way to pay for next year's seeds while introducing some of my neighbours to the delights from my vegetable gardening.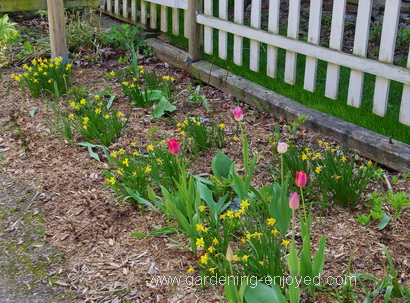 Here's the promised pretty picture. Those are Tete a Tete, miniature Narcissus, growing happily in one of my new shrub beds. They seem to be in discrete clumps and they are. These are the bulbs that I force inside each winter. After they have brightened our dark February days they are allowed to grow and regenerate the bulbs and then I plant them outside in the spring. Each little clump that you see is the result of planting the whole pot full of bulbs. I'm too lazy a gardener to actually separate the bulbs and they create this wonderful effect the next spring. They often don't perform too well the first year outside but they are very hardy little bulbs and they provide this great display for many years to come.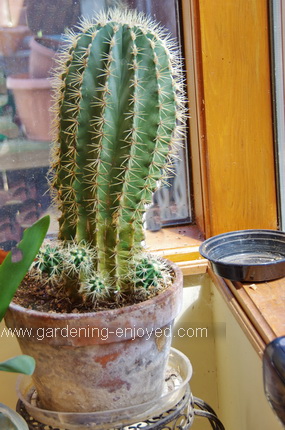 Now for my regular amazement at the power of Mother Nature. I planted this cactus as a tiny plant,about the size of those little offsets, in a mixed container back in 2006. It has now been with me for 12 years and I'm fascinated at how much it has grown. It has been transplanted a couple of times over those years. The growth is not what's fascinating me lately. If you look closely you will notice that it is not growing straight up. It is actually leaning toward the light coming in from the south facing window. Here is the fascinating part. I noticed this phenomenon a few months ago and was amazed that something so solid and slow growing would react so noticeably to its light source. When I noticed it, I turned it so that it leaned away from the light. I didn't want it to lean so far that it might tip over. In the course of about 4 - 5 months it has actually corrected the previous lean and then leaned in the other direction, again seeking the sun. The speed with which it moved is where Mother Nature amazed me. I'm used to Tomato seedlings leaning to the light but a 15 cm thick Cactus???




Now it's time to answer a few of my reader's questions. To ask a question just "reply" to this ezine. Don't forget to check the front page of the Website for frequent short ideas for current gardening activities.




Carmen Asks? Hi! It's always with great pleasure that I read your wonderfully informative newsletter. BUT, would love to know if you have a solution for the nasty fungus gnats. Yes, I know, let dry the soil as much as possible, the yellow sticky sticks, which always end up sticking on something, yurk, I've tried vinegar nearby and not one of those darn little nuisances went into it, I know all that, and it is a bit difficult to let tiny seedlings dry too much. I've tried putting a bit of cinnamon on top, then put vermiculite on top of that, to try and hide as much soil as possible, but they always find their way into my precious little plants. Please, do you know of anything we could put in the soil to kill their larvae.

Ken Answers! Fungus gnats are very annoying and difficult to deal with. You seem to know all of the standard remedies, primarily keeping the soil dry which is difficult with seedlings. The only thing I can suggest is that you thoroughly clean all of your seedling trays etc and then use a sterile soilless media to grow them in. If there are no eggs or larva when you start then you might have a better chance of staying fungus gnat free. There is very little that you can put in the soil that will have any effect.

Connie Asks? My sister is getting rid of her sedum and is looking for a replacement that is slow growing, drought resistant blooms all summer and no more than 2 feet tall Can you recommend something for her - she has full sun in her front yard.

Ken Answers! Hard to think of something that meets all those requirements. There are a wide variety of Sempervivums on the market these days but their blooms are not their best feature. Their foliage colour and patterns make up for that.