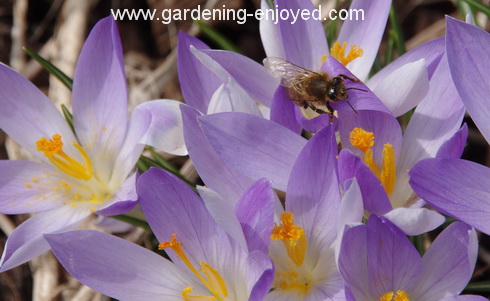 Our world may be in a complete tail spin as we sit inside our homes fearful of venturing out and getting within 2m of anyone who might have that nasty new virus but the rest of the natural world carries on. Wandering the garden today, a wonderful and safe space to spend these days, I was delighted to see this first pollinator busy working away on the early Crocus flowers. These are Crocus tommasinianus which are the first to bloom in my garden and more importantly they are the Crocus that squirrels don't like. I have no idea who the pollinator is but he/she certainly appears to be some sort of bee. They are very welcome in my garden and are probably emerging from last year's decaying perennials which I carefully did not clean up in order to provide winter homes for them. The Hellebores are just opening up and should soon provide the next meal for these tiny visitors. Can the Dandelions be far behind? A portion of my house is a rental apartment that is currently vacant and as no one is coming to look at it I have been busy giving the whole place a fresh coat of paint. The Assistant Gardener is working from home and I'm social distancing by spending many hours in that apartment.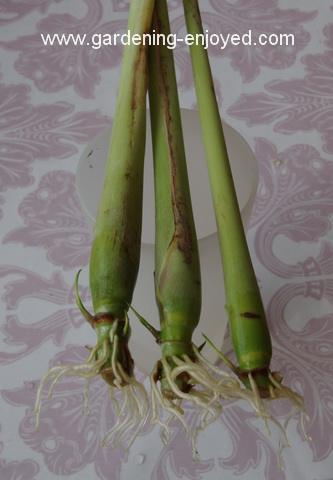 I went to the Asian grocery store a couple of weeks ago and carefully selected three stalks of Lemongrass. They had to have solid bottoms with some exposed stem showing a couple of nodes. Once they were selected they went home and into a glass of water. As you can see they are now rooting very nicely and some lateral shoots are already developing. These went downstairs and were potted up, all three in one big pot, and placed under the lights. It is possible to grow Lemongrass from seed but it is a very slow process and being tropical it cannot go into the garden until well after the last frost. By starting with these sturdy stalks I can much more quickly grow a large clump in my garden before first frost in the autumn. This wonderfully flavoured herb features in many oriental recipes and my favourite is putting a stalk or three in a pan with some white wine and using that to poach Arctic Char or Rainbow Trout. The autumn harvest from these stalks will be considerable and I have found that it keeps in the fridge for a couple of months.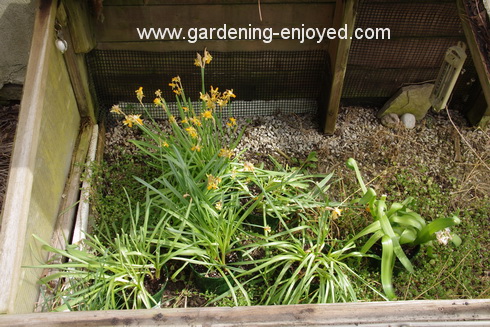 In the last edition of "Dallying" you saw a lovely display of forced miniature Narcissus. What to do with them when they have finished flowering? They cannot be forced again for a second spring but they will grow and naturalize in the garden. Mine wind up outside in the cold frame where they get watered and fertilized until the leaves die down and then they are planted out into the garden. I don't seperate the bulbs I just plant the whole pot full as one and they flower for the next many years as a nice clump. If they have not completly died down before I need the space in the cold frame I just plant them and let them enter their hibernation at their own pace. Having forced these bulbs most years, I have wonderful clumps of miniature Daffodils popping up all over the yard, continuing to delight us for years after their turn on the kitchen table.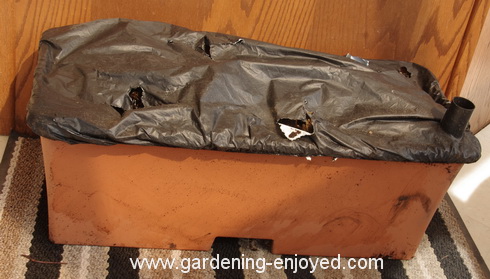 This is one of my Earthbox subirrigation containers that are used to grow a significant portion of my vegetables. I want to have my own vegetables as early as possible this year just in case this nasty Covoid19 thing continues to affect the supply of fresh vegetables in our grocery stores. Each year I dump out all of the soil, loosen it up and sort out any large roots etc. from the previous year's crop and then replant them. I can't do that until the soil in them has thawed so, to speed up the process I am bringing them into the solarium, one at a time, to thaw out so that I can have them refreshed and ready to go as soon as the weather allows me to plant out the cool season crops. I could try planting them in the solarium and starting them in that light and heat. I suspect that somewhere around the third one, the Assistant Gardener might wonder about the amount of the kitchen floor space that was disappearing. I don't think there would be sufficient light and for the Pak Choi and Kohl Rabi and similar cool weather crops the heat of the mid day sun might not be the best of conditions. Let's just get them started outside as soon as possible and that might reduce the need for, in house, social distancing.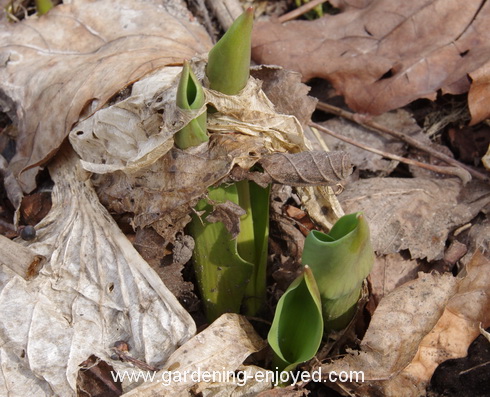 The amazing strength that plants exhibit always fascinates me and then I observe this every spring. These Tulips have pushed there way up through some heavy and frozen soil to delight us with their appearance. Each year as I admire their emergence I always find a few that have come up through a fallen leaf that was raked into their garden. That thin and decaying leaf seems to be able to stop the Tulip from opening up even though it has just pushed through all of that soil. What is it about the structure of that old leaf that has the power to hold back the emerging Tulip. Just one of the little mysteries that Mother Nature confounds me with each spring. I carefully walk around and release each of those captive Tulips and remind Mother Nature that she does appear to need my help sometimes. She Laughs!




To ask a question just "reply" to this ezine. Don't forget to check the front page of the Website for frequent short ideas for current gardening activities.




Deb Asks? We have a 4 year-old ornamental pear tree in our front garden. It is surrounded by and near a number of low growing junipers. Our arborist mentioned in the fall that the tree has pear rust and should be sprayed in the spring and that the junipers that are somewhat sickly need to be replaced with something else other than junipers as they have also contracted the rust. Can the junipers be saved? Will the same spray work to mitigate the rust? We need a second opinion. If not, what low growing evergreens could we plant that will not contract the rust?

Ken Answers! Pear rust needs two hosts to complete its life cycle and Juniper is the alternate host. One or the other really needs to be eliminated. once the leaves fall off the pear it moves to the juniper to overwinter and then it produces a different type of spore that will reinfect the pear in the spring. Spraying will never be very effective if you keep both host plants. It persists for a longer time on the Junipers because they are evergreen but must eventually spend some time on the pear. Your choice:-)