Global warming is a looming disaster but there are some temporary upsides. In my corner of the world warmer weather seems to extend farther into autumn. It's almost mid November and we have had no real frost as yet. This three part container on our side porch has been one of our great successes this year and it is still blooming and looking good on November 08. That is Begonia Red on Chocolate in the centre an All America award winner from Sakata seeds. I did grow that from some pelleted seed that I purchased from >a href=https://www.stokeseeds.com/ca/bossa-nova-white-begonia-pellets-p705d-group-5> Stokes Seeds. The Impatiens around it are the from the Beacon series that is resistant to the Impatiens downy mildew and I have seen no trace of it on the several plants around the garden. I also grew them from seed. The Begonias were a bit trickier to grow from seed than the Impatiens but were well worth the effort. There is another resistant line of Impatiens called Imara that I grew last year and they were equally successful. You need some patience to grow the Begonias as I started mine on 15 January attempting to follow the quite specific directions about light and soil temperature. Well worth the effort, especially since they have lasted so long this year.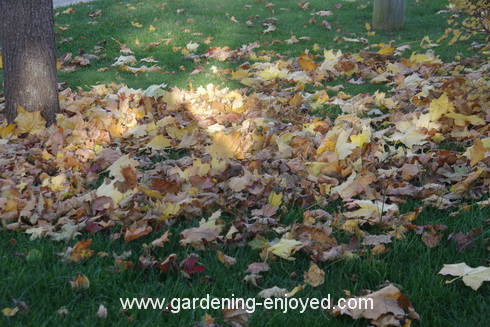 These golden leaves that have fallen from my Maple tree are also gardener's gold. Up and down my street there are bags of leaves waiting for the municipality to pick them up but this excellent source of organic matter will wind up in my gardens. If they are going on the vegetable gardens, that are now empty, they will be spread evenly over them and then attacked with the lawn mower to chew them up, making them more readily compostable. By next spring's planting season they will have almost disappeared and the action of planting the new vegetables will help to incorporate them into the soil. When I was younger and more energetic I might have been seen wandering up the street and helping out the municipal collectors by taking a few bags home to add to my gardens.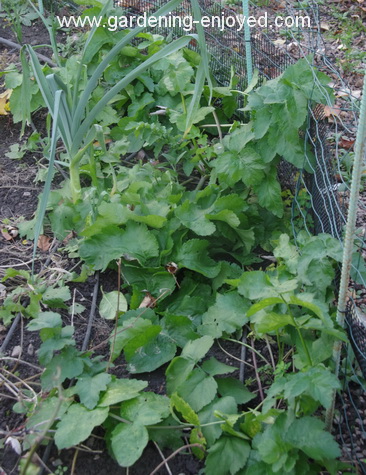 Some parts of the vegetable gardens are not yet empty as there are a few things that actually grow well in the cold and taste much better after a light bit of frost. Now that the frost seems to be arriving later we have to wait to harvest the Leeks and Parsnips that are in this picture. The Brussels Sprouts are also waiting for that touch of frost.



This amazing Rose is Lady of Shalott from David Austin. She continues to push out multiple blooms even as the weather closes in. She has been reliably hardy in my corner of the world and as you can see she grows into a significant shrub that is close to 2 m tall. A week or so ago I cut all of the nice blooms and brought them into the house for the Assistant Gardener to enjoy and this picture shows the next flush of bloom that appeared in a few days. She also has a lovely fragrance.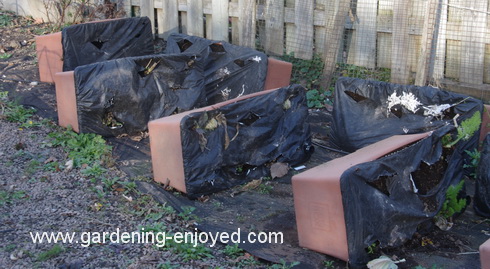 Here is my container vegetable garden all tucked in for the winter. These are my subirrigation containers and I tip them over for the winter so that their water reservoir empties and the soil doesn't get too saturated with moisture from the rain and snow. In the spring they will have their soil dumped out, the boxes will be thoroughly cleaned and then the same soil will be sifted off old stems and large roots and returned to their containers. I have successfully reused that grwoing medium for several years. The only people telling you to replace the soil in your containers each year are the people selling that soil.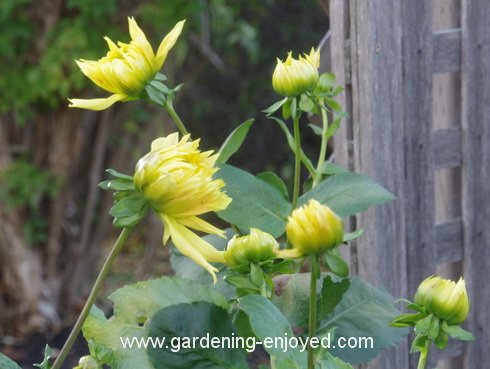 I know I will have to dig and store these Dahlia tubers soon but as long as they keep pushing out their delightful blooms, I can put off that chore until a frost knocks them down. The first light frost will do them in but will not harm the tubers and they are easier to dig with the multiple large stems turned into black mush. The blooms come inside as soon as they are almost open so that they will be enjoyed even after that frost does its work.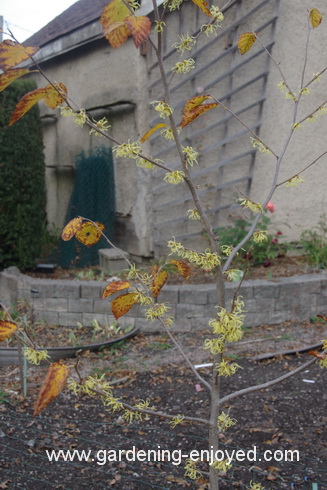 This is a Witch Hazel in full bloom in November. That's not unusual for some varieties but this one has an interesting story. It was purchased several years ago as the red flowered Diane and she reliably bloomed each year in mid March. For whatever reason she died stem by stem over the last few years. Lots of suckers came up from the rootstock and I let one or two continue to grow and this year those new shoots made it obvious that the rootstock was quite different from the variety that I had purchased. Now, do I go back and find another Diane, so that I get those welcome blooms so early in the spring?




We are enjoying doing our presentations in person again and it is wonderful to have a live and responsive audience. If your group is looking for an interesting and entertaining speaker then check out these topics

There is a form on the website where you can make a request to have me speak at your meeting.

If you have gardening questions you can just hit reply to this email you can ask me those questions and I will attempt to answer them.



Mary Asks? Any suggestions on the best way to eliminate forget-me-not? I started with 6 plants and it has now taken over my gardens, my pathways and the grass.

Ken Answers!I'm not sure you can actually eliminate them but to control them just pretend you are Santa and Hoe Hoe Hoe. They are annuals and kill almost as easily as they spread.

Marilyn Asks? This spring I planted "Heavenly Blue" morning glory seeds in our front garden on a metal obelisk. They grew all summer, continuing to spread over our porch railings, but not one single bloom appeared! The leaves are thick and healthy, but where are my beautiful blue flowers???

Ken Answers! Heavenly Blue Morning Glories do not appreciate good fertile soil and would rather suffer a bit. That said, it's probably not the problem. I have noticed that mine seem to be blooming later in the September now. Last week I was visiting William Dam seeds and they have had many complaints about the same thing and have been talking to their seep producers about the problem. They do have a new variety that was in full bloom when we were there and the Heavenly Blue right beside them were not. I don't think the new variety will be available this coming year but stay tuned. It's one of my favourite plants and I really miss those intense blue blooms.