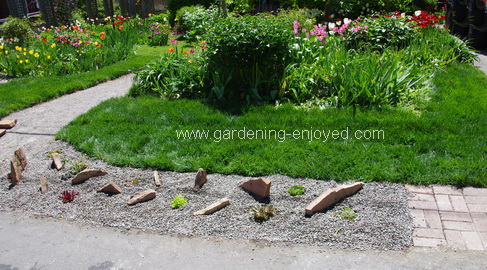 In the ongoing saga of the Town's attack on my front yard, I hope I've come up with a solution. They sodded the area that they disturbed and the sod runs right up against the roadway paving. All of the neighbours are wondering how we are going to maintain that turf and keep cars from parking on it. The picture shows my attempt.
Lifted the sod, it was very well rooted so I went and rented a sod cutter and used the sod in some of the bare spots in the back yard. Took some flagstone from a path that was dug up in the search for the sewer hookup and planted it in that strip but in a vertical fashion. Planted a collection of Sempervivum spp. Hens and Chicks is their usual common name and they spread well, like full sun, are not fussy about the soil conditions and are fairly tolerant of being abused. It's good that they are not fussy about soil because the material that the town supplied as top soil stretches that definition. I added some compost at each planting spot.
This idea was partly generated by a few samples of those plants from Valleybrook Gardens. They have about 22 varieties of these tough, easy to grow plants that they are branding as Garden Gladiators. I'm hoping that the vertical rocks and the pea gravel mulch will keep the cars on the road and the Garden Gladiators will quickly spread to make it an interesting feature at the front of the yard. The patch of interlocking at the right edge is a place for the recycling boxes on Wed. Mornings. Within a few days of creating this, there was a tire track through it, knocking over one of the rocks and making sure the plant was firmly planted. We'll see how it recovers from this extra firm planting technique.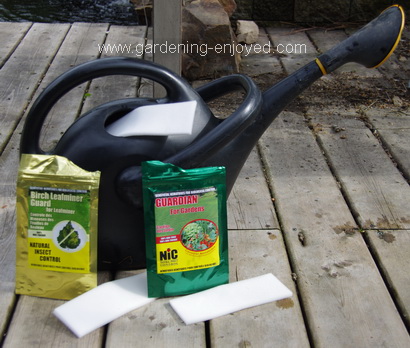 Wayward tires are not the only pest in the garden but others are easier to deal with. This week saw my regular application of beneficial nematodes. There are many species of these microscopic worms and a few of them have been cultivated because of their diet. They attack several insects that want to use my garden for their buffet. The Iris Borer is nasty pest that attacks my favourite perennial but the nematodes are a very effective natural control. Natural Insect Control the Canadian company that produces these and several other beneficial insects, sends them to me by overnight courier and I keep them refrigerated until I can apply them. Very easy to apply, just rinse the sponge, they arrive on, into a pail of water and apply that solution around the plants you want to protect. I also get a package of different nematodes that control the leaf miners that attack birch trees or in my case the Camperdown Elm that enjoys pride of place in the front yard. There is a variety of nasties that attack my vegetables and these nematodes can also effectively control them. Nematodes, inexpensive, easy to apply and effective are good friends to gardeners.



This section of garden houses two of my favourites, one of them, Dahlias, a new found friend and the Potatoes one of my oldest garden inclusions. I've found myself acquiring an ever increasing number of Dahlia tubers. They do require digging and storing for the winter, something this rather lazy gardener tries to avoid but it's relatively easy to do and they produce some amazing blooms. Their ability to last as great cut flowers in the house is the main reason that I will tolerate the effort required to grow and keep them. They do tend to get rather top heavy and that's why you can see the supports around them. It's a great use for Tomato cages. The trench in front of the Dahlias is where the Potatoes were planted. After yesterday's rain they may never emerge without individual life jackets. The light brown material on top of the trench is Acti-Sol, my favourite organic fertilizer. It's dehydrated, pelleted chicken manure and it works well for many different applications. It even keeps squirrels away from Tulip bulbs. The long thin black hoses are, of course, my drip irrigation lines that may never be used this year if doesn't stop raining.




Now it's time to answer a few of my reader's questions. To ask a question just "reply" to this ezine. Don't forget to check the front page of the Website for frequent short ideas for current gardening activities.




Sylvia Asks? Should I clean out all the dead dropped cedar leaves etc. from under my large hedge?Does it actually act as a mulch or stop moisture penetrating the ground? Also, will throwing grass cuttings under the hedge do any good?

Ken Answers! I would leave whatever the hedge drops under the hedge. Acts as a mulch, keeps the soil slightly acidified. Throwing the grass clippings there will get rid of the grass clippings but not have any other beneficial effect. Fresh clippings in a pile will often heat and mold neither of which will help the hedge.