This is like the old newspapers. Extra! Extra! Read all about it.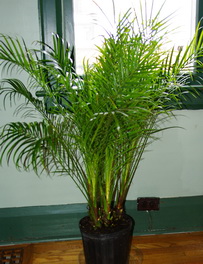 I found some wonderful bargains today and wanted to pass along the news. Those of my readers who live near a Sobeys store, (an Eastern Canadian Grocery Chain,) should rush on over there and find the bargains. It is a measure of how important their floral departments are becoming that they are featuring specials there.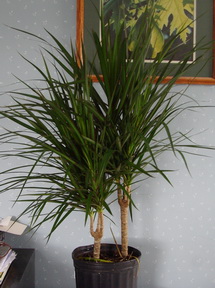 Inside the front door was a large display of tropical house plants. They were in 20cm container and were being sold for only $10. There were several varieties many of which are excellent long lasting house plants. The labelling was a little vague on some of them particularly the Palms. I bought what appears to be a Phoenix roebellini or Dwarf Date Palm although I cannot be sure. I also got a lovely Draceana marginata with two plants in the pot and standing about 1m tall. These plants were carrying the label of Costa Farms, a large and very good grower of tropical plants in Florida. I don't know how anybody is making much money on these but as a consumer, I don't care. I'm just making great additions to my houseplant collection. There are several plants in this sale that don't have specific pages on Gardening-enjoyed.com and I will be fixing that in the next week or so.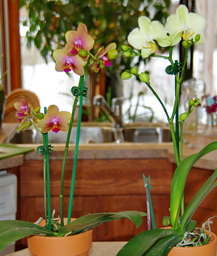 I originally went to the Sobeys store because a friend had been there and told me about the great bargains for Phalenopsis Orchids. There they were. Nice sized plants in about a 10cm clear plastic pot that was inserted in a terra cotta pot. They were in bloom, several different varieties, and only about half the buds were open. These plants will have blooms on them for at least 3 months if you follow the instructions on the tags. One caution; they take very little water to soak the bark, growing medium and the terra cotta pot has no drainage. Remove the plastic pot from the terra cotta one, (not always easy) water and let drain and then return it. These are grown in clear pots because they are epiphytic and grow attached to the side of trees where their roots are exposed to the sunlight. The clear pot tries to emulate the natural growing conditions. Mine summer outside in just the clear pots. Oh! Yes! They were only $10. Orchids like this usually retail for $25 - $30. They will grow and bloom for many years but at this price you could toss them after they finished blooming. Just let me know where you are tossing them.


We should return to our regular editions of Dallying In The Dirt, next week.


Questions
My newsletter subscribers get to ask me questions. Just 'reply' to the email newsletter. It is always interesting to read the questions; mostly to see if I actually can answer them or if I have to wade into the textbooks to research the answers. If that happens then we all learn something.