It's late Thursday afternoon and the threatened snow and ice storm is just starting to make an appearance. I will avoid the whole mess by descending to the basement tomorrow to start planting Peppers and Eggplant. It's also time to do my seed packet sort. I have a relatively airtight plastic file box that helps me to keep seeds from one year to the next and in it are files for specific dates. Essentially every two weeks from 01 Feb to 01June and I sit down when the seeds arrive and sort out when they should be started and file them accordingly. It's a simple method of keeping me and the garden somewhere close to being on schedule.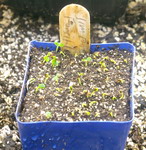 The Onions that were planted 2 weeks ago are all up and looking great. More exciting is the little tray of a newish (is that a word?) Impatiens that has germinated very well and shows great promise for this summer. It's Coral Fanciful a large flowered semi double.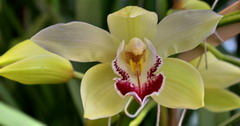 In the solarium 2 of my 3 large pots of grassy leaved orchids, are throwing bloom spikes and the first of them opened yesterday. Cymbidium's are solid waxy flowers that will last for close to 2 months. Very exciting.



Next week is Canada Blooms in Toronto, probably the biggest and best garden show in the country and always worth a visit. I will be there speaking on Wed (Vertical Vegetables) and Sat (Houseplants) afternoons. If you are anywhere near Toronto come and have a look and stop by and visit with me. The Garden Writers Association, to which I belong, is also having a regional meeting there and I look forward to renewing acquaintances with this interesting and like minded group of people. We have shared stories and good times together for many years in a variety of locations.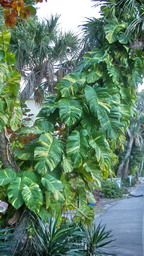 I did spend a bit of time in Feb on Sanibel Island in Florida. Always nice to get a bit of a break from the winter. I was busy with my camera as usual. I love taking pictures of large trees to show people what their houseplants really look like if grown in their natural habitat. The pot of Pothos Epiprenum aureum on the left is the same plant as the massive vine on the right.

I did not tour any exciting gardens, to tell you about but there was a day cycling in the wildlife sanctuary. Lots of birds and native vegetation and we all tried to appear disappointed when the guide couldn't find any alligators for us.


New stuff on www.gardening-enjoyed.com this week includes stories on transplanting seedlings and building a cold frame. Time to go and admire the orchids.