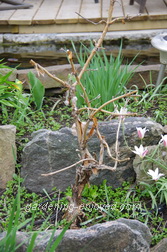 Yesterday it was actually approaching hot. This weekend promises to stay warm in my little corner of the world and that will ease the domestic tension. The Assistant Gardener thoroughly enjoys the garden, but, the long cold spring has greatly increased the quantity of plants that are waiting to go outside. We now have to move several of them to sit down to breakfast in the solarium and the kitchen counter looks more like a garden centre bench than a place to prepare and clean up our dinner. This takeover of a "certain amount" of our house seem to be having an unpleasant effect on the Assistant Gardener's attitude. Serious planting will start this weekend, if only to restore domestic bliss. We have been chopping, pruning and now digging to counteract the effects of the very harsh winter. We have waited patiently for any sign of life in some of our Roses, Hydrangeas and other shrubs and Perennials. Most of my Roses and Hydrangeas have showen some signs of growth. The few that have not are giving me some space to plant some of the offending items taking up space in the house. In full view of the breakfast table in the solarium, is, or actually was, an Oak Leaf Hydrangea. There is no longer any doubt. It's dead. Out it will come this weekend and something will be put in its place. The only question is whether we contemplate planting another Oak Leaf Hydrangea? Probably not this year.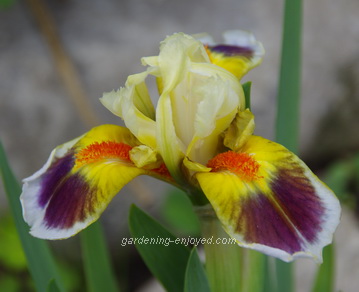 There is much happiness to be found in the garden; the Iris have started to bloom. I really like the later, tall bearded, types but the earlier types are a nice start to the season. I planted a few new ones last summer and as usual await their blooming to see exactly what I have. One of last year's acquisitions is a SDB (standard dwarf bearded,) variety named, Here Come the Clowns. It burst into bloom yesterday and reminded me why I grow some of these earlier varieties. They have colours and combinations that are just not available in the bigger varieties. This one is about 20 cm (8") tall and as you can see the colours are amazing. Many more of the Iris are starting to show some buds developing. I'm anticipating the imminent arrival of my beneficial nematodes that will combat the nasty Iris Borer and let me enjoy the sight and fragrance of these wonderful perennials.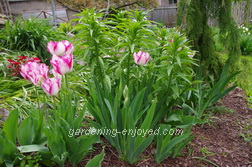 Wandering around the garden this morning with my camera, looking for items to put into this issue of "Dallying," I found this perfect picture of the evolving garden. It's a great shot that shows the benefit of growing a range of perennials. The Tulips are providing some wonderful colour now. The Iris that are developing some nice buds will follow in June with their many charms and in the background are the large Orienpet hybrid Lilies that will brighten the mid summer garden with their brilliant yellow blooms and intoxicating fragrance. Plant the bulbs and rhizomes one year and then enjoy a little battle with the bugs and weeds, while watching the garden go through its seasons of bloom for many years.




Now it's time to answer a few of my reader's questions. Don't forget to check the front page of the Website for frequent short ideas for current gardening activities.




Joyce Asks? Something is snapping off the heads of my tulips (after they bloom). Is it squirrels? What can I do about it? Out of about fifty tulips, somewhere around 20 heads are gone.

Ken Answers! Yes, it is probably squirrels (aka bushy tailed tree rats,) They have done that to me quite often but this year they have attacked very few. No explanation for their preferences. Smelly repellents are available that will slow down the carnage when sprayed on the emerging tulips. Trapping your squirrels and removing them from your garden will provide some relief until other squirrels find the unclaimed territory. Fencing that will keep out squirrels is rather obtrusive and reduces our enjoyment of those blooms.

Donna Asks? Ken, I would love to drive by your place and take a look at the thousand plus tulips in bloom, but I am just too far away. How about taking a couple of pictures of the spectacle and putting them in your next newsletter for all the see. I would love it and I will guess that I am not the only one who would like to see the colors.

Ken Answers! As requested.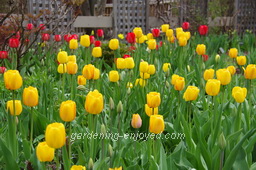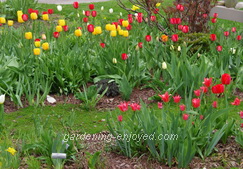 111 Trent St. W.
Whitby ON
L1N1L9