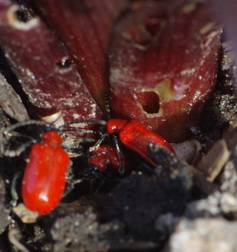 Wow! Look what I've got already. Colour in the garden and it's bright red and it's eating my emerging Lilies. Go and have a good look around your just emerging Lilies. The wretched Red Lily Bug is emerging from the soil, where it overwinters as an adult and is already taking big bites out of our delightful Lilies. The only advantage to having the Lilies emerge and entice early is that the R.L.B. is ignoring my Fritillaria which is what they usually dine on until the Lilies emerge. All of the Frits are doing well and have no sign of the R.L.B. but do check yours if you have any.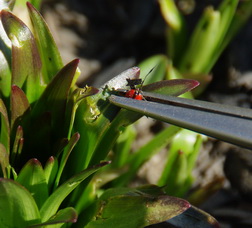 I was in the tool section of my local hardware and purchased a new R.L.B. control device. My thumb and forefinger squeeze is effective but messy and at this time of year they are a bit fat for getting in between the compacted leaves. This is a wonderful device and because it has a spring opener it makes it even easier to use than my old pair. I can't seem to find that special spot that I stored them in last fall to make sure I would be able to find them this spring. Scratch around in the dirt and mulch, near the base of the plant to find a few more of these brightly coloured pests. Insecticidal soap will work reasonably well but it is strictly a contact agent and therefore you must actually hit the Red Lily Bug with the spray; absolutely no residual action. There is something emotionally satisfying about individually eliminating each of these brightly coloured pests.



I undertook a little light gardening chore this week and should recover after a couple more weeks of hot tubs and massage therapy. Now I remember why I only clean out the ponds every 3 -4 years. It's heavy, it's dirty, it's time consuming and just plain ugly but the bright clear ponds and water and the relaxing sound of the waterfall can almost, yes almost, make the aching back worthwhile. I don't own a second pump that will lift the water high enough to empty the ponds but because the upper two ponds are well above the grade of the bottom of the garden, I make my garden hoses into siphons and drain the water out that way. We'll deal with the lower pond later. The well attached algae on the rubber liner gets to stay and keep up its good work but I do scrub it with brush and hose and it releases an amazing amount of gorp that it has removed from the water. It is interesting to see that the algae grows much better on the side of the pond that the sun hits. If the pond where completely shaded it would greatly restrict that algae growth. It collects gorp, the fish eat it, it's actually a rather good addition to the pond ecology.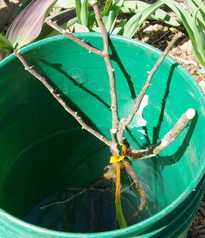 Crown Princess Margaretta is one of the collection of fine English roses by David Austin Roses with fragrant, apricot coloured blooms. I received a bare root specimen as a trial plant at our latest Garden writer's meeting and planted it this week. Bare root roses, from mail order nurseries that specialize in the care and handling of them, are quite successful and often somewhat less expensive as the customer does not have to pay for the time and expense of the potting. It does require us to think about new Roses a little earlier in the season as they can only be shipped and planted in the spring. David Austin is the breeder of the wonderful English Roses that have an old fashioned look to them but have the disease resistance, hardiness and fragrance of the best of the new varieties. I have found some of them, in the past, to be a bit floppy but I will keep you updated on how Margaretta performs. They are produced in my part of the world, and shipped all over N. America, by Pickering Nurseries.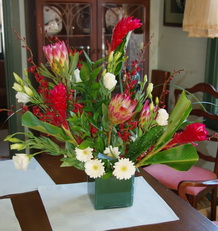 Having abused my body for several days running, I retired inside to do a little flower arranging which gives me the opportunity to be lightly creative. This particular piece had to be quite outstanding to express the heartfelt thanks between the giver and the recipient. A close look will reveal a collection of somewhat unusual flowers such as Protea, (a S. African woody shrub,) Ginger, some deep red spray Orchids from Malaysia and a variety of interesting foliage with white Gerberas and Lisianthus to bring out the rich red colours.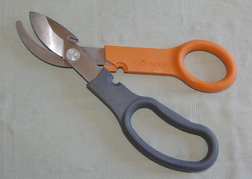 I used another new tool and found it to be a great addition to my flower arranging. It is from the wonderful folks at Fiskars and it has several advantages over other floral shears. It is heavy enough to cut the woody stems of the Protea while still being small and manageable for the lighter material. I did not get the opportunity to try the dethorner between the handles but the string cutting slot on the back of the blade was welcomed.


The cold frame and the basement lights are quickly filling up with a wide variety of flowers and vegetables and this week we will seed the Tomatoes, Morning Glories and similar fast growing summer crops. The Sweet Peas that were planted two weeks ago are up and doing well and the pond gorp has been spread all over the area that they will occupy this summer. It is one of Mother Nature's neat little tricks to take, rather less than pleasant smelling gorp, and use it to produce the delightful fragrance of Sweet peas. I remain in awe!


Questions
My newsletter subscribers get to ask me questions. Just 'reply' to the email newsletter. It is always interesting to read the questions; mostly to see if I actually can answer them or if I have to wade into the textbooks to research the answers. If that happens then we all learn something.


Tony Asks? I keep reading about "chitting" Potatoes before I plant them; what's that all about?
Ken Answers! Chitting is an old English gardening term that simply means encouraging the seed potatoes to start sprouting before you plant them. Some help in short season areas. I've tried it when my Potatoes arrive before either the garden or the gardener are ready to plant them. Keep them under the lights, moisten them regularly and plant when ready. I've not noticed any appreciable difference so I just do it as a way of keeping the seed potatoes happy if they arrive to early. Otherwise, it's straight into the garden. Watch for some Potatoes going into containers this year. Another experiment.

111 Trent St. W.
Whitby ON
L1N1L9