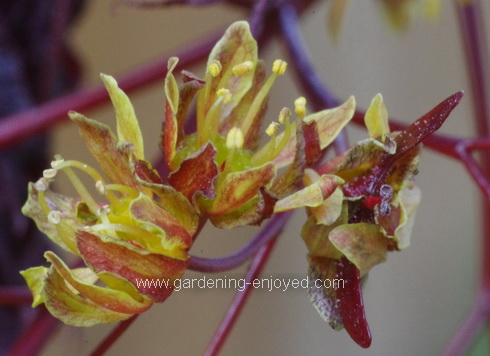 Molly the dog went home yesterday. She's a little black Schnoodle that vacations with us regularly. She brings several delights to our life including a horticultural awareness. It has been a cold and damp spring but it is still filled with gardening delights and walking Molly around the block a couple of times a day has allowed me the time to observe several of them that I might have otherwise missed. As all dogs do, when walking in a different neighbourhood, Molly stops frequently to analyze the strange smells that she encounters. That leaves me lots of time to stop with her and analyze the sights and sounds of spring. Flowers by the million are right there in front of us at this time of year but most people passing by will probably not notice them or at least not realize what an amazing floral display they are missing. There are several different types and colours but the picture is the one of the showiest. It's nothing to rival my front yard Tulips in colour but in quantity it wins easily. The cool weather has sustained the Tulip display and kept the blossoms on the Magnolias for a delightfully extended time. It has also allowed me to appreciate those red and yellow blooms in the picture on every walk with Molly. If they intrigue you, then you can click on this link to find out what they are.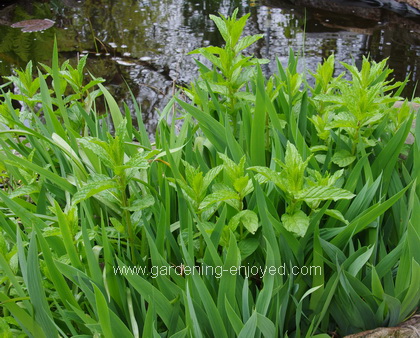 Let's move from delight to disaster. This is one of my best/worst gardening mistakes. Mint is delightful herb and every garden should have some but never actually plant it in your soil. Always in a container. To say that mint readily establishes itself is a true understatement. In two years mint, left to its own devices, will own your garden. The picture is a lovely clump of Iris that is having the refreshing taste of mint invade its space and take over. I can dig up the Iris and relocate it. I can, at the same time, dig out all the spreading rhizomes of the mint in an attempt to eradicate it. I will be unsuccessful. The 2 cm of rhizome that I miss will carry on its relentless mission to overtake the garden. It even comes up between the cracks of the interlocking brick path. I can cut off a few pieces and stick them in a container, they root readily, and I will have more than enough mint to satisfy our needs for the year. It helps to make some refreshing drinks that I can use to cool off during the rest periods between digging up whole sections of the garden trying to find every last scrap of mint rhizome. It's depressing to undertake such a chore with the certain knowledge that I will fail.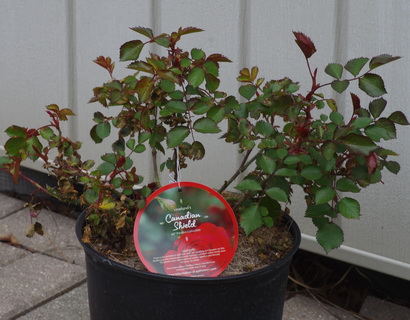 I went searching this spring for this Rose bush. I rarely write about something that I haven't grown for a season but Canadian Shield is an exception. There is a long but rather sporadic tradition of Rose breeding in Canada. The constant goal is to breed Roses that are hardy throughout most of Canada. There have been several successful introductions from government sponsored research facilities. The Explorer Series is one of best, developed in Ottawa and other research institutions. One of those is the plant that I have trained into a very hardyTree Rose. Much of that research was suspended for many years but most of the information and breeding material is now in the hands of the Vineland Research Institute. and Canadian Shield is their first introduction from that renewed breeding program. They undertook a rather different approach to breeding. Instead of breeding to see what they could produce, they did significant market research to see what the end consumer wanted in a new plant, vegetable or fruit and then directed their breeding program to try and produce that desired outcome. A red, repeat blooming Rose that is hardy almost everywhere in Canada and that has significant disease resistance is the result of this effort. Canadian Shield is essentially a shrub Rose with blooms that are a fully petaled large size. I have seen many pictures of it and it was named Canada Bloom's 2017 plant of the year. I found mine at Sheridan Nurseries after checking a few other sources. They may be a bit difficult to find but there is supposed to be lots of stock available. I'm still looking for the right spot in the yard to plant it where it can thrive and I can enjoy it, when it lives up to its advance billing.




Now it's time to answer a few of my reader's questions. To ask a question just "reply" to this ezine. Don't forget to check the front page of the Website for frequent short ideas for current gardening activities.




Jeff Asks? Is it the flowers that appear on the pepper plant that get pinched? If not, what is pinched and why?

Ken Answers! Pinch out the top of the main stem and probably one set of leaves. leaving 3 -4 sets of leaves on the stem. You are forcing the plant to divide into two main stems to shorten it and make it bushier and hopefully?? more productive.

Elizabeth Advises Us! I learn not long ago that grating the irish spring soap and sprinkling over just starting to grow tulips does the trick. Rabbits and deer also do not like the strong smell of this soap.

Ken Answers! I have never tried this but have several reports that it works.