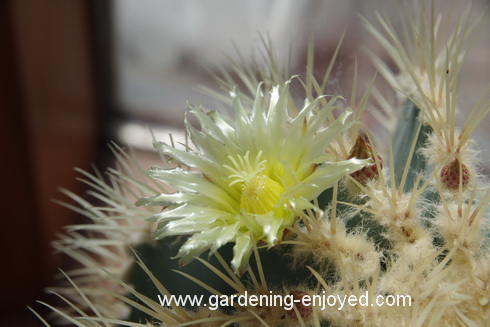 Little things can cause great joy. There is a rather large Cactus in a corner of the Solarium that is now too big to carry outside for the summer and this is its second year of rewarding us with some blooms. This bloom is about 7 cm in diameter and really quite exciting. This is the second bloom this year and there is at least another 12 buds developing. It is a very heavily ridged cactus and the top of each ridge produces a bloom. It is about 50 cm tall and 25 cm in diameter which doesn't actually seem that big until you try to lift it. All that stored moisture is heavy and its significant spines make me very wary of getting too friendly with it. As a result it sits happily in its corner and waits for someone to bring it water and food. It is also very interesting because it moves itself. It will noticeably lean toward the brightest light and I have to rotate it every few months to stop it from tipping right out of its pot. It took me sometime to realize that something that big and solid actively leaned toward the light. Plants just never cease to fascinate me.



Across the room, the much more flamboyant Amaryllis is again showing off. This is one of several that I have had for a few years and they are coming out of their basement naps one or two at a time to amaze us with their huge fast growing blooms. Once any danger of frost is past they will once again find a summer home outside where they will receive lots of sun, water and fertilizer until late September.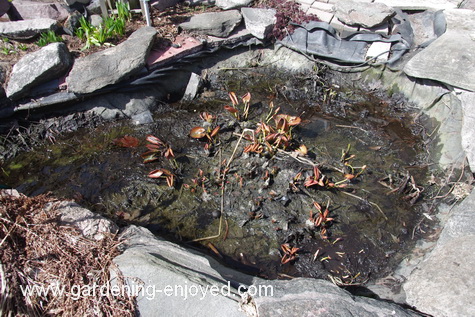 This is the ugliest job in the garden and I have ignored it for a few, too many, years and now it is going to take a few hours and a sore back to complete. This is the middle of the three ponds and the that mass you can see in the middle is a huge growth of Water Lily and yes it is one solid clump. The trick is to cut it up into lift-able pieces while being careful not to puncture the pond liner with whatever tool I'm attacking the lump with. Most of the water has been drained out and I'm hoping it won't be over my boots because the only way to attack this mess is to climb in the pond with it. I have rescued a few fish but I know there are some more in there somewhere and finding them will be a challenge. I have already rescued a small portion of that Lily and will put it back into the cleaned pond. The big decision is whether to put it into a container or just toss it in and let it grow. That's how we got into this situation but they grow so much better when not confined to a pot. There are a couple of other plants in here and I've rescued a piece of Pickerel Weed and will try to find the container of a tall slender reed that rises above the pond. The other question is what to do with the large amount of "stuff" that will be coming out?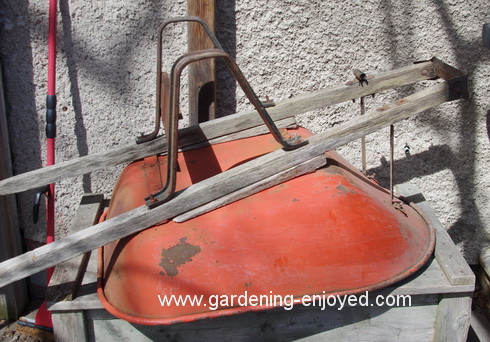 Why does starting one job always seem to find at least one more that must be completed before the original job can be finished. It was no surprise that this wheelbarrow's tire needed some air after its winter nap but as I was filling it, while the pond was draining, it quickly become evident that it was not going to hold air this year. Nothing seems to last for 30+ years anymore and apparently that includes wheelbarrow tires. The shop will call me when they get a new tube inserted and then I can get on with cleaning out that pond. In the meantime I get to procrastinate another day or so and stay inside and publish this edition of "Dallying." There's usually an upside!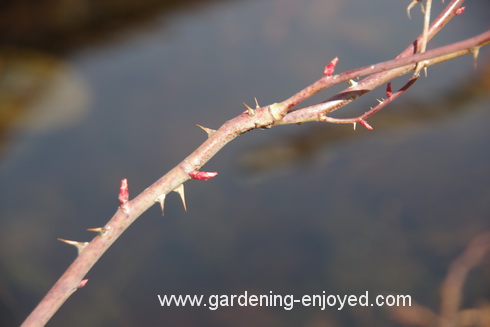 One of my readers asked me this week about timing etc. for un-hilling her Roses. I had to confess that I was usually too lazy a gardener to undertake that chore in the fall and just practiced tough love with my Roses. If they survived the winter they got to stay in my garden. This is a branch of Canadian Shield, one of the Rose introductions from the Vineland research station all of which I like because they are very hardy and I can safely ignore any sort of winter protection for them. These swelling buds are loudly declaring that they are happy that spring is here and that they will giving us a great display of bright red blooms in a few weeks. To see all of the Roses in this collection go to 49th Roses and try to decide which ones should have a place in your garden. The easy answer is, all of them. The actual answer to my reader's question is in the picture. When you see any signs of life in your Roses then it is time to un-hill them and in a week or two, when the strongest new growth is obvious, then it is time to prune them to take advantage of those strongest shoots.



Is your organization meeting via Zoom or contemplating doing so?? All of my information filled presentations are available via Zoom and I'm happy to help first timers do this.



To ask a question just "reply" to this ezine. Don't forget to check the front page of the Website for frequent short ideas for current gardening activities.



Esther Asks? What is the best fertilizer to keep those amaryllis bulbs as plump as when I buy them? They bloom, but the bulbs seem to shrink a bit every year. I take most of them out of their pots and sink them in good compost for the summer. I have also noticed that some colours looked 'washed out' this year.

Ken Answers!I leave mine in the pots all year sometimes repotting them when they go outside in May or when they are ready to come up from the basement and bloom. They come back inside before any hint of frost They get watered almost daily when they are outside and there is a soluble fertilizer, usually 20 20 20, in that watering can probably every other watering. That makes the bulbs fatten up and produce offsets. The bulbs naturally shrink as they bloom as that big bloom stalk uses up the stored nutrients in the bulb.

Lynda Asks? I enjoy your articles very much - thank you! I have recently moved into a townhouse with a balcony, which would allow me to create a small garden underneath. I am unsure what plants to add to the 2 existing hostas and hydrangea. The area receives morning sun until about 11:00 a.m. What perennials and annuals would you recommend?

Ken Answers! First concern, if it is under a balcony, is about water. Can the rain get to it or will you have to water it. Heuchera are a good shade perennial with coloured leaves and coloured leaves are also the reason to plant Coleus as an annual. I'm trying some of the 2 new disease resistant Impatiens this year. Imara series and Beacon series.

Sandy Asks? Do you rake the dead grass off the lawn in the spring, or leave it to compost into the soil?

Ken Answers! I do give my grass a good raking in the spring to get rid of all kinds of interesting "stuff" that accumulated over the winter. I never rake after cutting for the rest of the year.