In my little gardening corner of the world, we have a long weekend for the 24th of May and it is the traditional planting weekend. Now, of course there are many vegetables and a few flowers that I have planted long before and there are many hot weather vegetables, Tomatoes, Peppers, Cucumbers, that I don't really rush to get into the ground. They would all be very happy out there now as we are having unseasonably warm weather that may hit 30C today. Unfortunately the warmth is accompanied with a significant lack of rainfall. I had the sprinkler on the front yard for a couple of hours last night and moved it to the back at 6am this morning. Watering in May is not something I remember doing before.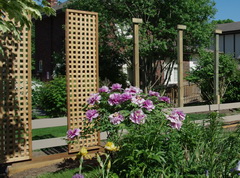 The cold frame is still filled with plants that did not get planted this weekend. Many of the vegetables are still a little small as I aim for a June 01 planting date for them and I was otherwise engaged. You saw the pictures of the disappearing hedge in the last issue of Dallying and this week was spent working on its replacement. For a gardener I seem to spend a lot of time doing carpentry. We have decided to put up a row of tall narrow trellises where the hedge was. 60cm of trellis and then a 60cm gap and repeat until there are 10 of these trellis in place. Why would I put off planting until I had completed this task. The absent hedge has left us with a significant new garden space about 1m wide and 8m long. I have to continually walk on this to create the trellis work and cannot plant many of those waiting plants into this new garden until I finish tramping all over it. That is my magnificent Tree Peony in front of the trellis and it is enjoying the increased sunlight.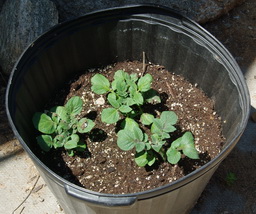 The potatoes in their pots have sprouted and have had their soil topped up once and they are ready, only 3 - 4 days later for even more soil to be added. Keeping up with their rapid growth is the critical part of increasing the yield in these containers. Adequate moisture is also very important and that is a bit more difficult with the hot and dry spring that we are experiencing. My water barrels are empty and we have resorted to turning on the tap.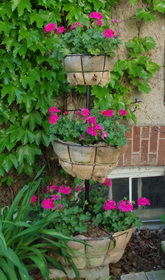 The three tiered planter has something new in it this year. I have always liked Ivy Geraniums, particularly the single flowered types that bloom profusely. They have not always been easy to find partly because they suffer from edema, a disfiguring wart-like affliction of their leaves. Did not really affect their flowering performance but did make them unsightly up close. We have a new Ivy Geranium called Caliente that is a hybrid with the regular zonal geraniums. I've planted the rose variety that is being featured by Loblaws as one of its President's Choice features this year. It was also given the Greenhouse Growers medal of excellence for this year. I will be interested to see both, how floriferous it is and how well it cascades. I have planted Snow Peas around the edges of the planter to make extra use of all of the cascading space and because I'm always looking for new and interesting places to grow my vegetables.



The Cucumbers and melons etc are looking good in their containers and will be planted early one morning this week when it is still cool enough to want to be in the garden or better still late in the evening when they have a long cool period to adjust to their new home before the blazing sun warms them up the next morning.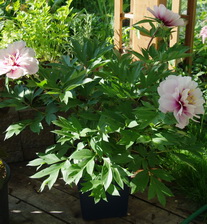 I discovered some large Itoh Hybrid Peonies growing in pots in a local nursery that deals in the new and different. Now I am usually very averse to Peonies in pots as it is usually too small to hold a decent sized piece of root. These were started by tissue culture and have been in the pots for a few years. They were priced at about 1/3 of the price of most Itoh Peony roots, $ 60 instead of $160. They already had flower buds on them. I gambled my $ 60 in the interests of my readers to see just how well they perform. You will have to keep reading until this time next year to get a full report. It was in bloom, in the pot, on my deck, this morning.




Keeping up to date on gardening activities can be followed on a more frequent basis by checking the front page of my web site, gardening-enjoyed.com. It changes every 2 or 3 days to show you what I am up to. That change only takes a few minutes, while producing Dallying is a much larger effort.


Questions
My newsletter subscribers get to ask me questions. Just 'reply' to the email newsletter. It is always interesting to read the questions; mostly to see if I actually can answer them or if I have to wade into the textbooks to research the answers. If that happens then we all learn something.


Mary asks? I wanted to ask you if you ever have used eggshells crushed and put in the soil as a boost or around plants as a deterrent to pests. The reason I ask is that a woman mentioned that she takes the shells and bakes them in her oven first. I guess it would make sense in terms of the shells having calcium content. .

Ken Answers! The short answer is no. I have not used eggshells but when crushed they can be a slug deterrent and they will add valuable calcium to the soil. I think I'm just basically too lazy to clean and crush them and we don't eat that many eggs. You must clean them or the fresh egg smell will attract racoons and other less desirable visitors to your garden.

111 Trent St. W.
Whitby ON
L1N1L9