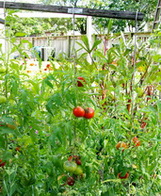 Fresh Tomatoes are an unusual part of our Thanksgiving dinner but there has been no sign of frost in our little corner of the world and this past long weekend it was actually so warm that working in the garden was a short sleeve and shorts affair. A side note to all my American readers, we celebrate Thanksgiving on the second weekend of October because we don't want to shovel snow from the Pumpkin patch which we would surely do when you celebrate it.





The Tomatoes are still growing and ripening as are the Pole Beans and Cucumbers. This allowed me to try something new from the vegetable garden. I picked all of the Pole Beans that were developing seeds inside the pods and shelled them to get fresh beans which I sauteed in white wine and then served in a mint cream sauce. I thought they were quite good. I was not in the majority. Didn't realize my family was so resistant to new things.





The warm weather is giving a much needed chance to get caught up on some long overdue chores in the garden. If you travel and ignore the garden for close to three weeks, it doesn't take care of itself. I have some excellent natural vegetation (aka, weeds,) developing in many of the beds and this past few warm days I have been busy cleaning out the beds to get rid the old vegetable plants, harvest the earth's delights such as Potatoes and Onions and eradicate the weeds at the same time.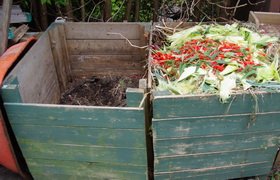 We now get ourselves into a quandary. This year's compost bin is filled and needs to be turned over into the other compost bin. The second bin is still half filled with the wonderful rich product of last year's composting. I need to spread it on the garden. I can't spread it until I remove all of that old growth and I can't get rid of that old growth until the compost bin is empty. It's a complicated circle of interrelated functions that I am slowly solving. Whoever said that gardening was relaxing for the mind?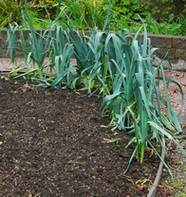 Around the edges of the beds where I want to clean up and spread the compost is a squadron of Leeks standing in a soldierly row. They look delicious and usually by now we would have started to eat them but they are one of those autumn vegetables that taste much better after they have been through a light frost or two. It makes them sweeter. So there they stand while we continue to harvest Sweet Peppers and admire the deepening red of the hot Cayenne Peppers. It is time to pick them and dry them so that we can grind them into Cayenne powder for the winter's cooking. They grind very nicely in the coffee bean grinder as long as you clean it out thoroughly before making the next pot of coffee.



Sitting on the front porch is the usual autumn pile of boxes and bags. Spring Flowering Bulbs are one of the best things about fall. Their smooth round shapes and papery coverings roll around in my hand and speak loudly to me about the promise of brilliant colour that they will provide next spring. If I had just remembered to put in those stakes last spring, marking the spots where more bulbs were needed then I wouldn't be staring at the pictures I took, trying to figure out where to tuck in these delights. I know that there are several hundred Tulips in the front beds but last spring there was a small gap between the Pink Angel Peony and the bird bath. I have a few, (well probably close to a hundred, I have no control,) Ivory Floradale to plant in that space because white is one of the Tulip colours that is poorly represented in my springtime palette. Bulbs are one of those gardening things that force us to follow Mother Nature's rhythms. There are no instant bulb displays. You want spring colour then you must plant now.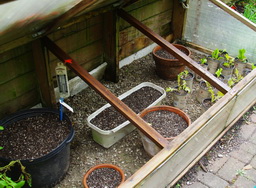 My winter veggie experiment seems to be expanding. I had Lettuce planted a couple of weeks ago and that made me look at the rest of the space sitting empty in the cold frame. If I'm going to go and attend to the Lettuce then I may as well make it worth the trip. There are now several large pots with seeds of Arugula, Pak Choi, Rapini and Swiss Chard waiting to pop out of the soil and if everything goes according to plan, keep us in fresh veggies until close to Christmas. Stay tuned to see how this all plays out.



Autumn Roses are one of the real treats of the fading summer and this year's extended warm fall has produced some magnificent blooms, with more opening every day. I make a point of wandering over to admire them every morning as new ones open and the dew is fresh on the petals. It really is worth the time to "stop and smell the Roses," to beat up an old cliche. I know that frost is coming and I want to savour each new bloom before is time to start thinking about preparing my Roses for the cold snowy days ahead.




Time to answer a few questions and then get back into the garden. If you have a gardening question just 'reply' to this newsletter and send me your query. I try to answer most of the questions and the ones that I answer here are those that I think will have the widest interest. You can also find the latest garden updates on the front page of gardening-enjoyed .


Susann Asks ? Took a trip down to Lee Valley and picked up the growing light stand ... can you give some info on what lites to buy that won't cost me a arm and a leg ... I heard somewhere that you could have a cheap basic lite and a growing one???

I also grew Kong sunflowers and was not disappointed by their size only they fell over due to the weight so I cut them off and brought them in to dry. Would they dry out quicker outside or do they birds just eat the seeds regardless of being dried out??

Ken Answers! The birds really don't care whether you dry the sunflowers or not they will devour them in any state. Just hang the flower heads where they can find them and watch the fun. The fluorescent light story is always interesting. Do you want to produce flowers and fruit under lights or just grow seedlings and cuttings for next year's garden. Is the intensity of the light more important than the spectrum. Growth needs intensity; flowering may need a better spectrum. I use mostly inexpensive cool white and some daylight and have great success growing seedlings and my Begonias and Geraniums bloom under them all winter.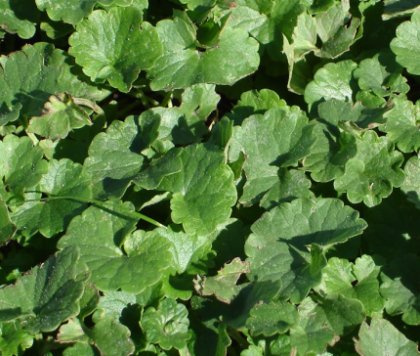 Audrey Asks? We have the attached weed growing in patches throughout our lawn. Can you help us identify it and any suggestion on how we may remove it safely?

Ken Answers! What you have is Glechoma hederacea which has a multitude of common names but mostly known as ground ivy or sometimes creeping Charlie (but that name is also applied to other weeds.) It has pretty blue flowers in spring and early summer. It has a long history of herbal and medicinal uses and was, at one time, used to clarify beer. Very difficult to eradicate. I have just learned to live with it. Constant raking with a sharp pointed rake will pull out a lot of it but it will eventually return. I used to try and spray it when we had such chemicals but to little effect. Look up it's medicinal uses and try to see it as an addition to your garden:-)

111 Trent St. W.
Whitby ON
L1N1L9