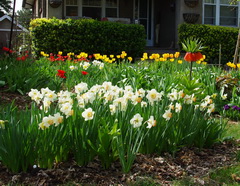 Spring continues to arrive at breakneck speed. Things that have never bloomed in April are a blaze of colour. Most of the bulbs in the front garden, that should bloom over a succession of weeks in April and May, are in bloom now. All at the same time. Makes for a spectacular show but I think the middle of May is going to be a bit empty. The Peonies and Iris are also so far ahead of themselves that they may light up the garden by late May. It is going to be very difficult for those of us that indulge in a little competitive gardening to have suitable entries for flower and vegetable shows because the dates for those events are not easily adjusted. This week's local show which has several Narcissus categories, which will be filled, only has one Tulip category and it will be overflowing with all of the Tulips that should have waited until next month's show.



This earliness also contributes to much busyness. Garden chores that should have been staggered over a couple of months are crying out for attention now. Last year's new Clematis and the ones I transplanted earlier this spring are growing like mad. Now, if I was a slightly more prepared gardener, I would have had their trellises in place when I first planted them. I did not, because I could always build them in the slow early weeks of this spring. Where did those weeks go. Being an inveterate designer and builder, I cannot just go and purchase a trellis because it has to be part of the corner posts that surround the deck and therefore have to be custom built. Well I have the most pressing ones completed and now have to build a rather large one to accommodate the rampant Clematis that I transplanted to the back of the garage. It is growing like it had never moved.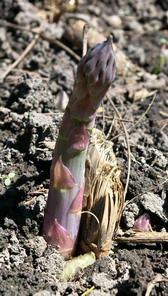 We have had two wonderful feeds from the Asparagus patch and there is a significant quantity waiting for me to cut when I finish writing this newsletter. I can only remember eating fresh Asparagus in April once before and that was on the 30th. The new Asparagus plants that were transplanted into the garden last fall have not yet decided to show up. They were a newer all male variety that I had grown from seed for two years. Male Asparagus plants have much thicker plumper spears than their thinner more feminine counterparts.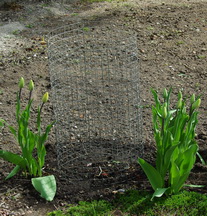 The Peas have been planted, among the tulips in some spots, as well as the early Potatoes. Other crops that get direct seeded into garden such as carrots Beets and summer Turnip have also found their place in the garden. The Spinach is interplanted with the Potatoes so that it can use up the vacant space that those Potatoes will need later in the summer when the Spinach is long gone into salads.






The nicely repaired coldframe is filled with a variety of Onions and all of the many Cruciferae crops such as Broccoli, Rapini and several Oriental vegetables such as Pak Choi and the wide variety of flavourful greens. They should be in the garden but getting the seeds started was more important. The plants in the cold frame are at least growing happily waiting for their chance to burst forth in the garden.





May arrives at the end of the week and the many quick growing, warm weather crops such as Cucumbers and Melons will need to be seeded under the lights in the basement. That means that the longer term crops such as Tomatoes and eggplant will need to have been transplanted in to cell paks and moved out to the cold frame. It is a steady progression of three or four different seasons that follow each other from the seed bed to the lights and then the cold frame and finally into the garden.


In between all of these vegetables, of course, is this year's selection of annual flowers. There are always some new varieties to try and some old standbys such as Heavenly Blue Morning Glories which share strings and trellis space with the Polebeans. Little Gem Marigolds always find spaces between many of the vegetables, looking good and acting as bug repellents. The flowers are also wonderfully edible.


Questions
My newsletter subscribers get to ask me questions. Just 'reply' to the email newsletter. It is always interesting to read the questions; mostly to see if I actually can answer them or if I have to wade into the textbooks to research the answers. If that happens then we all learn something.


Ellen asks? For the past few summers my day lilies have been eaten by an orange and black bug . The flowers never opened and the leaves were a sorry sight. What can I do to get rid of this problem and does it affect the tubers???

Ken Answers! I tread on delicate ground here where I try to suggest corrections to my reader's questions. I am unaware of a bug that does that much damage to Daylilies, Hemerocallis sp but there certainly is the devastating Red Lily Beetle that has arrived in the past few years, attacking true Lilies, Lilium sp. . The adults and the larva devour the leaves and the lack of leaves will stop the regeneration of the bulb. Follow the link to learn more about them and how to control them.


>b>Joyce Asks? This year is vegetable garden year as our 6 year old granddaughter, will be visiting. Our new vegetable garden measures 48' x 3 1/2'. It is on Lake Erie so the climate is temperate. We took down a dead 45 year old maple and so the garden is now in the sun. What book would you suggest that I get to help me plan such a weird shape? I want to grow everything and am very very excited. Ken Answers! Wow! A new vegetable garden and grandchildren to help plant it. What a wonderful summer awaits you. The book that I never seem to finish writing would be great. You can of course just keep reading the many vegetable gardening pages on my web site but sometimes a good book that you can actually take into the garden is a big help. The actual shape of your space is wonderful as you can work in it without having to actually step onto the growing soil. Enjoy!
Doug Green's - Canadian Vegetable Gardening, Edward Smith's - the Vegetable Gardener's Bible are two books that I know and there are many more just go to Amazon.ca and search Vegetable gardening books.

111 Trent St. W.
Whitby ON
L1N1L9