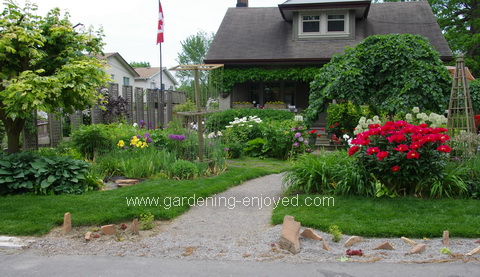 Some days the garden just makes me stop and look. The front is looking particularly good this week. The star of the show is the amazing Peony America where I counted 62 of those large red blooms this year. The many Iris in bloom are adding to the effect. It's the best year for Iris bloom in a long time. Apparently they liked the cool and very damp spring that we have lived through. The Creeping Thyme groundcover is just starting to cover itself in its bright purple bloom. The white Allium, Mount Everest, surrounding America make a nice colour contrast. The large white Peony in the background is A La Mode and she lasts for a long time because of the many side buds that she produces. The weight of those buds causes me to provide her with some support so that she doesn't take up so much room that she shades the Rhubarb growing beautifully beside her. The short trellis in the centre has a double Clematis blooming. The two empty trellis are part of the vegetable garden and will hopefully hold an abundance of Pole Beans and Cucumbers. I am worried about the Cucumbers because several of the Zucchini in the back yard are already being badly damaged by the cucumber beetle. I put that trellis in the front because it's decorative and in the, probably vain, hope that the beetles won't find it. Gardening is all about hope and promise.



The Pillar of Peppers has been resurrected this year after a couple of years absence. It has 24 Pepper plants starting to grow in it and they are looking good. I put a row of Petunias around the bottom partly to make it look interesting but mostly to deter the rabbits. They love Pepper plants but hopefully the first ones are too high off the ground for their short little legs. They don't seem to like Petunias. Those 24 plants are in 6 vertical rows and each row is a different variety. The top has some large Tuberous Begonias planted in the hope that they will spread widely and shade the top of the soil and thus help to keep it moist longer. This structure needs a bucket of water most days and as I carry it out there, I do wonder why I planted it as far from the water barrel as possible.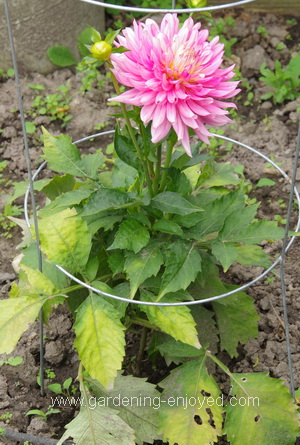 Strange spring weather produces strange things in the garden. I may have potted up my Dahlia tubers a bit early but it was about the same time as previous years. They couldn't get out into the garden at the usual time because their spot in the garden was underwater for a few weeks. Even when I finally planted them I wasn't happy because the soil was still rather gooey rather then crumbly. Even before they were planted small flower buds had started to appear and now several of them are producing flowers and not the rapid vegetative growth that we would anticipate. It's very interesting and the flowers are lovely but they shouldn't be blooming until at least mid summer. Now the quandary, do I cut them back in hopes of initiating new growth or do I just leave them and wait to see what they do. My friend Sue, down the road, who grows a huge number of Dahlias allowed as how she would probably just leave them but wasn't really sure either. Maybe I'll leave a couple blooming and cut a couple back to see which ones perform better in August. Always a new challenge and an interesting experiment when a gardener and Mother Nature seem to have divergent ideas.




Now it's time to answer a few of my reader's questions. To ask a question just "reply" to this ezine. Don't forget to check the front page of the Website for frequent short ideas for current gardening activities.




Ann Advises For the last few years here in Whitby we've had very bad infestations of the viburnum beetle, so bad that the only way to minimize the damage is to cut down the shrub. Otherwise the larvae move on when the first shrub is left without leaves and target another, less attractive viburnum species. Very annoying. Could that be John's problem too? Our dormant oil spray did not help and the larger shrubs are difficult to spray completely.

Ken Answers! I love it when my readers have answers that I don't. A couple of people advised me of these beetles that I was unaware of, probably because I have no Viburnum in the garden.