Something I've rarely done, I left my garden for 2 weeks in the middle of gardening season and that also meant no "Dallying" for that same time. I spent a week in Salt Lake City, Utah, at my Garden Communicators International, annual conference. Always a great time to catch up with old colleagues and meet some new ones. We attend seminars and go on garden tours and do a lot of mixing and mingling, all the while getting new ideas and seeing new things. Salt Lake City is, of course, the headquarters of the Church of the Latter Day Saints, aka Mormons, and a tour of their gardens was a highlight of the trip. They use a tremendous amount of annual flowers to create their colourful displays. Each section of the garden was quite different due to their ability to use a wide palette of colours in interesting combinations. This pink, mauve, purple combination was one of many that made me pick up the camera. Annual beds can be very labour intensive but apparently they get their large youth group to participate in the planting and cleanup days. These grounds surround their magnificent temple and tabernacle, which are equally worth seeing from the outside. Biggest disappointment of the week was the cancellation of the Thursday night practice of their famous choir. I couldn't attend the Sunday performance as I was catching a flight to Vancouver to visit family for the next week. Keep reading for more of the things we saw and learned.



Salt Lake City is an interesting place geographically; it is in a large flat valley that is almost completely ringed by big hills or small mountains depending on your outlook. This shot is from the 26th floor of a building and looking at the state capital building with the mountains rising up behind it. At one end of the city is the great salt lake that the city is named for. Everything green that you can see in the valley is being irrigated and you can see that most of the hillsides are quite brown. We had a couple of talks about how they are managing an ever dwindling supply of water and their classes the citizens can take about Localscapes a program that teaches people good landscape design that utilizes water conservation features. Great ideas that could be utilized in many parts of the world.



This rather dull picture is an apology to all of the squirrels that inhabit my yard. I have cast aspersions on them many times. This is my Crab Apple tree and you will notice the conspicuous absence of Crab Apples. Usually I have to rake them, fish them out of the pond and wonder why I can't have the spring blooms without the fruit. Basic botany, I know! The squirrels are going to have a great winter because they are well fed. They appear to have eaten all of the Crab Apples, a true service to this gardener who is still recovering from his shoulder surgery. Apologies and thanks to all the Squirrels that I have cursed before!!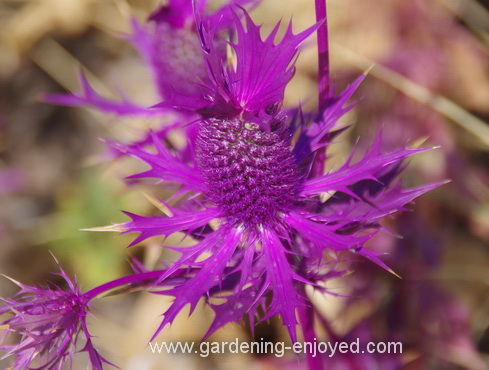 Eryngium Leavenworthii is one plant that really grabbed my attention. It was growing in Red Butte Gardens a botanical garden operated by the University of Utah. It is listed as an annual that likes well drained, rather poor soil and is native to the American SW. This striking colour shows up slowly over the summer and reaches this intense purple by early to mid September. One seed catalogue politely suggested that it likes the company of other plants which is a delicate way of saying that it tends to flop over and lay on the ground, just holding these wonderfully coloured flowers aloft. I may try to find some seed this year and see if I can get it to grow in my corner of the world. Red Butte Garden was an interesting place to wander. It went down the hillside to a Rose garden and a rather steep climb took us to the more desert-like upper reaches where I found this growing. Well worth a visit if you are ever in that part of the world.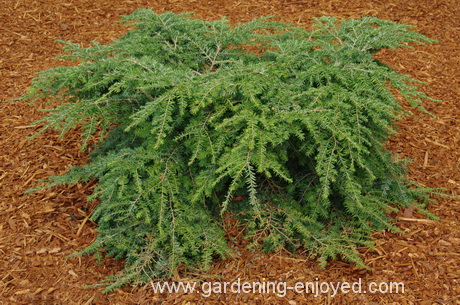 Iseli Nursery always has a display at our trade show and several years ago when our meeting was in Portland we were treated to a tour of the nursery. It specializes in dwarf evergreens and has dozens of delightful little specimens. I have a couple of them in my garden and they are quite happy there. As usual I had a long chat with Sandy, their representative, and we got to discussing containers. She seemed quite convinced that many of their smaller varieties that are hardy to Zone 4 would survive the winter in my part of the world if they were in a reasonable sized container. This Tsuga canadensis gracilis Gracilis Canadian Hemlock could be just such a plant. It only grows 7 - 10 cm a year in the best of conditions. A small collection of these little delights in a large container would certainly liven up a balcony garden in both summer and especially winter when our balcony gardeners may be a bit desperate. Sandy has given me some local nurseries where I might find these treasures and I plan to create my own container on my deck to see how they do. Who knows?? Someday my gardening may be all done on a balcony. Age may eventually force me to a more manageable location but it won't stop me from gardening in some form.




Now it's time to answer a few of my reader's questions. To ask a question just "reply" to this ezine. Don't forget to check the front page of the Website for frequent short ideas for current gardening activities.




Tom Asks? Ken, can you give us some info on nematodes, eg: do I still need to buy them refrigerated? When should I apply them? Annually, every 3 years?, etc.

Ken Answers! That's a wide ranging question. There are many species of nematodes that can be beneficial to gardeners, depending on the problems that we are trying to solve. Yes, they almost always need to be refrigerated but good suppliers will take care of that. Try Natural Insect Control a Canadian company that produces a range of nematodes. Their site will tell you what you can control and which of their products will do the job.

Julie Asks? I must tell you that late spring when my tomato plantlets were ready to go, I had too many (as always) so I stuck a few in with my hanging geranium plants - just as you showed us a while ago... well, the fruit is almost to the ground!!! And the geraniums don't seem to have suffered either but need lots of watering... I've been using both chicken wire or the plastic screening to try and deter the hungry critters so I feed them my old bread instead - don't know if it helps or hinders.

Ken Answers! At one of my talks this week, a gardener told me of her success keeping the squirrels from her Tomatoes. She heard that they were actually looking for the moisture so she put some dishes of water in her garden and a bit of bird seed. That seemed to satisfy the creatures as they then ignored her Tomatoes. Can't vouch for the idea personally but anythings worth a try.