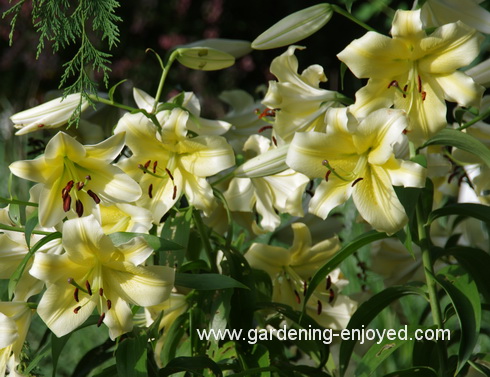 This is Golden Stargazer a magnificent Lily that just lights up a section of my garden that is just off the deck letting it catch the sun morning and evening for two quite different looks when it is front and then back lit. This clump is several years old but started with just three bulbs. They are one of the newer hybrids between Orientals and Trumpets, now usually called Orienpet Lilies. There was a little damage from the Red Lily Beetle but they didn't seem to be as prevalent this year. Hopefully because I have been killing them as diligently as possible for the last few years and it was a tough winter this year. Anyway I'm going to sit on the deck, which is heavily shaded and cool, enjoy a cold drink, listen to the waterfall and admire Golden Stargazer.



The bird feeder is empty again. Now I like my birds, that's why I have the feeders but I don't like them all equally. I have a large flock of Grackles that can access this feeder and they are noisy and hungry. I filled that feeder yesterday!! The bigger one the other side of the yard is also squirrel proof but apparently not chipmunk proof and they join the Grackles in emptying it. We don't see as much of the smaller birds or the Blue Jays and Cardinals as they can't seem to get past those Grackles. It seems the only answer is to learn to like them.



If you like Peppers then look for this one next year. Dragonfly was an All America award winner this year. The deep purple colour is wonderful and it will eventually ripen to a bright red. They are very prolific as you can see in the picture and you will notice that the plant is leaning heavily and that's because it has produced so many fruit that the plant can barely hold them up. It has very thick walls and a delightful sweet flavour that makes it great for eating raw. I got my seeds from William Dam Seeds and started them indoors about 8 weeks before they made their way to the garden. I will chop them into bite sized pieces and freeze some of them so that I can toss them, frozen, into winter stir fries or similar recipes.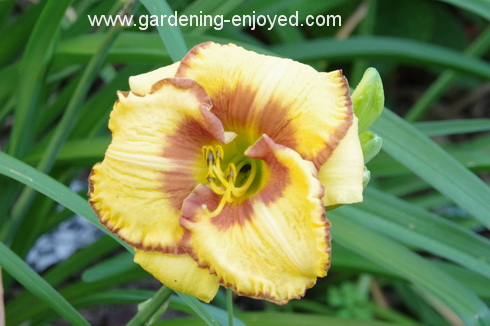 The garden is lighting up all over as the Daylilies start their summer bloom. Hemerocallis hybrids are great summer perennials. They are essentially bug and disease free and come in wide range of colours, as long as you're not looking for blue, and shapes. Mine bloom from early July until late August as there are a range of bloom times among the varieties. Each plant will continue to bloom for several weeks as each of their many buds gets to open and have its day in the sun. In my great downsizing they are not a problem as they are tough and can be easily moved even when they are in bloom. Of course I have lost the name tag from this beauty but it was the most interesting one on this mornings garden walkabout.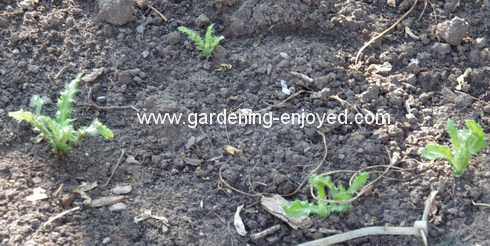 Here's another of my weed rants! These emerging thistles are popping up in that bare soil. That soil is bare because I thoroughly weeded it about two weeks ago. I tried to get as much of their roots as possible but it is painfully obvious that I was not that successful. The trick now is to knock them down again before they are able to regenerate more roots. Theoretically if I do that often enough the roots will run out of energy and the plant may actually die. The problem is timing. It's not a job that must be done today but every day that I leave it a little more photosynthesis takes place and those roots get regenerated. This evening when the temperature moderates a touch I must grab my hoe and attack.



Begonias are wonderful annuals. They will thrive in the sun or shade and flower continuously until the frost finishes them. These are two of the newer types that grow to a significant size. I started them from seed in first week of January and they wandered along for months and when they got released to those large containers they just took off. The white flowered one is called, strangely, Big White and the other one had a better naming team as it is Red on Chocolate. It's fascinating that such big plants grow from some of the world's smallest seed. I was not very successful as these four plant are all I managed to raise from twenty seeds. Like all situations, I think I learned a bit and will find out if that is true when I try them again next year. There really is just a single plant in each of those containers and they are already about 50 cm tall and equally as wide. A great replacement for the Geraniums I used to grow on those front steps. I bought my seeds from Stokes seeds if any of you are adventurous enough to try them. They are worth the effort.




We are enjoying doing our presentations in person again and it is wonderful to have a live and responsive audience. If your group is looking for an interesting and entertaining speaker then check out these topics

There is a form on the website where you can make a request to have me speak at your meeting.

If you have gardening questions you can just hit reply to this email you can ask me those questions and I will attempt to answer them.