When I left you last year I showed you a picture of my miniature Oncidium in bud. Well, it opened beautifully and has stayed open for a few weeks now. I'm always amazed at the intricacy of its tiny blooms. I really should have used my macro lens and tried to show you an individual bloom, they are only about 1 cm in any direction and have several colours with different shaped petals and parts. I keep watching for and eliminating any scale and hoping that it stays in bloom for another few weeks.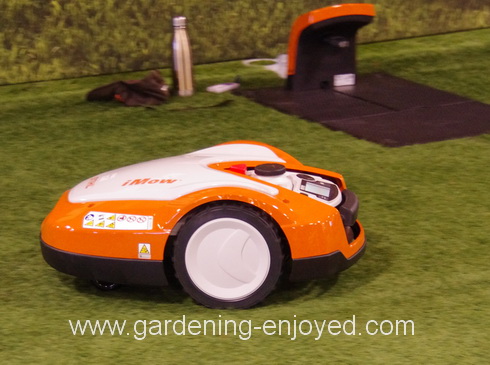 I went to Landscape Ontario's Congress in early January. It's the largest industry trade show in the country and always has many interesting and new things to see. There were a few exhibitors showing one of these. It is a battery powered robotic lawn mower with its own docking station. It appears to operate just as those robotic vacuum cleaners that have been around for a few years. Imagine no more coercing the teenagers to cut the lawn. We just sit in our deck chair with a cold beverage and watch this thing run all over our lawn cutting it perfectly. Now if we could just get a robotic edger, yard work would take on a whole new meaning.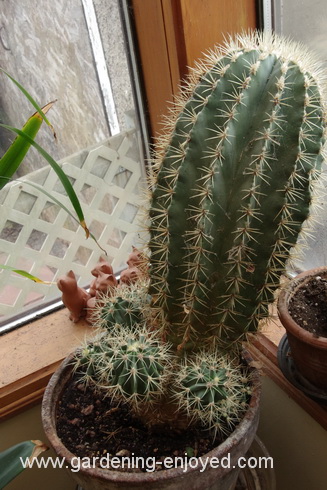 In the middle of winter when we are a bit starved for gardening activities I continue to ignore this plant. It is a rather large and therefore heavy Cactus that needs repotting or at the very least some work to straighten it up in its existing pot. I have done this before with this plant and it was a necessary but unpleasant experience. The proliferation of offshoots around its base may be what's contributing to its developing lean and they also make straightening more difficult. Its thorns are vary sharp and very rigid and that's what makes the chore so intimidating. I suspect that I would have to remove some of the new small offshoots before I could straighten it. It's sort of happy leaning against the window so I can probably leave that little job until at least tomorrow.



A few weeks ago I cut a couple of leaves from a Streptocarpus that I grow in the kitchen. It's one of the several things I'm doing for a new talk I'm preparing about propagation. I stuck them in the propagation bed in the basement and watered them regularly and waited patiently to see what would happen. One of the leaves started to turn a dark purple colour and I assumed it was leaving us. Last week I noticed new little plants emerging from the ground at the base of both leaves. When they were about 2 cm high and showing at least 2 leaves, I dug them out of that bed and potted them up. They have been growing, under the lights, at quite a rapid pace. It will be interesting to see how long it takes to get them to start flowering.



It's the time of year to be perusing seed catalogues and dreaming about next spring's garden. That had me looking through the pictures I took at last year's trial gardens. Among the several new things, that I must have, this Digitalis Dark Panther stood out as being near the top of the list. Digitalis are technically biennials but apparently this good looking specimen should bloom from seed in its first year. Like many things we see at trials it is difficult to find a source. It is bred by American Takii and several seed companies seemed to have Pink Panther but no sign of Dark Panther. I guess I will have to contact the breeder to see where I might find some seed. There are lots of other new varieties to fill the few available spaces in my garden.




When you are not searching through seed catalogues, You can always peruse my web site gardening enjoyed for an escape from winter.

You could also contemplate joining my good gardening friend Marjorie Mason on her garden tour to the Chelsea Flower show which she does in conjunction with the Toronto Botanical Garden. details here