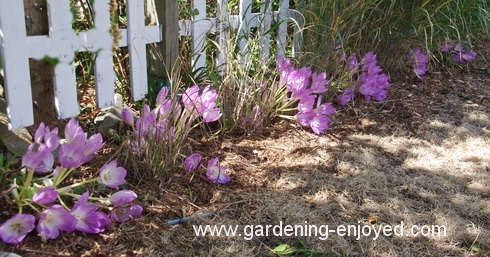 They are almost finished now but the row of Colchicum along the fence have been a huge delight for a few weeks. I looked at them from the upstairs window first thing in the morning and it made a wonderful start to the day. Each clump had close to 20 of those large pink? blooms and there were a dozen clumps along the row. They jumped out of the landscape becasue they were so new and fresh and colourful at a time of year when everything else was fading. One of my great successes. A small clump planted a few years ago and then dug and divided two years ago have provided this delightful display. When you hesitate to purchase a few of these because they can appear somewhat expensive, probably $5 + and I did see some of them on Amazon for $25 per bulb, keep in mind that they are a multi year investment that can be readily divided after a few years to produce the magnificent display that is now along my fence row. Please do not confuse these with the later and smaller blooming Autumn Crocus.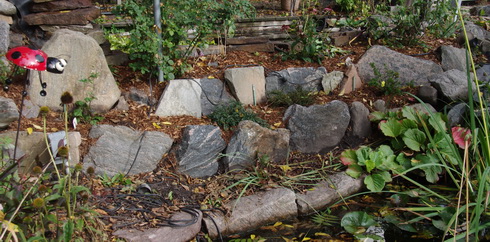 Now here's a chore that I have been putting off all summer. These rock walls had noticeably tipped over/fallen down over the last 20 years and needed to be straightened. Heavy, hot work that did not seem that attractive during our hot summer and the lack of rain had made digging difficult. As you can see it is also not the easiest place to access. Nonetheless, I could avoid it no longer and this is the finished product. Dig out behind each tipped rock and then try to straighten it and find some way to secure it so that it would not tip over again, anytime soon. Planted the Cotoneasters, that I had purchased some weeks ago, in the middle layer plus some Potentilla, hoping that both would grow and spread and be relatively maintenance free. I didn't fall into the pond although I made a couple of attempts. The body will recover some time!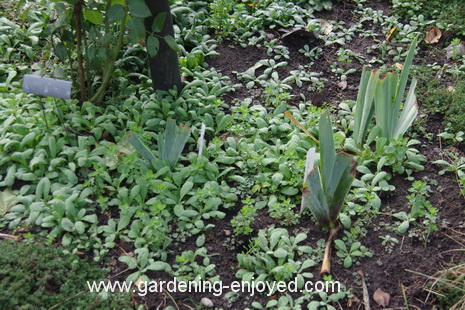 This is Mother Nature suggesting that she doesn't always like me. You can see the new Iris Divisions that were planted near the end of August. All the rest of that lovely? green growth is weeds that have thrived in the freshly dug soil. You may notice that the growth of the weeds seems to be much more advanced than the growth of the Iris. The weeds appear to be Forget me Nots. How could I ever forget them?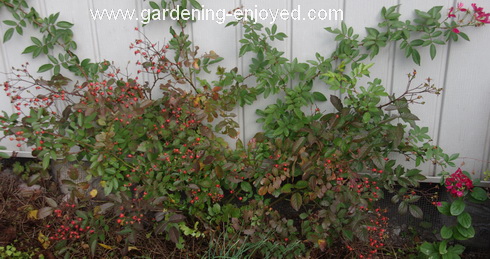 You saw this Oso Easy Rose early in the year when it was in full bloom. It has continued to bloom sporadically all summer but now it has another great display with all of these small brightly coloured hips. They are too small to collect for jelly but the branches covered with them might make a lovely autumn table centre. A good garden plant is one that gives us several seasons of interest and these certainly fill that bill.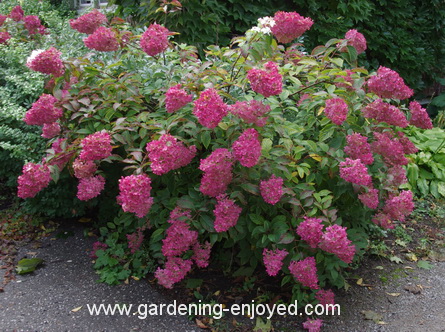 This Hydrangea has shown up in a couple of previous editions of "Dallying." It was dazzingly white in the middle of the summer and then slowly turned pink as autumn approached. Now its deep red blooms are making another brilliant statement at the end of the driveway. It is a variety of H. paniculata and each time I stop to admire it, I curse myself for having lost its tag. There are several great new varieties in different sizes and flower colours so go to the garden centre and read the tags to find one that suits your garden. They are all wonderfully hardy and easy to grow. This one gets some pruning each spring just to keep its shape and stop it from overhanging the walkway. Mostly it just gets admired.




To ask a question just "reply" to this ezine. Don't forget to check the front page of the Website for frequent short ideas for current gardening activities.




Deborah Ask? For many years I have used No Damp on my geranium cuttings. Apparently, this product is no longer available in Canada. What can you recommend as a substitute?

Ken Answers! I have been using nothing except good hygiene and air circulation. I have read in a few place that cinnamon powder has been effective, never tried it.