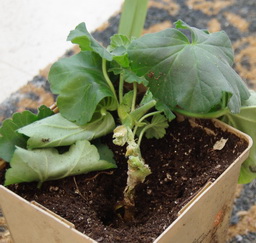 OK! Now I'm really annoyed. It's not enough that the bushy tailed tree rats, (aka. Squirrels ) have learned how to get feed out of the squirrel proof bird feeder. We didn't have as many birds this winter anyway. Being the somewhat competitive gardener that I am, I potted up some of my nice Geraniums into larger pots so they would make a bigger show when I put them outside in the spring. They were too big to put back under the lights so they were the first things to move outside to the cold frame. When I checked on them a day later, almost half of them were in pieces on the floor. Large tooth marks on the stems leads me to suspect the aforementioned rodents. Found a gap and plugged it, replanted the large pots with new geraniums and added some Onion seedlings and pots of maturing forced Narcissus to the cold frame. Still had some damage to one variety of the Geraniums but not to anything else. Not only are they nasty beasts but apparently they are also selective.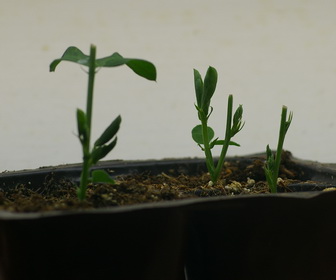 Warm spring weather is being a bit reluctant to show up in my little corner of the gardening world but we are continuing to start many more seeds in the basement. All of the previously planted cabbage, broccoli, pak choi etc, are doing well and have been transplanted into their cell paks and are starting to move from the lights to the cold frame. The Sweet peas have all germinated and the next job is to pinch them back to about two nodes so that they will develop into sturdy bushy plants. Mother Nature really is quite fickle at times. Every Sweet Peas pot was given two seeds just to make sure that they would all get one plant. Several pots had nothing germinate in them and many others, of course, had both germinate. Now I have to do a little transplanting so that every pot winds up with one plant growing in it. You understand that I plant them in their individual pots because Sweet Peas are not that happy getting transplanted as seedlings. Maybe Mother Nature is actually a squirrel.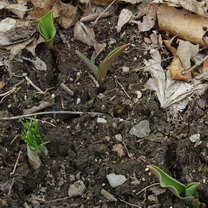 Outside, the yard is filling up with Snowdrops and Crocus and one or two of the bulbous Iris have bloomed. Thousands more bulbs are springing up all over the place. I'm watching the new bed in front of the trellises very carefully. It got a couple of hundred crocus and as many Tulips planted into it last fall. The plan is to have the Crocus bloom first then the early variety of Tulip followed by the late variety to give a succession of bloom. All of these bulbs are high on the Tree Rats dietary delights, so I did a variety of things that are supposed to deter them and I saw very little apparent digging last fall. Little green things are starting to appear. I know they will be a little later blooming than established bulbs but my anxiety level goes up with each passing day.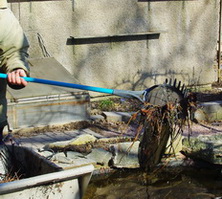 Actually found a great new tool that works almost as well as the press release said it would. The Pond Shark is designed to make cleaning out ponds an easier and more effective job. The sample that I was sent was introduced to my ponds last week and it did quite a good job. It has a long expandable handle holding a circle of plastic the front edge of which has a row of teeth that are rounded so that they cannot pierce the pond liner. What makes this better than just a dull rake is the fine mesh bag that is attached to that circle of plastic. The teeth brought up all of the twigs and leaf stems from my Walnut tree and the bag was full of pond gorp. Dumped it easily into the waiting wheelbarrow and went back for another load. Naturally, it quickly became a touch feely job as the water became very cloudy from all the bottom stirring. Once or twice I saw a flash of orange in the net and rescued a sleepy fish that had been swept up in the process. Using the Pond Shark is probably going to allow me to empty and clean these ponds much less often than the three year cycle I had been working on.



Waiting for warmer weather gives me an opportunity to undertake some jobs that are not so weather dependent. I have mentioned my little brick wall that has been slowly falling down over the last few years, mostly because I did not take the time to put a solid enough foundation under it. I have completely dismantled it and am in the process of digging out a trench where it is going to return to. That trench will get filled with 7 - 10 cm of crushed limestone, which will pack into a solid base and then the wall will get rebuilt on top of that. An excellent outdoor job to undertake when the soil is too cold and damp to work. I would prefer it not to actually rain on the days that I work on the wall.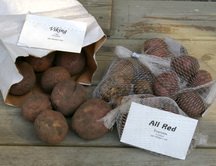 The Potatoes have arrived and since it is too cold and damp to plant them they will get put under the lights and be given an occasional spray with water. This is a process know as chitting, (don't ask me the origin of that word,) and the potatoes will start to put up nice green sturdy shoots. This accomplishes two things. It makes it easier to cut the Potatoes up into plantable pieces because it becomes very obvious where the growing eyes are and it gives the competitive gardener a slighter earlier Potato.


Keeping up to date on gardening activities can be followed on a more frequent basis by checking the front page of my web site, gardening-enjoyed.com. It changes every 2 or 3 days to show you what I am up to. That change only takes a few minutes, while producing Dallying is a much larger effort.


Questions
My newsletter subscribers get to ask me questions. Just 'reply' to the email newsletter. It is always interesting to read the questions; mostly to see if I actually can answer them or if I have to wade into the textbooks to research the answers. If that happens then we all learn something.


Geraldine Asks? I attended a Seed Swap last Wednesday and was fortunate enough to obtain a Canna Lily root. I'm going to pot it but I have some questions. First, do I plant it sideways or with the bud facing up? Also, I'm finding it hard to place it in a sunny place inside where my kitten won't attack it. Do you have any recommendations? And how often do I water it??

Ken Answers ! The canna rhizome should be planted laying flat, just as it would lay if you put it on a counter top. The reality is, they are very hardy growers and will put up shoots regardless of what you do with it. It needs warmth more than light until it starts to put up shoots, then light becomes of paramount importance. They grow quite rapidly and I wouldn't rush to start it until the middle of April. As for the kitten, you can try to train it but I have never had much luck doing that.


111 Trent St. W.
Whitby ON
L1N1L9