We seem to have had an exceptionally warm autumn so far and that has allowed for lots of late gardening activity and some wonderful surprises. This Dahlia has produced these large colourful flowers since early September and they have come into the house several times occasionally bringing an earwig or two with them:-) The fascinating part is today's colour. All of the earlier ones that we have seen were a bicolour with lots of yellow flares on the tips of the petals and as you can see they are solid red today. Changes in temperature, day length, fertility, who knows why but it is just another of those garden mysteries that we can enjoy without any chance of solving them. One day soon we may have our first frost and those lovely Dahlias will be a pile of black mush in the morning. Then it's time to dig up and store the tubers until next spring.



I have been admiring my Swiss Chard patch all fall. They have grown some very large leaves and I was wondering about a more interesting way to serve them. Traditionally we have wilted them into a stir fry with Garlic and Peppers and most of the recipes that I could find were a variation on that. Since the leaves were so large I wondered about making stuffed rolls as you might do with Cabbage. The leaves were lightly steamed to make them easier to roll. The stuffing was ground beef and rice with some chopped Onions and Peppers and a generous helping of Garlic and Parsley. Covered in a Tomato sauce and baked for about 45 minutes, they were a huge success and will go into my regular repertoire.



These giants laying on my patio table are Zucchini Tromboncino an Italian heritage squash that has several uses. It is one of the only Cucurbita moschata varieties that are used as summer squash. Butternut squash is another Cucurbita moschata and as a winter squash it is quite similar. They are picked all summer at about 30 - 40 cm and I like them for their flavour, (not a universal opinion,) and the lack of any seeds. All of their seeds are located in the bulbous end. This year we were a bit slow picking some of them and now we have an abundance of the large mature fruit. I have made a good squash soup from one of them and I will try chopping it into chunks and freezing them for soup making or roasting in the winter. The flavour can be a little bland but a good portion of Garlic will solve that problem. They are very easy to grow especially if you trellis them as the vines will grow several meters long by the end of the season. They seem to be quite resistant to the Squash vine borer which makes them an excellent long season crop.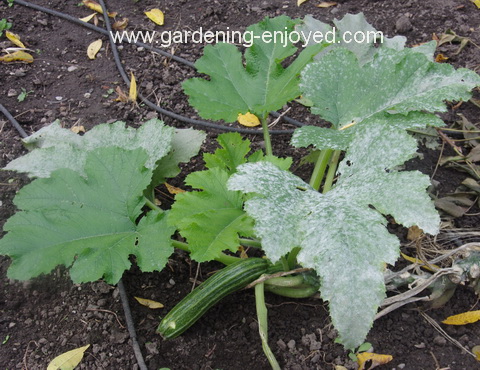 My defense against the Squash vine borer was quite successful this year. This regular Zucchini would normally have succumbed either to that bug or to the powdery mildew that usually attacks mid summer. This picture is from yesterday and that Zucchini plant is having a second life producing fresh green leaves and even a fruit that we enjoyed with last night's dinner. That defense system was a combination of yellow sticky traps and a healthy quantity of shredded paper as a mulch around the stems of the young plants in an attempt to prevent the adult from laying her eggs in the base of the stem. Or it may have just been a good year, for us not the borer.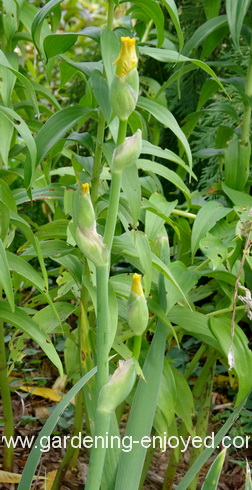 I came around a corner of the garden yesterday while looking for interesting items to include in this issue of "Dallying" and was excited to find this yellow Iris with 3 bloom stalks, including this stalk just about to open. If the weather predicts frost I will go out and pick it. There have always been a few reblooming Iris and I had a silvery coloured one that was reliable for a few years but there is no sign of it blooming this year. This yellow one has never rebloomed before so it is a rare treat for this Iris lover. Another plus from the extended warm weather this fall. Climate change is a looming threat to our world but there are a few side effects that we can actually enjoy.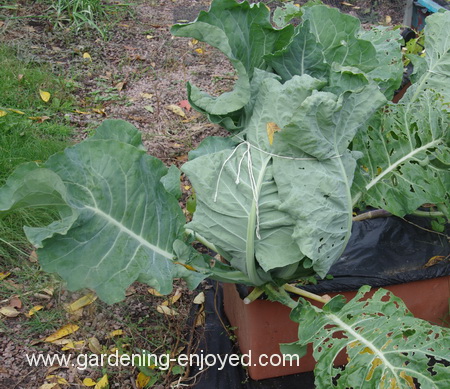 I do try to grow as many cool season vegetables in the autumn as possible. We continue to have some great Pak Choi, Kohl Rabi and lettuce, no to mention the Swiss Chard featured above. This is a Cauliflower that is developing a nice firm head. To keep that head pure white we need to protect it from the sun. This blanching is accomplished by tying the large leaves over the head so that the sun cannot reach it. It's a simple quick tip to help make good looking cauliflower and to stop if from turning greenish and developing a less pleasant taste.




I have become quite comfortable doing my presentations on Zoom and one of the big advantages is the ability to speak to groups that are too far away to travel to. I will admit to missing the feel of a live audience but we will continue to Zoom to your meetings as long as we have to. Maybe the long distance capability will be one of the few positive things to develop out of this pandemic. If your group is looking for a knowledgeable and entertaining speaker, check out my web site's, speaker page.




To ask a question just "reply" to this ezine. Don't forget to check the front page of the Website for frequent short ideas for current gardening activities.


Dan Asks? With the mild fall and no frost yet is it too early to cut back my perennials. i.e. Cone Flowers, Shasta Daisies, Black Eye Susan's, Day Lilies, Phlox, Latris, etc. or should I wait for a frost.

Ken Answers! If you are looking for a great reason to procrastinate, the modern thinking is to not clean up your perennials etc as their old stems and leaf cover provide overwintering homes for a host of beneficial insects and pollinators. Cleaning up what's left in the spring can be a somewhat easier job, albeit at a much busier time of year. I also like to leave tall stems with seed heads to poke through the snow and provide bird food. To answer your actual question there is no horticultural advantage to doing it now or waiting for a frost, it's just a matter of available time in my garden