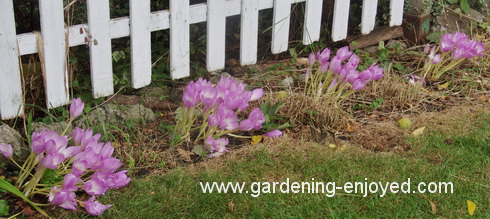 The leaves may be falling and most blooms are fading but all along my fence row the Colchicum are lighting up the yard with their fresh, bright, mauve blooms. It's a great delight to have new and colourful bloom when everything else is dull and fading. Although, in my part of the world the maple trees and some others are putting on a colour show like we haven't seen for a few years. This Colchicum display has developed over the last few years. It was originally a single bulb planted near this fence and when that bulb had multiplied into a large clump they were dug up, about 3 Septembers ago and spread where you see them in this picture. In between each bunch there is a clump of "Heavy Metal" ornamental grass that we cut down so that we can see and appreciate the Colchicum. It's probably a bit late to plant some this year but look for them as soon as bulbs appear next fall, it will be worth the wait.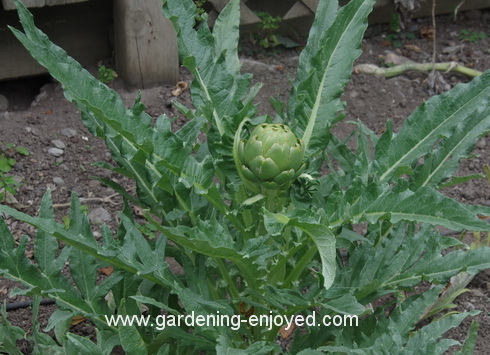 Yes! That is an artichoke. The single result of one of this year's experiments. I planted several of them in between the rows of Potatoes with the belief that they would grow tall and stand above those Potatoes but the spuds rapidly overtook them so they did not get the sun and water that I though they would. A few of them struggled along until the Potatoes were harvested and then they renewed their growth and this single bud appeared. I now have to figure out how cook this lonely offering in a manner befitting it's survival instincts.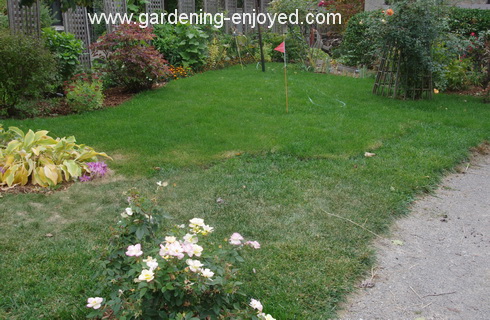 The grandson looked at this expanse of bright green grass and pointed out that it was not there the last time he cut our grass and of course that was followed by the expected query about an increase in his compensation. Two significant perennial beds have disappeared and along with them the several hours of planting and maintenance that seemed to have exceeded my fading energy levels. Many hours of digging, transplanting and raking led to the easiest part, a few hours of unrolling sod. I've usually thought grass was a waste of space but it is noticeably easier to maintain, with the Grandson's help.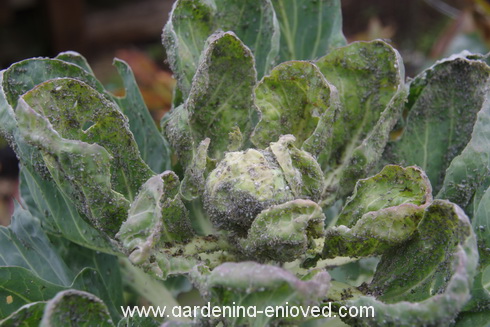 This is a less pleasant find in the veggie garden. That is a mass of grey Aphids that have decided that my Brussels' Sprouts should be their dinner instead of mine. Luckily? They don't actually work on the sprouts themselves but do still slow down the whole plant and thereby inhibit the sprouts development. We will still enjoy several meals from these plants as soon as they have had the frost that will make them sweeter. When the Aphids appear earlier in the season we simply blast them with a stream of water and that controls them somewhat. Mother nature and I continue our decades long struggle for dominance in the garden and I am very aware that she will almost always be victorious.



New varieties of Hydrangea seem to arrive with great regularity and I have a few of them and this is the most spectacular, which makes it all the more irritating that I have lost its name tag. It is an Hydrangea paniculata, by far the hardiest of the Hydrangea species. In mid summer these blooms were a brilliant white and they have slowly faded, or improved depending on your point of view, to this deep pink colour. As winter approaches the branches that are hanging over the pathway will be cut back enough to make our winter passage easier. It will be repruned for shape and size in the spring when I can see where the strongest new growth is occurring. The leaves have always seemed to be a bit chlorotic but the only effect would seem to be making me wonder what is causing it and if there is anything I can do about it. The blooms will make great dried arrangements that will look good for several months in the house.



This little bit of green is another wonderful surprise in the garden this year. It is one of a few self seeded Asparagus plants. It is amazing to me where they choose to flourish. This one is growing out of a tiny space between two strips of landscape fabric and others have chosen similar tiny spaces to start their new life. I will be digging them up and transplanting them to the Asparagus beds. Those Asparagus beds have been growing some female plants with little berries on them for over 20 years in my garden and this is the only time I can remember that they have moved around the garden and germinated. This is one of those great times when I'm amazed and thankful for Mother Nature's efforts.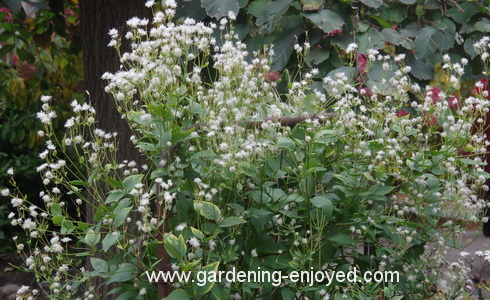 Clematis aromatica is truly a two season plant. It emerges from the soil each spring and asks for a bit of support from this antique gate and expresses its gratitude by covering it with thousands of small blue and white blooms. As those blooms fade they are replaced by the equally glorious seed heads. Those bits of fluff will persist until really cold weather takes them down and then we will cut the whole plant to ground level so that it can have a good winter's sleep and be ready to repeat its dual performance next year.




We are enjoying doing our presentations in person again and it is wonderful to have a live and responsive audience. If your group is looking for an interesting and entertaining speaker then check out these topics

There is a form on the website where you can make a request to have me speak at your meeting.

If you have gardening questions you can just hit reply to this email you can ask me those questions and I will attempt to answer them.



Dan Asks? As much as I like fall, I don't like putting my yard to bed! Is it ok to start cutting back my Hosta, Day lilies, shasta Daisies, Black Eye Susan's, etc. my list goes on.

Ken Answers! The good news for lazy gardeners is the modern idea that we are not supposed to clean up the perennial garden as the old leaves and stems provide overwintering spots for many beneficial insects. I'm learning to accept the concept and overcome my, admittedly very tiny, tidiness compulsion. In the spring, soft leaved things like Hosta and Daylily have almost disappeared. The one big exception are Iris as the dreaded Iris borer overwinters as eggs on old Iris foliage. Enjoy your lazier autumn.