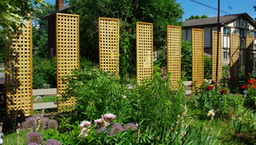 The new trellises are finished and the garden in front of them is almost all planted. A few new perennials are still waiting for their new home. Lots of interesting things have been set free near the new trellis to see what the will do. Cobea scandens, the annual cup and saucer vine is already grabbing hold and heading upwards. It is amazing how much it will grow in one season. The Tomatoes and Cucumbers are going to take a little training but they will appreciate the vertical space. One of the new Clematis really likes its location and has doubled in height since it was planted a week ago. It was one I actually purchased just for the trellis and it was chosen for its ability to grow to 2M. It's always interesting to see how these rapidly growing Clematis survive the winter. They usually make it through but do they only survive as roots or will they start new growth through most of their old vines. A couple of climbing Roses would be a great addition to this collection but I will have to do a little research to see which ones are worthy of my limited space. There are some new varieties that have been bred for their disease resistance and they have a great deal of appeal.


Almost all of the vegetables and annual flowers are now in the ground but the cold frame still looks full. That's mostly because the few plants that are left have been given lots of space to develop in so they will not be thin and weak when they finally get planted this week. The containers are the last to be planted and the small fruited Eggplant like Gretel and Fairy Tale are still waiting for their summer home. There are some patio Tomatoes and Zucchini that are also waiting for a pot to call home. The Earth Box, the best planter I have ever used, will be planted to eggplant and Peppers in the next couple of days. Everything is a week or so behind because of the time spent creating the new trellis garden but it looks great. Next year! No new projects. That's what I said this year.





Spent a wonderful weekend planting vegetables and a few sunflowers with the grandsons and keeping up their interest. 4 year old Noah likes sunflowers and actually helps to dig the holes and anticipates the results. I'm not sure he understands that it won't be blooming tomorrow morning but he will learn and appreciate. His 18 month old brother just likes to put his trowel in the dirt and spread it a bit but it is never too young to start their appreciation for Dallying In The Dirt.





I do try to be as organic as possible, mostly because I like to know exactly what is on my dinner plate. Sometimes there are unknown consequences. Organic fertilizers are made from natural plant and animal ingredients and these can have a variety of uses. The plastic, (not very organic,) bag they come in does not completely contain the aromas of their ingredients. Creatures find their way into my storage shed and shred the bag to get at the ingredients that smell good to them. More secure storage is going to be required for such materials in the future.





Not all the bad things that can happen in the garden are completely bad. I happened upon a most delightful creature the other day. He / she, who can tell, was just hanging about on a daylily and was very content there. It let me go and get the camera and posed beautifully. It was about 12 -14 cm across it's wing span and as you can see from the picture, had the most beautiful markings. It hung around the garden most of the day because it is primarily a night flyer. I believe, that it will lay some eggs that will turn into the large, ugly and voracious Tomato Horn Worm. It's easy to see why moth afficionados grow some Tomato plants just to support the breeding of these gorgeous creatures. If her progeny show up on my Tomato plants, I will deal with them then. I certainly wasn't capable of harming this amazing garden visitor.


Control of the natural vegetation, (we don't have any weeds,) becomes the next priority. Keeping up to date on gardening activities can be followed on a more frequent basis by checking the front page of my web site, gardening-enjoyed.com. It changes every 2 or 3 days to show you what I am up to. That change only takes a few minutes, while producing Dallying is a much larger effort.


Questions
My newsletter subscribers get to ask me questions. Just 'reply' to the email newsletter. It is always interesting to read the questions; mostly to see if I actually can answer them or if I have to wade into the textbooks to research the answers. If that happens then we all learn something.


Marguerite asks?Hi, Ken. How big is that pot that you are growing your potatoes in? It looks smaller than I expected. We are doing the same thing but using a couple of big, square composters. Thanks.

Ken Answers! It is surprisingly small. Both pots are about 33 cm inside diameter. The terra cotta one, that was very successful last year is about 45cm tall and the cheap plastic one I sonly about 33 cm tall but it is not tapered as the terra cotta one is. The terra cotta pot produced about 7KG of tubers last year.


111 Trent St. W.
Whitby ON
L1N1L9