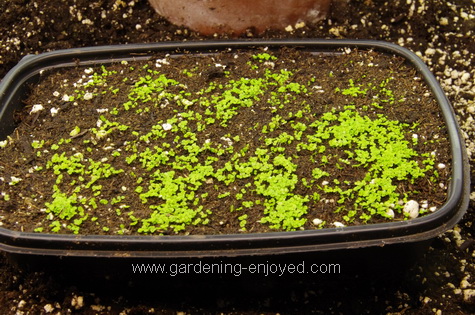 We have had a restful break but now it's time to wake up "Dallying In The Dirt" and get the 2018 gardening season fired up.
The Begonia seeds were sown and then we spent several days studying some of our favourite houseplants growing outside in a climate warm enough to sustain them. This is what the Begonia seed tray looked like upon our return. I always look at these little seedlings and try to figure out the best way to transplant them. They are growing very close to each other and they aren't a size that makes them easily handled. Each year we do manage to tease out the 50 or so seedlings that we want from this tray of several hundred. We try to sow them more thinly but that is very difficult with the dust like seeds that Begonias produce. Many thanks to the lovely Ms. S. for her tender care of these in our absence. The Phalaenopsis Orchids are in full bloom but the large pots of Cymbidiums that usually brighten up the solarium for a couple of months are sulking after their divide and repot this summer and produced nary a bloom. The next job is to empty my seed storage box and toss out anything dated 2016 or older and then start scouring the seed web sites to see what we need to order for this season. Always a challenge to balance what I want and what I actually have room for.



This Epiphyllum Cactus almost didn't make it inside this autumn. It's ugly and heavy but it does have spectacular blooms but they only last a few days. Anyway in a weak moment it came in and got located in the stairwell by a large south facing window. All of that thin vertical growth has appeared since that move. The Assistant Gardener, whose office overlooks the thing, keeps asking me where the chainsaw is. Apparently she has minimal affection for a succulent triffid that's reaching out to accost her. I can't actually say that I disagree with her but my horticultural curiosity wants to see just what this thing will eventually do. The chains hanging in the picture control the ceiling fan and we really can't turn it on because it will chop off the triffid's top. Regular updates will follow if it doesn't take over the house and eat or evict us.



A considerable number of gardening books come through my mail slot and I glance at most of them. This one I have actually read. Niki is a garden writer friend of mine and I had been waiting to see her latest book. For an adventurous vegetable gardener like myself it was a delightful read. If you ever wanted to be more adventuresome in your veggie garden then Veggie Garden Remix is a must read. It doesn't just list different plants but has an interesting personal story woven through it that outlines the basis of Niki's adventures, leading to her discovery of a wide range of interesting vegetables and then it details how she manages to grow them in her Nova Scotia garden. Even better she supplies ideas on how to prepare and eat them which excites my inner chef.




Now it's time to answer a few of my reader's questions. To ask a question just "reply" to this ezine. Don't forget to check the front page of the Website for frequent short ideas for current gardening activities.




Claire Asks? How do I know when to sow all of these seeds that I have ordered. I don't think I want to plant them all on the same day?



Ken Answers! Choosing the correct seeding times really isn't that difficult. Here is my foolproof method.