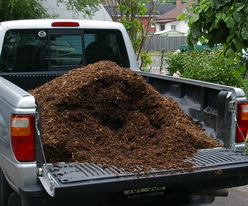 Yes! "Dallying" did not get published last week. Apologies. Three excuses / reasons, the grandson I was babysitting the previous week, because he was too sick to go to the day care, was generous enough to share his cold with me. We took advantage of an opportunity and went away for the weekend and worst of all my camera, which is used daily, is in for repairs. This week's pictures will be drawn for my huge catalogue instead of actual things I did this week.

A great thank you to many of my readers who will have contributed to getting gardening-enjoyed.com on the list of the. 100 best gardening websites .

The weeding and mulching have been proceeding every spare moment that I can find. Many of those spare moments do not always correspond to good weather and I have actually watched little ice pellets accumulate in the folds of my parka while sitting and fighting with a particularly tough bunch of grass. I'm not a great fan of grass to start with and it certainly has no place in the middle of my flower beds. A gardening friend stopped by the other day and asked why I didn't just rototill the whole thing; she was unaware that the centre of these beds are the home of our Asparagus plants. The presence of that Asparagus is the reason that I have never mulched these beds before. I know it will easily grow up through the mulch but I was worried that it might make it a week or so later when we are desperate for fresh vegetables from the garden. The mulch won't do that much to stop the perennial grasses either and that's why I am being as diligent as possible about eradicating it now. The multitude of annual weeds that start from seed are the reason for the thick mulch layer. I do hope it works; I'm tired of so much of my time in the garden being about weed control.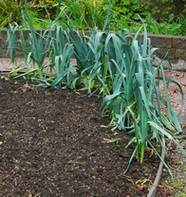 Now that we have had a few frosts, our dinner plates have become more interesting. Several items have been sitting in the garden waiting for the frosts that will make them more delicious. Brussel's Sprouts become much sweeter as do the Leeks and Parsnips. It's always a mystery to me how some plants, like those vegetables, not only survive hard frosts but actually improve while just beside them Peppers and Tomatoes collapse into a heap of mush. What goes on inside the cells of those different plants that generates such diverse reactions. It's almost enough to make me want to go back to school and take Botany 305. I'll be digging a good crop of Leeks this week, cleaning and storing them in the refrigerator until I get a chance to make some Leek soup to store in the freezer for the winter. We will also be eating lots of braised Leeks and trying some new recipes I've found for different ways to roast the Brussel's Sprouts. If I like them I will post them in the Recipes section of the website. Each season brings new delights from the garden to the dinner plate.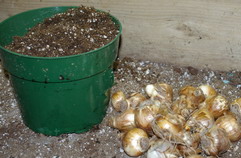 I have to admit that there are still a few Bulbs sitting on the front porch. Most of the remaining ones were planted in the Asparagus beds before the mulch went down but a few are still waiting for a nice day to find a new home. On the days that are not so nice I retire to the basement where even more bulbs await me. I always have a box of miniature narcissus that I pot up for late winter forcing. Those pots filled with bright yellow flowers are a very welcome sight in the depths of February. They spend a few weeks in my cold room being convinced that they are outdoors during the winter and then we cut their artificial winter short and bring them, a few pots at a time, into the heat and the light and they reward us magnificently with their bright promise of spring. Go to the local garden centre where they are sure to have their bulbs at greatly reduced prices and bring a few home for forcing. It's easy and fun.
I sent my Granddaughter in England a few bulbs to plant for her birthday. Apologized to my son who Had to fill in for me, planting them and teaching her how to garden. Got a note today to say that they had arrived and that she was a bit disappointed that her present from Grandpa Canada was a box of "unborn flowers." What a delightful description of bulbs from a 4 year old.




Time to answer a few questions. If you have a gardening question just 'reply' to this newsletter and send me your query. I try to answer most of the questions and the ones that I answer here are those that I think will have the widest interest. You can also find the latest garden updates on the front page of gardening-enjoyed.com. I try to change it every few days so check back often.


Sharon Asks? I have several bags of soil removed from a swampy location can that be added to my lawn?

Ken Answers! If you can screen that soil so that becomes nice small granules then you could spread that lightly over the lawn as a top dressing. I might be inclined to amend that soil with some organic matter first.


Claire Asks? I have a new perennial garden what should I do to get it ready for winter?

Ken Answers! It's mostly a tidy up process. If there are plants with stiff woody stalks, I tend to leave them for winter interest through the snow. Plants that have turned soft mushy from the frost, I clean up and add to my compost heap.


111 Trent St. W.
Whitby ON
L1N1L9