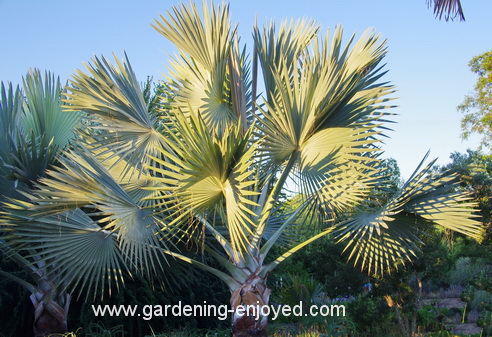 I seem to have disappeared for a while. Wrote the last edition of "Dallying" and then went and sat under this Bismarckia, my favourite palm tree. It was warm and lovely and we did a whole lot of nothing for a week or three. Returning to a laundry list of things that needed attention and a chance to return to the ski hill. We did visit Corkscrew swamp nature reserve in Naples and saw a fascinating transition through 4 different ecosystems within a few hundred meters as we descended about 1.3 m walking along a boardwalk. The ground underneath us became progressively wetter and thus supported a different range of flora and fauna including a mother alligator and her brood of babies. I was equally fascinated with the amazing range of Bromeliads and Orchids that were growing on nearly every tree we passed. A great adventure and a change from sitting around the pool with a good book and a cold beverage.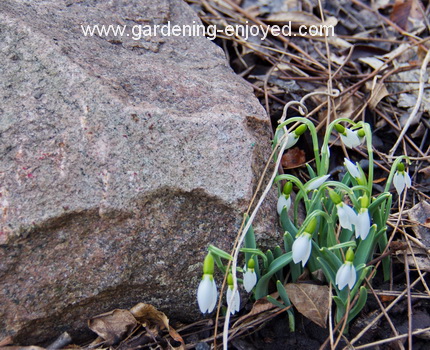 On the 24th of February these delightful Snowdrops were happily enjoying the sunshine. That sunshine and its attendant warmth are attracted by the adjacent large brown rock. They are always the first to bloom. Three days later they have returned to napping under several centimeters of that fluffy white stuff. They are really quite amazing as I fully expect them to return when that snow melts, looking none the worse for their little extra winter adventure.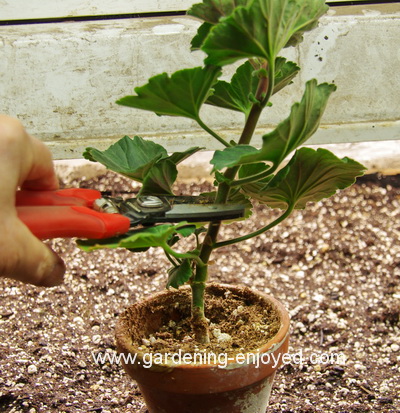 Down in the basement under the lights things continue to thrive. The Geranium cuttings that we took in late September are now too tall to fit under those lights, allowing us to cut them back and produce another set of cuttings that will double our Geranium inventory by spring planting time. The Begonias have also been cut back but their growth has been much less encouraging. Begonias will sit there for ages and never produce a new branch or bushier growth. We just water them and wait.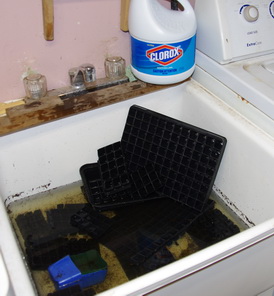 It's time to start many of our vegetables seeds and the first step is to wash and sterilize all of the cells and related equipment. We need to be very clean in order to prevent the outbreak of "Damping Off" a fungus disease that will rapidly destroy tiny seedlings if it manages to get started among them. The next step is to use a sterile soiless planting medium to prevent the introduction of any similar pathogens that might be lurking in the natural soil. I spent some time today, sorting through my seed box. Anything that is two years old gets tossed out and then I can wander through the various seed catalogues looking for new and interesting varieties to replace them. Some seeds will stay viable for longer and some are quite useless after one year in storage, so I always just tossed them after two years rather then try to remember which ones I might be able to keep longer. It's a great excuse to spend a few hours and maybe a few dollars with those catalogues. I now seem to have about 86 varieties of vegetable seeds in my spreadsheet and tomorrow is the first planting date for many of the early cool season types.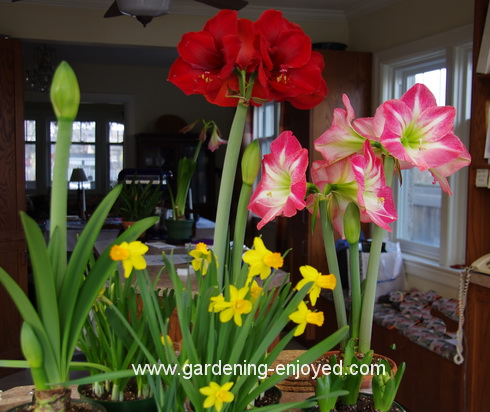 This is the kitchen counter in February. Why would I go and waste my money buying flowers for Valentines day when I'm growing so many delights. The Amaryllis that started at Christmas are still putting on an amazing show and beside them we have the miniature Daffodils and Hyacinths that we potted up last fall and brought up from the cold room as soon as we returned from the south. The Phalaenopsis Orchids are just finishing and across the room the Dendrobium Orchids are showing quantities of buds. They are very slow to open this year as they are usually in full bloom by early February and so far not a single bud has opened although they look quite fat and healthy. The Assistant Gardener has fun answering the "what did you get for Valentines?" question.




Now it's time to answer a few of my reader's questions. To ask a question just "reply" to this ezine. Don't forget to check the front page of the Website for frequent short ideas for current gardening activities.




Claire Asks? The lovely Amaryllis that I received for Christmas has lost all its bloom. What do I need to do to get it to rebloom or is that even possible??



Ken Answers!Yes, it is very possible. Just keep it in a sunny window and water it when it needs it until the end of May. Put it outside for the summer where it will get lots of sunshine and water and fertilize it regularly. As the first frost approaches bring it indoors and put it a cool dark place and let it go dormant. All the leaves will turn brown and can be removed. Sometime around Christmas bring it back into the warmth and light and start to water it again. You should be rewarded by the appearance of those large blooms in about 8 weeks.