Some days the natural vegetation is just thick and irritating. Some plants just do not thrive for no apparent reason. Some days the Iris Borer just seems to avoid detection. Some days people ask me why do I spend so many hours in the dirt and sun.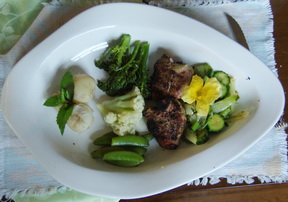 Then there was Sunday night's dinner!!

Nine, yes nine, different vegetables all with varied and exciting tastes and textures. That doesn't count the Mint and Nasturtiums that were edible garnishes. The lamb chop was really superfluous.

The year's first potatoes, boiled with a little mint, forcefully remind us why we grow our own. You cannot buy that taste! Steamed over the boiling Potatoes were Broccoli, Cauliflower and Sugar Snap Peas. In the stir fry were Pak Choi, Fennel, Zucchini, Onions and Garlic scapes. No need for herbs or seasonings, the licorice / garlic combination was sufficiently exciting for anybody's taste buds. The singular blast of interesting flavour that goes with the lonely nasturtium flower is a complete switch.

That's why I do it!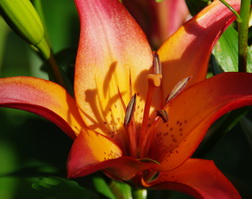 Just to make it all the more worthwhile there are the treats for the other senses enjoyed while wandering the garden gathering the nine veg. The Lilies are in glorious bloom making the Red Lily Bug chase seem inconsequential.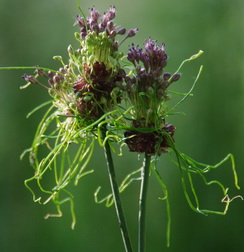 The last of the 'spring' bulbs, Allium Hair, blooms in July and only you can decide if the flower is interesting enough to give it garden space.





I can hear some of you asking, "What are Garlic scapes?" They are the curly ends of the Garlic bloom spikes and they make a very interesting vegetable if cut and used when the flowers are still just large buds. The developing Garlic cloves will be better off without them sapping energy from the plant. By removing them you prevent the little bulbils and seeds from developing and becoming a large weed problem next year. Only the flower arrangers will fight you as those wildly curved stems make great accents in some floral arrangements.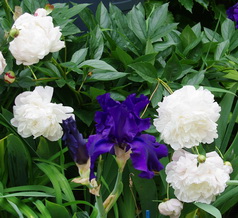 I will now try to convince you that I spent some considerable time planning some of my perennial plantings. How else could I have the deep purple, late blooming, Iris, Dusky Challenger, planted along with the clear white, late blooming Peony, Nick Shaylor. What a delightful combination. Colour, size, bloom time and compatibility are all things you should give careful consideration too when planning your perennial beds.


This is also a great time of year for frugal gardeners. Some of the big grocery and similar stores that have significant seasonal garden sections are now trying to deal with their excess inventory. Wander through a few of them and see if they have been maintaining their stock well and then look for bargains. My Japanese Maple died a couple of winters ago and I have been reluctant to spent the $ 50 - $ 70 to replace it. It did look wonderful growing out over the top of the waterfall. Well, I just found a perfect one that is a bit one sided, for growing out over the waterfall, and it was marked down to only $ 20. Now I just have to find the time to plant it.




There always seem to be more garden jobs than there are hours in the day. Of course since I make up most of these jobs, I really have no one to blame. For a couple of years I have been working on my outdoor room. That's what all the fancy magazines call a patio, these days. Now to make the space comfortable it must be carefully planted with a variety of containers, it must have comfortable and useful furniture and we have to feel comfortably private sitting in it. The latter requirement needs to have some containment outlining the space. This containment does not have to be solid, it must just give the feeling that the space we are occupying is contained and therefore private.

I have been slowly creating this containment with some significant trellising. This summer I decided to try and finish this little project. Now perceived little projects rarely are. Cutting multiple angles and dozens of 15 cm sections produces an amazing amount of cedar sawdust that fortunately makes good mulch. Do not use pressure treated wood sawdust as mulch! The final result has been, in my humble opinion, quite functional and delightful. The Assistant Gardener allows as how all the noise made and time spent, have transformed the already adequate patio into a very comfortable outdoor room. It really is unfortunate that all that trellising still doesn't keep out mosquitoes.


Questions
My newsletter subscribers get to ask me questions. Just 'reply' to the email newsletter. It is always interesting to read the questions; mostly to see if I actually can answer them or if I have to wade into the textbooks to research the answers. If that happens then we all learn something.


Sandra Asks? Can you start a mango from its pit and do you do it?

Ken Answers! I have never tried that, as a Mango tree has limited appeal to me as a house plant. It would probably work. I have started several Avocado trees from their pits and I can report that they are quite ugly as small house plants. Interesting experiments though. I'm currently starting a Date Palm from the pit of a date and have a rather ugly 25 year old Date Palm that gets dragged in and out, every spring and fall and each time the Assistant Gardener asks, WHY??


111 Trent St. W.
Whitby ON
L1N1L9