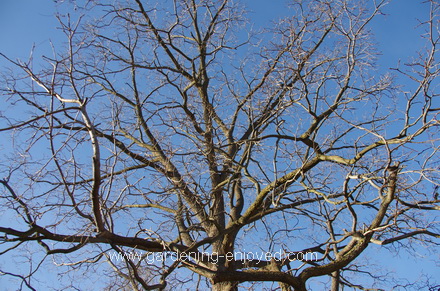 It's a freezing cold November day, about -12 C this morning and apparently we set a record low temperature overnight. I stepped outside to take this picture of the huge Black Walnut that covers our deck and shades the house. I was sitting in the solarium, warmed by the bright sun and looking up at this magnificent tree. Yes, it drops its fruit, it attracts too many squirrels, it stains the deck and anything else that sits out there but it is a force of nature that can be inspiring to sit and admire on a cold sunny day. This morning I was marveling at its adaptability. It grows and nourishes itself through the miraculous process of photosynthesis but here it is with that process essentially shut down as it stands leafless in the bitter cold. It will stand there in that unfed, dormant state for several months and yet it will burst forth with new life in the spring as it has done for at least a hundred years with nothing to power it except what it has managed to store up during the summer and somehow retain over those cold winter months. The miracle of that process just struck me this morning as I was comfortably sitting in the sun reading my paper and glancing up to observe its stark beauty and to newly appreciate this botanical marvel.



On the other side of the Solarium is this gorgeous reminder that today is Thanksgiving day for our neighbours to the south. This Thanksgiving Cactus is reliably in full bloom on this day every year bringing its bright colour and freshness to a cold winter's day. Across the room its cousin, the Christmas Cactus, is just starting to put out its flower buds in preparation for its big day a few weeks from now. Another couple of botanical wonders to contemplate as I sit in the sunshine. Almost identical plants both responding to the shortened days to start their bloom cycle and yet blooming almost a month apart because of their small difference in the number of short days that are required to start their blooming cycles. It's possible to just sit there and contemplate what little hormones must be running through their cells responding to the subtle differences in daylength. Such thoughts about plants have driven my gardening curiosity most of my life and continue to keep me fascinated.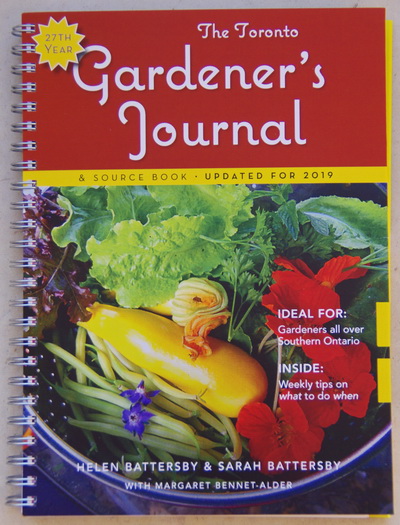 As the Christmas Cactus starts it's journey to full bloom so we often start our shopping journey. Every year for 27 years we have seen the publishing of the Toronto Gardener's Journal. This is the second year that my friends the Battersby sisters have published this wonderful resource that Margaret Bennet Alder laboured over for the first 25 years. If you want a great Christmas gift for your gardening friends or just for yourself, nothing could be better than this annual delight. Filled with gardening information, from when to undertake each task, to where to find information or materials, this book is the ultimate source for gardeners way beyond the "Toronto" in its title. Look for it on its own webpage or in some garden centres or botanical garden's gift shops.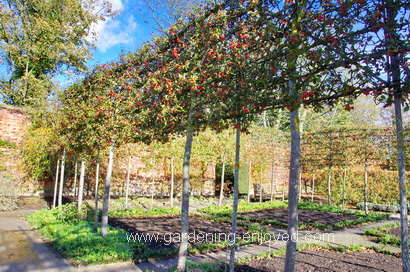 I spent some time in the last edition of "Dallying" talking about the wonderful Alnwick gardens that we had just visited. I thought it was worth one more picture. In the upper perennial garden, each section is bordered by this square of espalier crab apples. There were almost leafless during our visit but they were loaded with their bright red fruit. One of the advantages of our late visit was the ability to see the intricate work that has gone into creating these espaliers, developing the long stems and then intertwining each tree into its neighbours to create the continuous border around each planting bed. I was constantly in awe of the horticultural skill and the hours invested in creating such a visual delight.


Now it's time to answer a few of my reader's questions. To ask a question just "reply" to this ezine. Don't forget to check the front page of the Website for frequent short ideas for current gardening activities.




Robert Asks? When is the best time to prune a pear tree? In the fall or spring?

Ken Answers! Anytime as long as it's dormant so from now until it starts to wake up in the spring.

Gail Asks? While reading dallying in the dirt about irises, you said to cut back the foliage, will this help it to bloom? I might get 1 flower every couple of years from about 5 plants.

Ken Answers! Your iris should bloom more reliably than that. Cutting them back now will help a bit but mostly by controlling the Iris borer. Your Iris may need digging and dividing which I do every 4 or 5 years. The best time to do this is mid summer. A little fertilizer in the spring when they start to grow should also help.