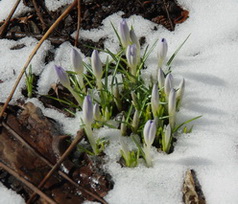 Two days ago the Snowdrops were thriving and the Crocus tomasinianus were showing some promising colour. I transplanted some Geraniums to large pots and moved them to the cold frame. Yesterday it snowed again and this morning it's so cold I'm afraid to even open the cold frame to see what is happening inside it. I don't know what I've done to upset the weather gods? I'm unsure that the heating cable in the cold frame's floor is functional and I'm trying to avoid the rather large and unpleasant job of replacing it. That cold frame, when working properly will keep plants happy, (at least alive,) in quite cold weather but without a functional heating cable it's a much more problematic situation.





All of the space under the basement lights is filled and lots of seedlings are going to need transplanting soon. Some of that space is taken up by the new plug trays that I seeded the Onions into. This has not been a great success. All of my Onion seed was last years and as a result the germination rate was reduced leaving me with a significant percentage of unfilled cells and therefore wasted space. The Onions that are growing are uncrowded and apparently happy. If I try this next year I will make sure that I have enough seed to double plant each cell.



The Assistant Gardener is starting to make unhappy sounds about the pile of stuff in the solarium. Right beside the huge array of Cymbidium Orchids in bloom is a collection of gardening stuff. Our annual region 7 Garden Writer's meeting at Canada Blooms was a great success and as usual a multitude of gardening companies have given us samples of their products to test and evaluate. These samples sit in a heap in the solarium while I try to assess what to do with them. They will provide me with interesting material for Dallying In The Dirt for several issues. Books, tools, fertilizer and various interesting gadgets make up this trove of trials. Stay tuned.


The Canada Blooms show itself was interesting but somehow lacks the 'Wow' factor that these shows should have. It may be that I have seen too many and am a bit jaded and hard to impress. The small gardens honouring Juno award winners were probably some of the best in the show while Landscape Ontario's large display was as impressive as the sponsor's area should be. There seemed to be a certain sameness about many of the display gardens. Lot's of hard surface and water features and familiar plants. I miss the masses of cut flowers that used to surround the entry and that warm earthy smell that should assault the senses when you walk into a garden show. I did have a large and enthusiastic audience for my presentation on Thursday and that is always gratifying.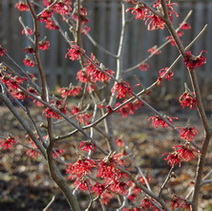 The Hamamelis, witch hazel, is blooming beautifully in the back garden. The sun was catching it early one morning, highlighting its large crop of rich red blooms. It is a true and hardy harbinger of spring. It will bloom in early March regardless of the temperature or the snow cover. Everybody should have one of these neat winter beaters in their garden to help with the promise of spring. There are a few varieties with a range of flower colours from yellow through to red and a range of blooming times.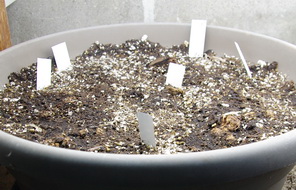 All of my Tuberous Begonia tubers reappeared from their cool winter hiding place and announced that it was time that they were planted. They get bigger every year and thus the space required to get them started also increases. Last year I was successful in dividing one of the large tubers into smaller pieces. This year a very large one that produces gorgeous scarlet blooms will get the cut and chop. As soon as it starts to shoot I will cut it so that each piece has a couple of viable shoots on it. The cut edge will be dusted with powdered sulphur to inhibit any rot or fungus attack and then I will have to find even more space for the potted up pieces. The marvellous fact that gardens grow is both my greatest joy and my greatest trial. Luckily, producing an array of extra plants each year seems to keep me with a long list of friends.


Having seen the Begonias getting the warm wet treatment, the Callas reminded me that they too should be pulled from their hibernation and started on the road to their summer beauty. The Dahlias will get their chance in another week or two.


Keeping up to date on gardening activities can be followed on a more frequent basis by checking the front page of my web site, gardening-enjoyed.com. It changes every 2 or 3 days to show you what I am up to. That change only takes a few minutes, while producing Dallying is a much larger effort.


Questions
My newsletter subscribers get to ask me questions. Just 'reply' to the email newsletter. It is always interesting to read the questions; mostly to see if I actually can answer them or if I have to wade into the textbooks to research the answers. If that happens then we all learn something.


Carole Asks? Is it too early to start geraniums from clippings I took last Fall?

Ken Answers ! I have just taken my second batch of cuttings from the original ones that came in last fall. The plants that were just potted into bigger pots are the first cuttings taken a couple of months ago.

Pat from Memphis Asks? Hi, every year it is sort of a crap shoot for me with mums. I have long heard that you should cut them back a couple of times during the spring/ summer to keep them from blooming otherwise you won't have flowers in the fall when they should be blooming. Regardless, mine seem to get too leggy and flop out from the center. Am I not cutting them back far enough or is there another solution?

Ken Answers ! I'm sure that fall flowering chrysanthemums behave somewhat differently in Memphis than they do here in S. Ontario. We think we are lucky if they survive the winter. Those that do, behave much like yours and chopping them back is essential part of making them into sturdy heavily flowered plants. When they are about 5" - 6" tall, probably late May for you, chop them down to about 2" and you should get many more stalks growing up. If they are growing very tall by early July then reducing them by about half might help. After this they should be setting flower buds and chopping them will just result in reducing their fall show. A low Nitrogen, high Potassium fertilizer might help make sturdy stems and better flowers.


111 Trent St. W.
Whitby ON
L1N1L9